Benefits of Dental Implants – North Raleigh, NC
The Highest Standard

of Tooth Replacement
Traditional forms of tooth replacement definitely have their drawbacks. Dental bridges cannot be placed unless some enamel is removed from your remaining teeth. Dentures can slip when you least want them to, and as your gums change shape they may not fit as well as they used to. With dental implants, you can avoid these issues while also enjoying many other advantages. If you think dental implants might be right for you, schedule a consultation with Dr. Lisk today.
Why Choose Dr. Philip A. Lisk for Dental Implants?
High Quality, Long-Lasting Restorations
Dentist with Meticulous Attention to Detail
Small Practice with Friendly, Caring Team
Why Dental Implants?
Regardless of the number of teeth you are missing, dental implants are largely seen as the most effective solution to replacing teeth naturally. The benefits make it well worth the cost as you cannot expect them from other more traditional solutions like bridges or dentures. These benefits include: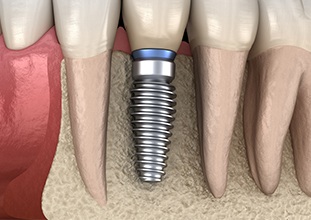 Root Replacement
Dental implants are the only tooth replacement option that works to replace the entire tooth structure, not just the crown portion that fills the gap in your smile. Because of this, blood flow can continue to your tooth, which allows nutrients to travel to other areas of your mouth and cheeks. This also prevents the bone tissue inside your jaw from deteriorating, a common issue among those with tooth loss.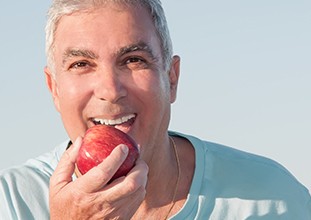 Stronger Biting Force
When you replace your missing teeth with a denture, you're only able to regain about 20 percent of your original biting force. While this is certainly better than what you had before, dental implants help you regain up to 70 percent. That means chewing your favorite foods, whether it be steak or apples, feels natural and easy. This also makes it easier for you to maintain a more balanced diet, which gets increasingly important as you age.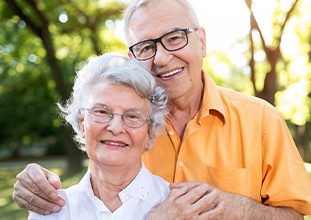 Long-Term Functionality
Dental implants generally last between 25 years and a lifetime when you practice daily oral care and avoid tobacco products. In contrast, dentures need to be replaced every 7 to 10 years and dental bridges need to be replaced every 10 to 15 years. As long as you brush with fluoridated toothpaste twice a day and floss daily, you have very little to worry about when it comes to your implant's health.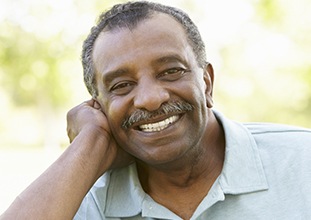 Restore Your Smile and Your Facial Shape
Dental implants utilize lifelike dental ceramics in order to blend in with your smile as much as possible. However, their restorative properties also help you maintain the natural shape of your jaw and face. Tooth loss typically causes the cheeks to sag and hollow out. This process is avoided when a root is restoring blood flow and stimulating your bone tissue.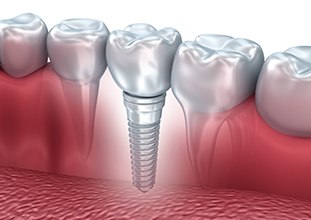 Protects Your Remaining Teeth
If you were to have a dental bridge placed, you'd need to have natural teeth buffed down in order to effectively anchor the restoration. Since the titanium post of dental implants acts as a strong enough anchor for your restoration, you can avoid removing any enamel and retain as much of your natural tooth structure as possible.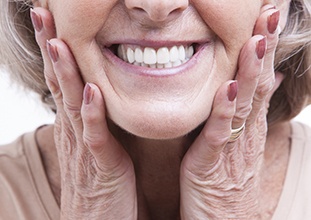 High Predictability and Success Rates
Dental implants have an average success rate as high as 95 to 98 percent when placed by a professional. Even after 10 years of use, implants carry a high success rate as noted by clinical studies. This is largely because dental implants have been used for nearly half a century, allowing researchers time to perfect their use and predictability. Furthermore, dentists can plan each stage of your treatment with very high levels of precision, improving the odds of successful, long-term implantation.