Tooth-Colored Fillings – North Raleigh, NC
An Inconspicuous Solution

for Cavities
There's a new method for filling cavities, and it's one that doesn't involve any noticeable silver or metal. What is it? Tooth colored fillings made of a composite resin that blends beautifully with the rest of your teeth. This process of restoring teeth following a cavity is more cosmetically appealing, minimally invasive, and saves as much of your natural tooth structure as possible. And the same material can also be used to improve the appearance of gapped, misshapen, chipped, or cracked teeth -- keep reading to learn more from Dr. Lisk.
Why Choose Dr. Philip A. Lisk for Tooth-Colored Fillings?
Attractive, Durable Metal-Free Materials
Dentist with Close Attention to Detail
Friendly, Relatable Dental Team That Cares
What are Tooth-Colored Fillings?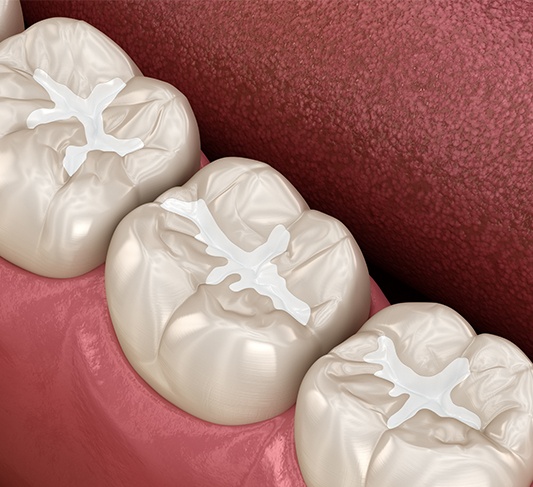 Also known as composite, or simply white fillings, tooth-colored fillings are made out of a mixture of smooth plastic and glass, which we call composite resin. To restore your tooth back to its normal health following decay, your dentist cleans out the cavity and fills the hole with the composite mixture. The resin is then dried in a matter of minutes with a special UV light, and the procedure is complete.
Tooth-Colored Fillings VS. Metal Fillings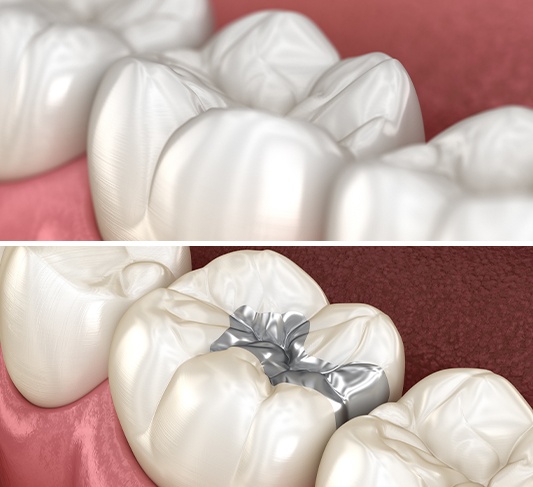 There's no question about the fact that in modern dentistry, tooth colored fillings are the preferred solution. We've listed some of the key differences between tooth colored fillings and silver, or amalgam, fillings below.
Silver Fillings
Require significant preparation of tooth
Highly noticeable against tooth enamel
May hide future problems (even on an x-ray)
Concerns with mercury exposure
Tooth-Colored Fillings
Leave more of the tooth structure intact
Customizable to blend with your smile
Future breaks or leaks are easy to spot
Completely mercury and metal-free
Considering their significant benefits, in today's dentistry, tooth colored fillings are the obvious choice for patients of all ages who have experienced a cavity.
Do I Need to Have My Silver Mercury Fillings Replaced?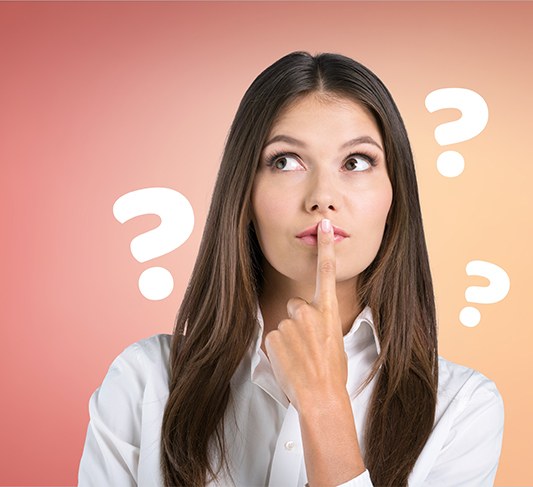 Now that you know the benefits of choosing white fillings for new cavities, the next logical question is… is it time to have your silver mercury fillings switched out for white ones? The answer is: it depends. The most proactive patients may choose to have functioning silver fillings replaced to prevent future issues. These amalgam fillings can make future problems, like breaks or leaks, difficult to see -- even on an x-ray. That means decay could go unnoticed until it causes significant pain and likely requires a root canal. And although amalgam has been approved for use in dentistry by the FDA, our North Raleigh office is sensitive to the concerns that patients are wary of mercury exposure with silver fillings and, therefore, we address each treatment plan on a case-by-case basis.
Tooth Colored Fillings & Direct Cosmetic Bonding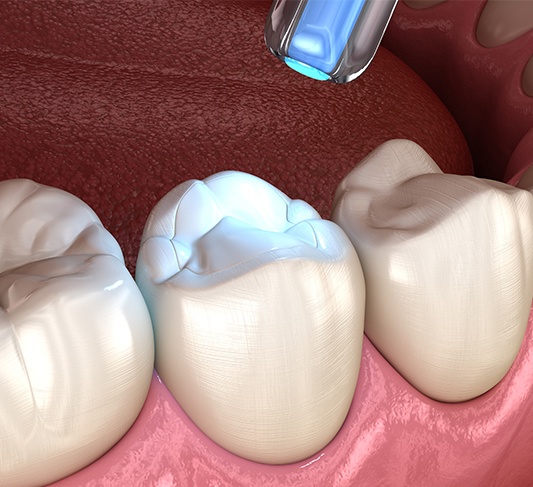 The same composite resin we use to fill cavities has cosmetic applications too. With a method called direct bonding, we can close gaps, reshape teeth, or repair chips or cracks -- in just one quick, painless treatment. Direct bonding is a wonderful alternative to more costly cosmetic treatments, like porcelain veneers or all-ceramic crowns.
Schedule an Appointment
Please contact Dr. Lisk if you'd like to set up an appointment for tooth-colored fillings, filling replacement, direct bonding, or for any other preventive, general, restorative, or cosmetic treatment. With a comprehensive list of services and expert hands, we are ready to meet all your smile needs. Dr. Philip A. Lisk Dentistry welcomes patients from North Raleigh, Cary, Morrisville, Knightdale, and Wake Forest, North Carolina. Request your appointment online today!