Dental Implants – North Raleigh, NC
Replacing Your

Lost Tooth Roots
Even a single missing tooth can change the balance of your biting force across teeth, resulting in shifting, rotating, and jaw and facial pain from overworked muscles. Not only does a missing tooth change the look of your smile, but it can also negatively affect the way you feel from day to day, reduce your confidence, and leave you with a diminished quality of life.
A missing tooth doesn't mean you have to wear uncomfortable dentures or bridges. Dentures and removable bridges tend to be loose and unstable, but dental implants in North Raleigh provide you with replacements that look, feel, and function just like your own teeth. Dr. Philip A. Lisk offers dental implants as a durable and attractive choice that can provide a complete smile for years to come. To get started, call our office to set up a consultation!
Why Choose Dr. Philip A. Lisk for Dental Implants?
Partners with the Best Raleigh-Area Dental Implant Specialists
Fair Fees with Flexible Financing
Relaxing, Welcoming Dental Office Atmosphere
What Are Dental Implants?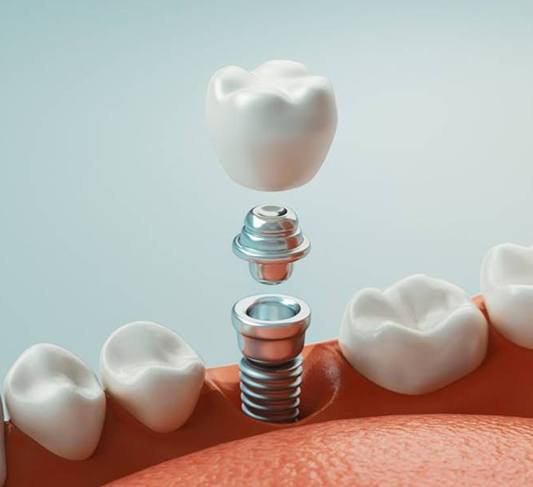 Dental implants are titanium posts that act as artificial tooth roots. Once your implant has been surgically placed in your jaw, it fuses to your existing bone and other oral tissues to create a strong and sturdy bond. Then, a metal connector piece called an abutment is placed on top, which will secure your restoration. Depending on how many teeth you must replace, your restoration might be a dental crown, bridge, or denture. Whatever the case may be, your replacement teeth will be custom-made to look as natural as possible.
Compared to other forms of tooth replacement, dental implants offer the most benefits. The surgical placement of the implant post makes it the only option that preserves your jawbone's density. This helps to support any remaining natural teeth to allow them to stay firmly in place. As a result, you will improve your oral health to reduce your risk for future tooth decay, gum disease, and tooth loss.
Overall, you benefit from a long-term solution that allows you to make a true investment in your oral health and quality of life.
Benefits of Dental Implants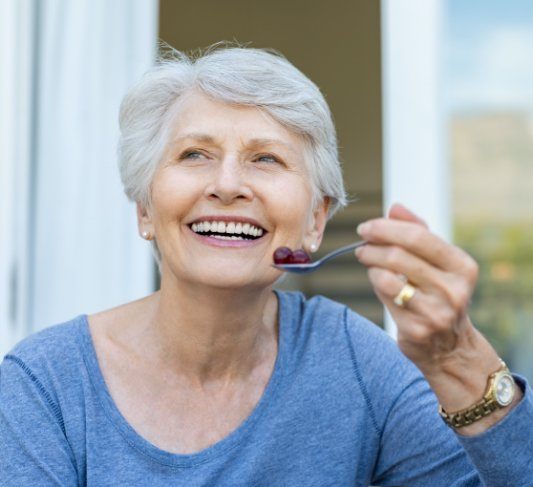 Traditional forms of tooth replacement definitely have their drawbacks. Dental bridges cannot be placed unless some enamel is removed from your remaining teeth. Dentures can slip when you least want them to, and as your gums change shape they may not fit as well as they used to. With dental implants, you can avoid these issues while also enjoying many other advantages., such as:
Root Replacement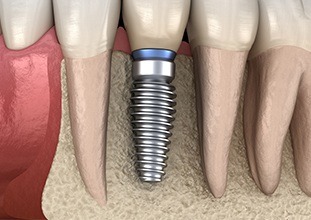 Dental implants are the only tooth replacement option that works to replace the entire tooth structure, not just the crown portion that fills the gap in your smile. Because of this, blood flow can continue to your tooth, which allows nutrients to travel to other areas of your mouth and cheeks. This also prevents the bone tissue inside your jaw from deteriorating, a common issue among those with tooth loss.
Stronger Biting Force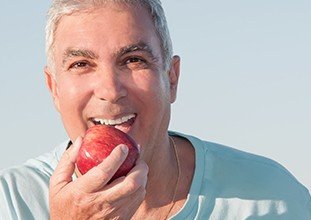 When you replace your missing teeth with a denture, you're only able to regain about 20 percent of your original biting force. While this is certainly better than what you had before, dental implants help you regain up to 70 percent. That means chewing your favorite foods, whether it be steak or apples, feels natural and easy. This also makes it easier for you to maintain a more balanced diet, which gets increasingly important as you age.
Long-Term Functionality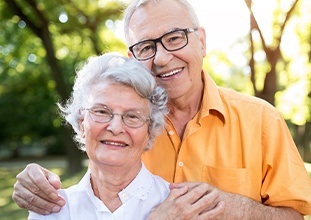 Dental implants generally last between 25 years and a lifetime when you practice daily oral care and avoid tobacco products. In contrast, dentures need to be replaced every 7 to 10 years and dental bridges need to be replaced every 10 to 15 years. As long as you brush with fluoridated toothpaste twice a day and floss daily, you have very little to worry about when it comes to your implant's health.
Restore Your Smile & Face Shape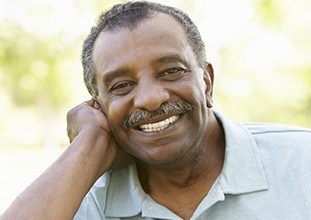 Dental implants utilize lifelike dental ceramics in order to blend in with your smile as much as possible. However, their restorative properties also help you maintain the natural shape of your jaw and face. Tooth loss typically causes the cheeks to sag and hollow out. This process is avoided when a root is restoring blood flow and stimulating your bone tissue.
High Success Rates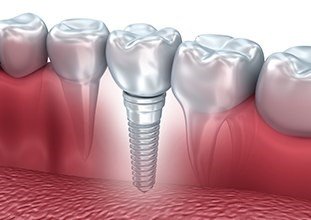 Dental implants have an average success rate as high as 95 to 98 percent when placed by a professional. Even after 10 years of use, implants carry a high success rate as noted by clinical studies. This is largely because dental implants have been used for nearly half a century, allowing researchers time to perfect their use and predictability. Furthermore, dentists can plan each stage of your treatment with very high levels of precision, improving the odds of successful, long-term implantation.
Who Dental Implants Can Help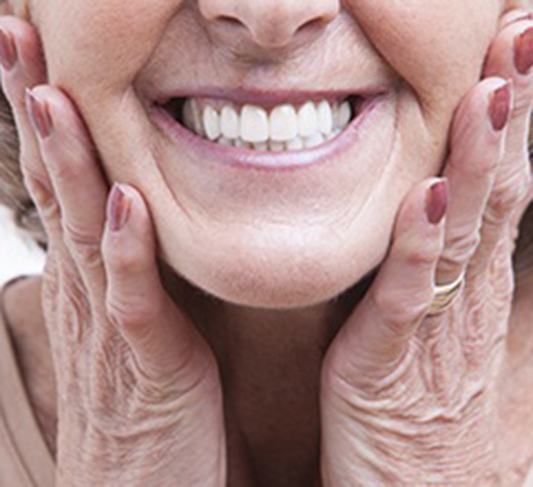 Dental implants are a versatile solution, allowing for the replacement of a single tooth or multiple missing teeth. Because dental implants replace the tooth root, they are considered the most natural and permanent way to replace missing teeth.
Missing One Tooth
We use an implant-retained crown when replacing a single tooth to deliver you a natural-looking and feeling replacement. Your restoration will be custom-made to match the rest of your smile, and once it's placed, you'll be left with a beautifully complete smile.
Missing Multiple Teeth
If you're missing consecutive multiple teeth, your best option is an implant-retained bridge because it can replace your missing teeth all at once. With a dental implant on either side of the gap in your smile, Dr. Lisk will restore its look and function with a bridge. The dental implants anchor your bridge in place for a secure and strong bite.
Missing All Teeth
Do you have removable dentures or partials that slip and cause you pain? Implant dentures and partials are a great solution for many patients. The implant acts as an anchor for your prosthetic, eliminating sliding and clicking for a comfortable fit and a confident smile.
Understanding the Cost of Dental Implants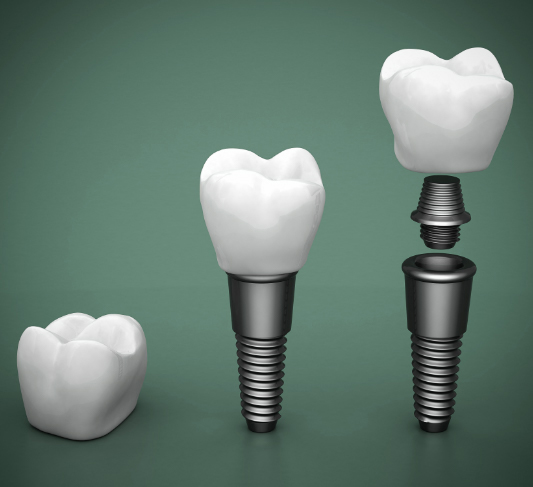 Every patient's overall cost will be different because of the many factors that play a role in the dental implant placement and restoration. The number of teeth you're missing, condition of your oral health, and what type of restoration you'll need are just some of the variables that influence the cost of your dental implants. During your first visit, Dr. Lisk will examine your mouth and discuss your desired goals before putting together a treatment plan with a fair and more precise estimate.
Types of Dental Implants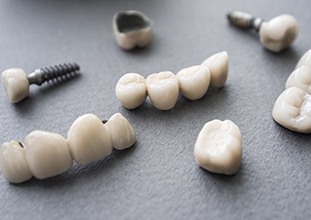 The first and biggest factor that impacts the cost of dental implant tooth replacement is the cost of the implant posts themselves. Each implant is hand-crafted from high quality materials and customized to meet your unique needs, but these customizations and quality results do add to your overall treatment price. We typically use titanium implant posts. This is the material that has been used for the longest amount of time and offers the most successful results. For those patients who have experienced allergies or sensitivities to metal, zirconia dental implants may offer a viable alternative. Both options have proven successful.
What Are the Stages of Dental Implant Treatment?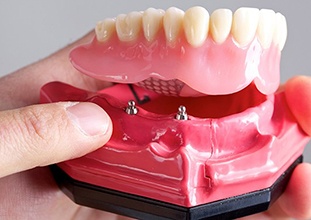 Before we ever design and place your dental implant posts, we may need to provide preparatory treatments, including tooth extractions and bone or soft tissue grafts. Once your smile is prepared, we'll carefully place your dental implant posts. Then, the osseointegration process begins. This is the term for how implant posts fuse with the gum and bone tissue, making dental implant tooth replacement the most natural and effective tooth replacement solution. After your implants fuse with the supportive tissues, we attach the abutments that anchor the replacement tooth or teeth and design your replacement dental crown, bridge, or denture. Finally, we attach your custom crafted restoration, recreating your healthy, flawless smile.
Are Dental Implants Worth the Investment?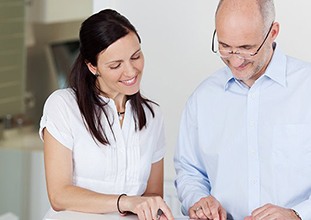 To replace one or more teeth with a dental implant supported restoration, you do need to be prepared for a financial investment, but the long-term results can be worth the added costs. Some of the many benefits of dental implant restorations include:
Traditional restorations need to be replaced every five to ten years, but an implant restoration can last three decades or longer.
Traditional dentures will limit your diet and may lead to difficulty speaking clearly and smiling confidently, but an implant supported denture sits firmly, allowing you to enjoy confidence in every situation.
With the addition of the implant posts to replace tooth roots, these tooth replacement options ensure you maintain the healthiest smile.
Does Dental Insurance Cover Dental Implants?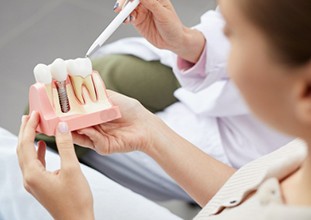 Dental insurance will cover parts of the implant tooth replacement process. Our team has experience processing and filing these insurance claims to ensure you get the maximum benefits. We can also work with third-party providers to offer low- and no-interest financing options.