Dental Implants – Raleigh, NC
Replacing Your

Lost Tooth Roots
Even a single missing tooth can change the balance of your biting force across teeth, resulting in shifting, rotating, and jaw and facial pain from overworked muscles. Not only does a missing tooth change the look of your smile, but it can also negatively affect the way you feel from day to day, reduce your confidence, and leave you with a diminished quality of life.
A missing tooth doesn't mean you have to wear uncomfortable dentures or bridges. Dentures and removable bridges tend to be loose and unstable, but dental implants in Raleigh provide you with replacements that look, feel, and function just like your own teeth. Dr. Philip A. Lisk offers dental implants as a durable and attractive choice that can provide a complete smile for years to come. To get started, call our office to set up a consultation!
Why Choose Dr. Philip A. Lisk for Dental Implants?
Partners with the Best Raleigh-Area Dental Implant Specialists
Fair Fees with Flexible Financing
Relaxing, Welcoming Dental Office Atmosphere
What Are Dental Implants?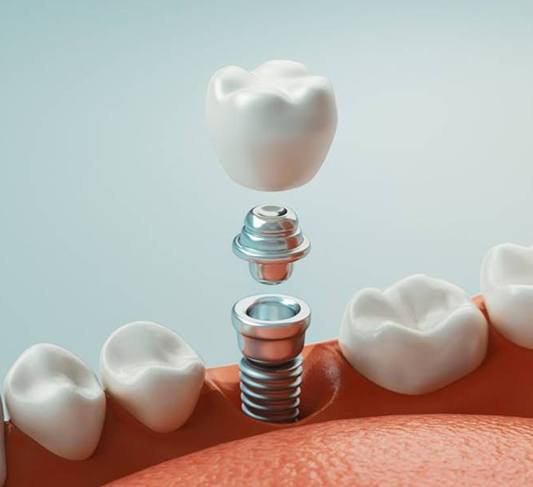 Dental implants are titanium posts that act as artificial tooth roots. Once your implant has been surgically placed in your jaw, it fuses to your existing bone and other oral tissues to create a strong and sturdy bond. Then, a metal connector piece called an abutment is placed on top, which will secure your restoration. Depending on how many teeth you must replace, your restoration might be a dental crown, bridge, or denture. Whatever the case may be, your replacement teeth will be custom-made to look as natural as possible.
Compared to other forms of tooth replacement, dental implants in North Raleigh offer the most benefits. The surgical placement of the implant post makes it the only option that preserves your jawbone's density. This helps to support any remaining natural teeth to allow them to stay firmly in place. As a result, you will improve your oral health to reduce your risk for future tooth decay, gum disease, and tooth loss.
Overall, you benefit from a long-term solution that allows you to make a true investment in your oral health and quality of life.
4 Step Dental Implant Process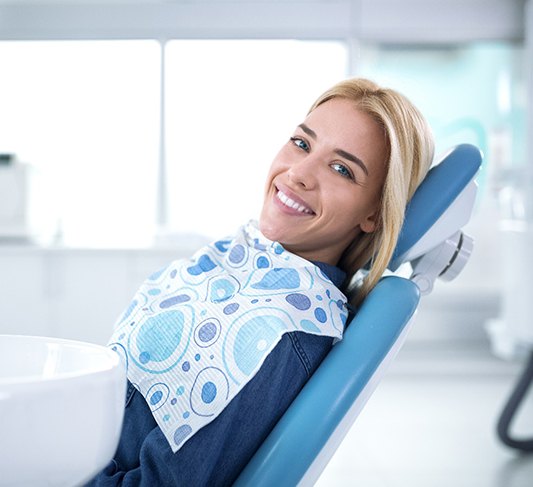 We take a team-based approach to placing dental implants, meaning we'll refer you to a local expert to handle the surgical aspects of the procedure while we handle the placement of the final dental restoration. This gives you the benefit of having an expert's touch during every step of the procedure, leading to reliably long-lasting results. Your implant journey won't be exactly the same as another patient's, but it will follow the same four basic steps outlined as follows.
Initial Dental Implant Consultation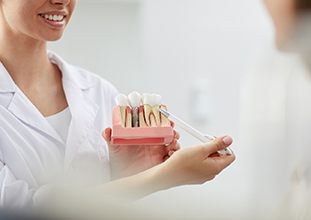 The consultation is where we determine whether or not dental implants are a good decision for you. We'll use the latest technology to examine your mouth as well as important facial structures, then determine whether you can get implants right away or if you'll need preliminary work such as bone grafting first. We can then give you an outline of what the procedure will look like and provide an estimate for the timeline and cost before you commit to the treatment. Once you've made a decision, we can arrange the next steps of the process.
Dental Implant Surgery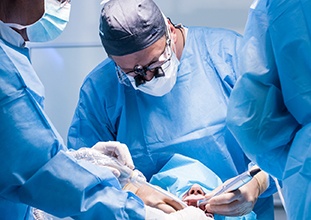 After your mouth has recovered from any preliminary work, you'll undergo a simple surgery to receive your implants. Small incisions are made in the gums to give the oral surgeon access to the jawbone. Once the necessary holes are made, the implants are placed at carefully chosen locations. Then the gums are closed, and a protective cap is attached to the implant post in order to keep it safe while your mouth is healing.
Dental Implant Osseointegration & Abutment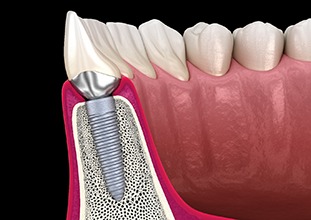 Osseointegration can be seen as the linchpin of the dental implant process. It's what allows the dental implants to join with the jawbone and act as new tooth roots. It takes about three to six months for the osseointegration process to be complete. Afterwards, you'll have a second, smaller surgery performed to have small metal connector pieces called abutments placed on top of your implant posts. The abutments are key because they are what will actually be used to secure your personalized dental crown, bridge, or denture into place.
Delivery of Dental Implant Restoration(s)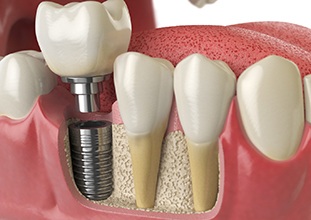 Our practice will handle the delivery of the final restoration, which will be designed based on impressions of your natural smile that we capture and send to a trusted dental lab. The restoration will be made from materials that mimic the appearance of natural teeth in terms of color and light-reflective properties. The ceramist will use the impressions that we've given them to adjust the final restoration so that it resembles your natural teeth as closely as possible. Then the restoration will be sent to our office, and we'll call you in for your last appointment. We'll make any necessary last-minute adjustments to the fit and the overall appearance of the prosthetic, then attach it to the implants and complete your new grin.
Benefits of Dental Implants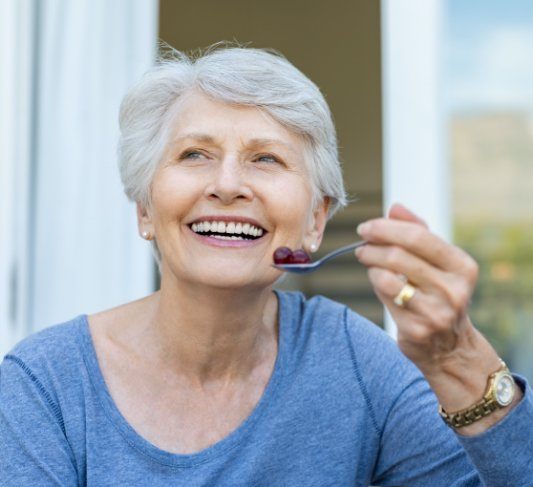 Traditional forms of tooth replacement definitely have their drawbacks. Dental bridges cannot be placed unless some enamel is removed from your remaining teeth. Dentures can slip when you least want them to, and as your gums change shape they may not fit as well as they used to. With dental implants, you can avoid these issues while also enjoying many other advantages., such as:
Root Replacement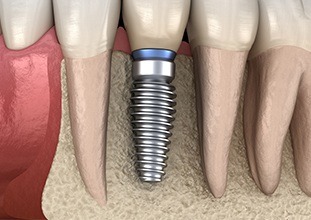 Dental implants are the only tooth replacement option that works to replace the entire tooth structure, not just the crown portion that fills the gap in your smile. Because of this, blood flow can continue to your tooth, which allows nutrients to travel to other areas of your mouth and cheeks. This also prevents the bone tissue inside your jaw from deteriorating, a common issue among those with tooth loss.
Stronger Biting Force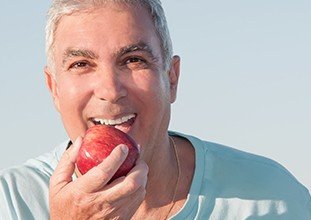 When you replace your missing teeth with a denture, you're only able to regain about 20 percent of your original biting force. While this is certainly better than what you had before, dental implants help you regain up to 70 percent. That means chewing your favorite foods, whether it be steak or apples, feels natural and easy. This also makes it easier for you to maintain a more balanced diet, which gets increasingly important as you age.
Long-Term Functionality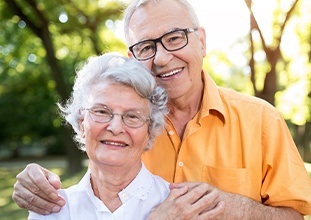 Dental implants in North Raleigh generally last between 25 years and a lifetime when you practice daily oral care and avoid tobacco products. In contrast, dentures need to be replaced every 7 to 10 years and dental bridges need to be replaced every 10 to 15 years. As long as you brush with fluoridated toothpaste twice a day and floss daily, you have very little to worry about when it comes to your implant's health.
Restore Your Smile & Face Shape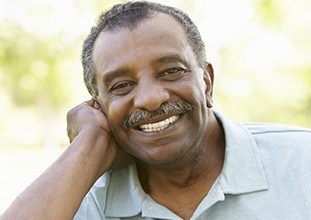 Dental implants utilize lifelike dental ceramics in order to blend in with your smile as much as possible. However, their restorative properties also help you maintain the natural shape of your jaw and face. Tooth loss typically causes the cheeks to sag and hollow out. This process is avoided when a root is restoring blood flow and stimulating your bone tissue.
High Success Rates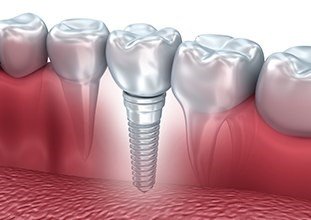 Dental implants have an average success rate as high as 95 to 98 percent when placed by a professional. Even after 10 years of use, implants carry a high success rate as noted by clinical studies. This is largely because dental implants have been used for nearly half a century, allowing researchers time to perfect their use and predictability. Furthermore, dentists can plan each stage of your treatment with very high levels of precision, improving the odds of successful, long-term implantation.
Who Dental Implants Can Help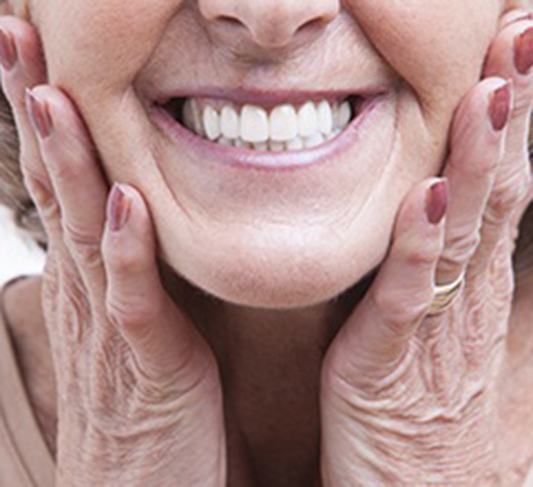 Dental implants are a versatile solution, allowing for the replacement of a single tooth or multiple missing teeth. Because dental implants replace the tooth root, they are considered the most natural and permanent way to replace missing teeth.
Missing One Tooth
We use an implant-retained crown when replacing a single tooth to deliver you a natural-looking and feeling replacement. Your restoration will be custom-made to match the rest of your smile, and once it's placed, you'll be left with a beautifully complete smile.
Missing Multiple Teeth
If you're missing consecutive multiple teeth, your best option is an implant-retained bridge because it can replace your missing teeth all at once. With a dental implant on either side of the gap in your smile, Dr. Lisk will restore its look and function with a bridge. The dental implants anchor your bridge in place for a secure and strong bite.
Missing All Teeth
Do you have removable dentures or partials that slip and cause you pain? Implant dentures and partials are a great solution for many patients. The implant acts as an anchor for your prosthetic, eliminating sliding and clicking for a comfortable fit and a confident smile.
Understanding the Cost of Dental Implants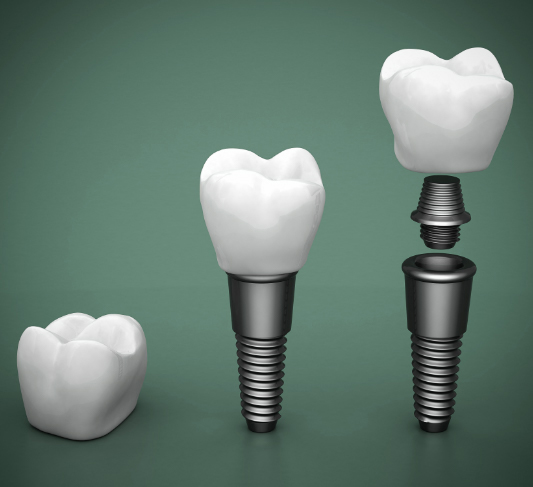 Every patient's overall cost will be different because of the many factors that play a role in the dental implant placement and restoration. The number of teeth you're missing, condition of your oral health, and what type of restoration you'll need are just some of the variables that influence the cost of your dental implants. During your first visit, Dr. Lisk will examine your mouth and discuss your desired goals before putting together a treatment plan with a fair and more precise estimate.
Types of Dental Implants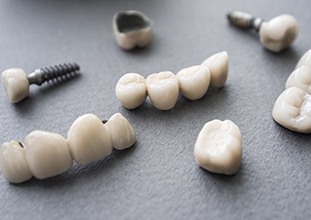 The first and biggest factor that impacts the cost of dental implant tooth replacement is the cost of the implant posts themselves. Each implant is hand-crafted from high quality materials and customized to meet your unique needs, but these customizations and quality results do add to your overall treatment price. We typically use titanium implant posts. This is the material that has been used for the longest amount of time and offers the most successful results. For those patients who have experienced allergies or sensitivities to metal, zirconia dental implants may offer a viable alternative. Both options have proven successful.
What Are the Stages of Dental Implant Treatment?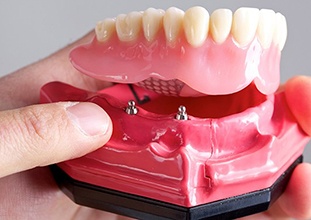 Before we ever design and place your dental implant posts, we may need to provide preparatory treatments, including tooth extractions and bone or soft tissue grafts. Once your smile is prepared, we'll carefully place your dental implant posts. Then, the osseointegration process begins. This is the term for how implant posts fuse with the gum and bone tissue, making dental implant tooth replacement the most natural and effective tooth replacement solution. After your implants fuse with the supportive tissues, we attach the abutments that anchor the replacement tooth or teeth and design your replacement dental crown, bridge, or denture. Finally, we attach your custom crafted restoration, recreating your healthy, flawless smile.
Are Dental Implants Worth the Investment?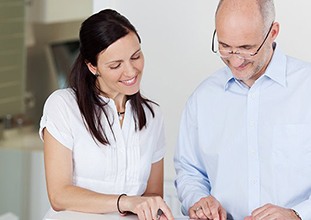 To replace one or more teeth with a dental implant supported restoration, you do need to be prepared for a financial investment, but the long-term results can be worth the added costs. Some of the many benefits of dental implant restorations include:
Traditional restorations need to be replaced every five to ten years, but an implant restoration can last three decades or longer.
Traditional dentures will limit your diet and may lead to difficulty speaking clearly and smiling confidently, but an implant supported denture sits firmly, allowing you to enjoy confidence in every situation.
With the addition of the implant posts to replace tooth roots, these tooth replacement options ensure you maintain the healthiest smile.
Does Dental Insurance Cover Dental Implants?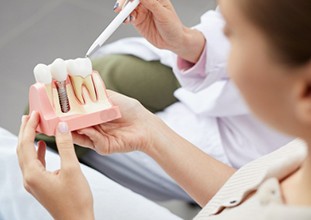 Dental insurance will cover parts of the implant tooth replacement process. Our team has experience processing and filing these insurance claims to ensure you get the maximum benefits. We can also work with third-party providers to offer low- and no-interest financing options.
Dental Implant FAQs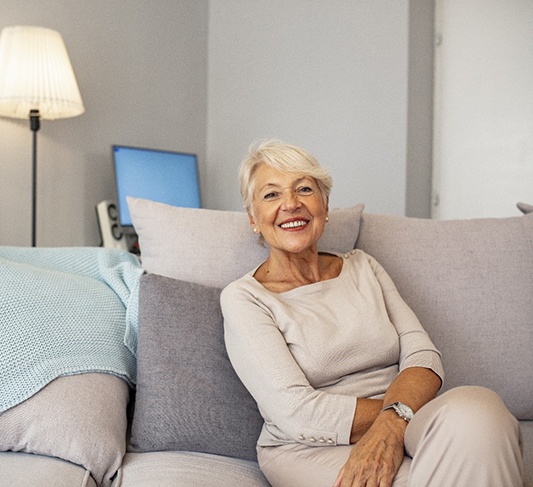 With dental implants in North Raleigh, you can expect to enjoy outstanding benefits that are not attainable with any other tooth replacement option. Dr. Philip Lisk partners with the best local surgeons in the area to ensure your new teeth are stable, solid, and long-lasting. But no matter where you are in the decision-making process, you may feel as if you need more information before making a choice as to how you want to replace your missing teeth. Even if you are leaning toward dental implants, we can provide additional insight into these prosthetics. Feel free to review the following questions and contact us should you need further clarification or to schedule an appointment to learn more.
How can I tell if my dental implant is failing?
Although dental implant failure is rare, it can happen if you are not careful. Some of the most common signs include increased pain around your implant, inflamed or swollen gums, or a loose implant. Should you notice any of these problems developing, do not wait to seek help. Call our office right away, and we will get you in as quickly as possible to help remedy the problem.
How long does it take to recover from dental implant surgery?
It is not uncommon to be able to resume normal activity the day after your implant surgery. However, you should be mindful of what you're doing in the days and weeks following. It is advised that you avoid strenuous exercise for the first week, as you will need to heal thoroughly. After the first few days, the bleeding should cease, and swelling should go down. If you received any prescribed medication from Dr. Lisk or are taking an over-the-counter pain reliever, make sure to take it as directed. The normal timeline for recovery after dental implant surgery is 3-6 months, as this is what is required to ensure your implants properly fuse with your jawbone.
Will people be able to tell that I have dental implants?
No, your dental implants will look and feel completely natural once put into place. In fact, your implant dentist in North Raleigh will take impressions of your mouth before sending them to a dental lab where technicians will customize your new smile using the specifications provided by Dr. Lisk. Once your crown, bridge, or denture is secured into place, it should blend in with your healthy, natural teeth, making it almost impossible for anyone to tell the difference between your real and artificial teeth. Because they sit within your jawbone and mimic your tooth roots, you will not need to hold your jaw in a certain way like you would with dentures.
What should I do if I can't afford dental implants?
Although traditional tooth replacement options cost less (i.e., dentures, dental bridges), they simply do not offer the same quality or oral health benefits as dental implants. Because these permanent prosthetics stimulate the jawbone to prevent deterioration, they are certainly worth the investment in your time and money. With dental insurance, you may be eligible to receive coverage for any preliminary treatments you might need as well as your custom restoration. If you have an FSA or HAS, it is also possible that you may be able to qualify for reimbursement. If you're uninsured or are unable to pay the balance in full, you can also enroll in Dr. Lisk's in-house dental savings plan or a low or no interest payment plan through CareCredit.
Maintaining & Caring for Your Dental Implants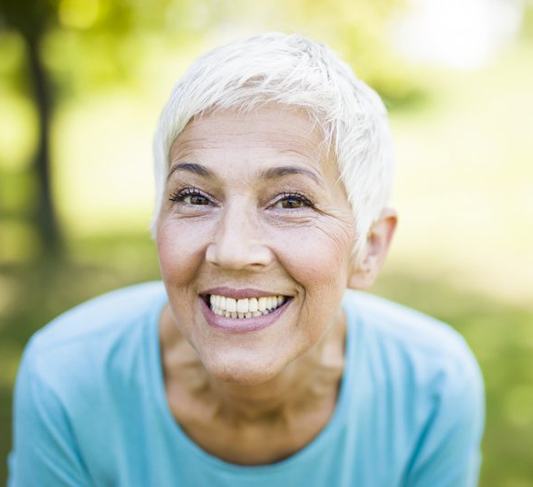 As the sole option to recreate the hidden root structure of missing teeth, dental implants are considered the only permanent tooth replacement. Indeed, they have the potential to last a lifetime since they fuse with your jawbone. However, this long lifespan is only attainable if you practice good dental implant care in Raleigh. Here are five easy steps you can take to help your new teeth stay healthy and functional for as long as possible.
Make Oral Hygiene a Priority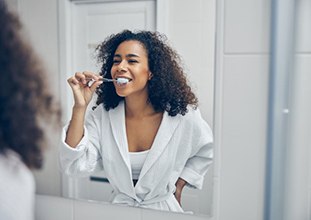 Although dental implants cannot get cavities, it's arguably more important than ever before to maintain good oral hygiene after tooth loss. The most common reason for dental implant failure in North Raleigh is peri-implantitis, a gum infection caused by poor oral hygiene. If the gums are inflamed, they won't be able to adequately support the implant, leading to failure.
To minimize this risk, be sure to brush your teeth twice a day for two minutes at a time. If you still have any natural teeth, use a fluoride toothpaste to keep them strong. It also helps to floss at least once a day to dislodge food debris and plaque from between your teeth.
Eat a Healthy Diet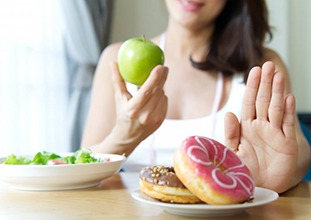 Unlike dentures or bridges alone, dental implants in Raleigh let you eat virtually anything you want. That being said, you'll want to avoid or limit foods that are particularly sugary, sticky, or hard. Not only do they increase your risk for tooth decay and gum disease, but they could damage or loosen the restorations on top of your implants. To keep your gums and jawbone healthy, eat foods with calcium and vitamin C, such as leafy greens, lean proteins, and dairy products.
Break Bad Habits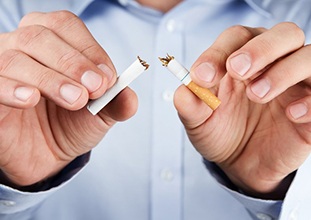 Dental implants boast an impressive 95% success rate, but certain bad habits can cause them to fail prematurely. One such habit is using your teeth as tools for biting your fingernails, opening bottles or packages, chewing on pencils, etc. You should also quit smoking or using tobacco products before getting dental implants. Tobacco not only increases your risk for gum disease and several types of cancer, but it also impairs the healing process. Osseointegration may not occur, meaning your dental implant surgery will have been all for nothing.
Protect Your Dental Implants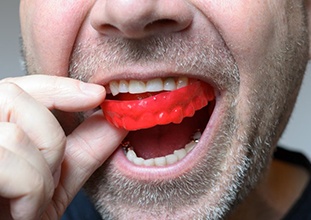 Titanium is remarkably durable, but that doesn't make dental implants indestructible. You'll have to protect them to the best of your ability. If you suffer from chronic nighttime teeth grinding (also known as bruxism), make sure to wear a nightguard to prevent long-term wear and tear. Also, wear a mouthguard during sports games or practices. Otherwise, your implants are at risk of serious damage due to injury.
Schedule Regular Dental Checkups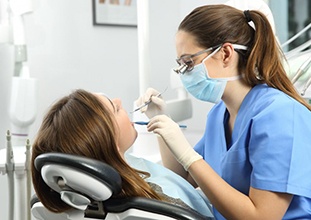 Routine dental checkups and cleanings are still crucial even if all of your natural teeth have been lost and replaced. These six-month appointments give Dr. Lisk, your implant dentist in Raleigh, a chance to evaluate your implants (and remaining teeth) and detect any minor issues early on. That way, your treatment is more likely to be effective and inexpensive. Our hygienists can also clean areas of your smile that you're unable to reach on your own, keeping your smile healthy and plaque-free.