Inlays & Onlays – North Raleigh, NC
Choosing the Right Restoration

for Your Unique Tooth
If you have a big cavity that needs more than a filling, or an old filling that needs replacing, Dr. Lisk may recommend a dental inlay or onlay. The treatment offers more stability than a traditional filling and is more conservative than a traditional crown. An inlay is used for repairing minor damage; an onlay restores a more significant cavity or filling.
Why Choose Dr. Philip A. Lisk for Inlays & Onlays?
Individually Designed Restorations
Relatable, Friendly
Dental Team
One-Visit Restorations Available
What's the Difference Between an Inlay and Onlay?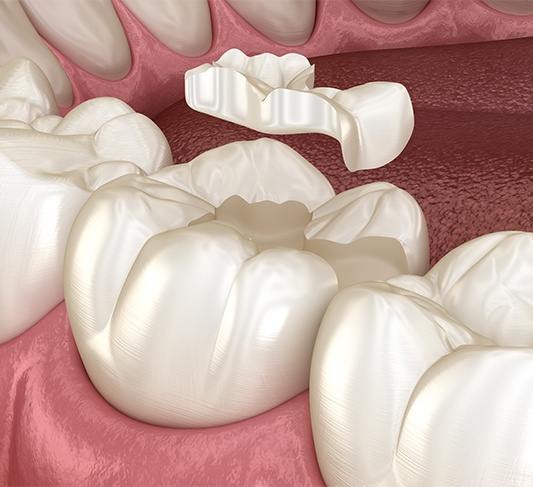 An inlay covers damage between the cusps of the tooth, or within its chewing surface. The inlay is much smaller than an onlay, which covers the majority of or the entire chewing surface. An onlay covers one or more tooth cusps. We group the two together as "inlays and onlays" because the only difference is in size -- the procedure is the same for both treatments.
Inlay and Onlay Compared to a Traditional Filling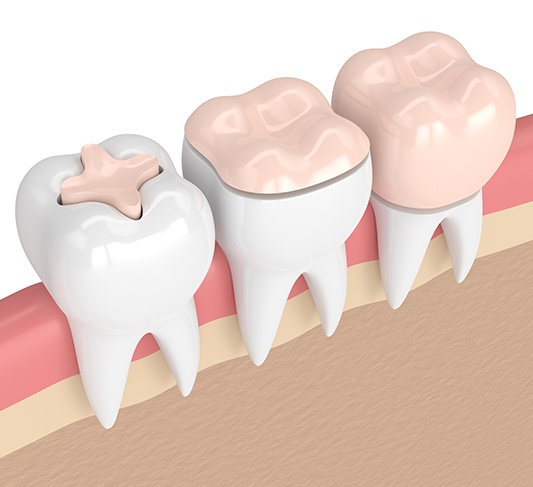 While both treatments are used for restoring decay and damage, inlays and onlays provide more strength than a traditional filling. It is also applied differently (see more on application below). And unlike a silver filling, the porcelain or composite resin inlay and onlay blends flawlessly with the rest of your natural teeth. An inlay and onlay requires two visits to the dentist, while a filling is completed in just one appointment. More natural tooth structure is also preserved with an inlay or onlay, making it a more conservative choice -- especially compared to a dental crown.
How Are Inlays and Onlays Applied?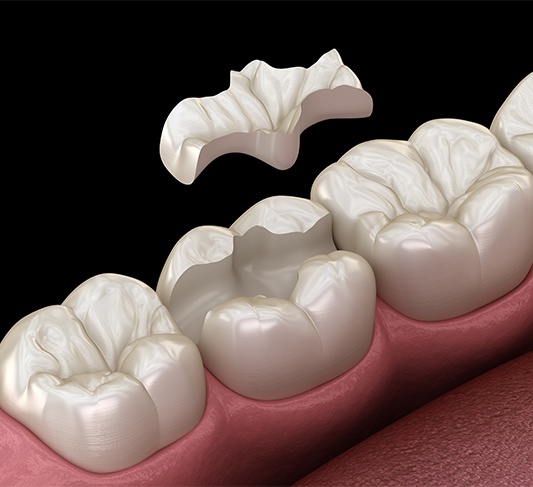 Inlays and onlays are sometimes called indirect fillings because they are prepared in a separate lab and then bonded onto the affected tooth after. A traditional filling is applied and shaped directly on the affected tooth.
To treat your tooth with an inlay or onlay, your dentist begins by removing the decay from the affected tooth. Then, an impression is created to be sent to a separate dental laboratory. Your inlay or onlay will be created out of porcelain or composite resin, materials that are highly customizable to match the shade of your tooth. Once the restoration has been manufactured, it is shipped back to our office and you return for its final placement.
The inlay or onlay is bonded securely onto the surface of the tooth. You will wear a temporary inlay or onlay in the time between appointments, with which you can chew and eat without difficulty. Still, you should exercise caution with the temporary device and avoid eating hard, chewy, or sticky foods.
Taking Care of Your Inlay and Onlay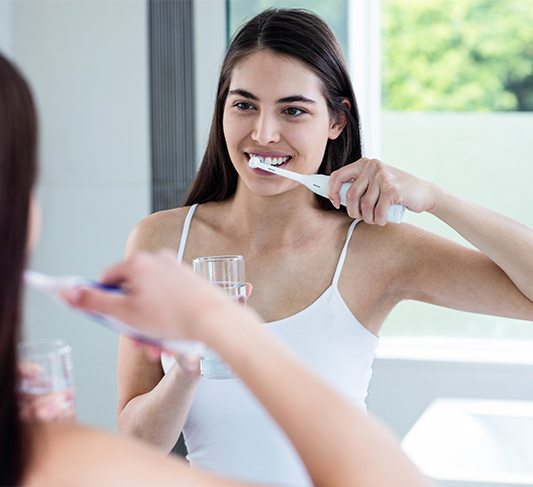 Once your tooth has been restored with an inlay or onlay, you can extend its lifespan by maintaining excellent dental hygiene habits at home. Continue to brush your teeth for two minutes, twice a day, floss daily, and visit Dr. Lisk as often as we recommend. Stay away from damaging habits, like nail biting, chewing on ice, and opening packages with your teeth. If you play a sport or grind your teeth at night, a custom-fit mouth guard can protect your new inlay and onlay.
Do you need quality restorative dental care? If so, please get in touch with Dr. Lisk's office. We warmly welcome patients from North Raleigh, Cary, Morrisville, Knightdale, and Wake Forest. Schedule a visit today!