Implant Dentures – North Raleigh, NC
Tired of Dentures
That Slip?
Are you tired of the slipping and irritation your denture causes? Do you miss eating your favorite foods, like steak? You do not need to put up with these inconveniences any longer. Dr. Philip A. Lisk can help you get the next best thing to your real teeth with implant dentures in North Raleigh. A few strategically placed dental implant posts can secure a custom-made denture to your jawbone to improve your oral health and overall quality of life. If you are ready to enjoy a more natural-functioning solution, it is time to see if an implant denture is right for you. Call us today to get started!
Why Choose Dr. Philip A. Lisk for Implant Dentures?
Partnered with Local Dental Implant Specialists
Top-Rated Raleigh Dentist with 20+ Years of Experience
Fair Prices & Flexible Financing
What Are Implant Dentures?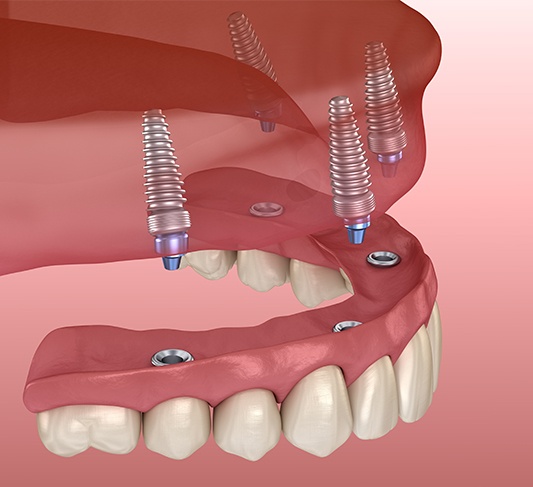 A small number of dental implant posts are surgically placed into your jawbone to act as new tooth roots. Your body naturally accepts the biocompatible material, allowing it to stimulate new bone growth in your jaw. Over the course of a few months, your jawbone fuses to the posts, so they can stay in place forever with the right care. This creates a secure foundation to attach a custom-made denture. Once your implant denture is in place, you will never need to worry about any slipping or irritation again.
Depending on your unique oral health needs, you may receive one of the two types of implant dentures:
Fixed/Permanent Implant Dentures
A fixed implant denture is secured to the tops of your implants with metal abutments. It can only be removed by an implant dentist in North Raleigh. As a result, your teeth will feel so natural that you might even forget that you lost your teeth in the first place!
Removable Implant Dentures
Maybe you've had dentures for a while and don't want to change your routine of removing them for cleaning. Known as an implant-supported denture, this type of implant denture can be secured onto clips (bar-retained) or ball sockets (ball-retained) and taken out whenever you would like.
The Implant Denture Process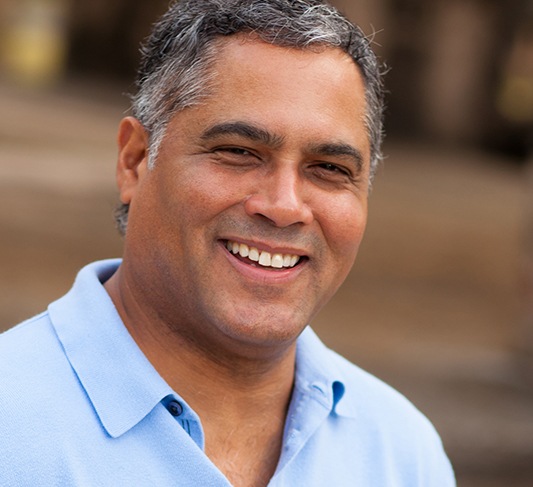 While the process of getting implant dentures takes longer than that of a traditional prosthetic, their long-term benefits make them well worth the investment.
Once Dr. Lisk determines you are eligible for implant dentures, he'll refer you to one of our partnered implant specialists. Then, an average of four implant posts are surgically inserted into your jaw. You will spend the next several months allowing your jawbone to fuse to the posts. After you have healed, you are fitted for your custom-made denture.
Am I a Candidate for Implant Dentures?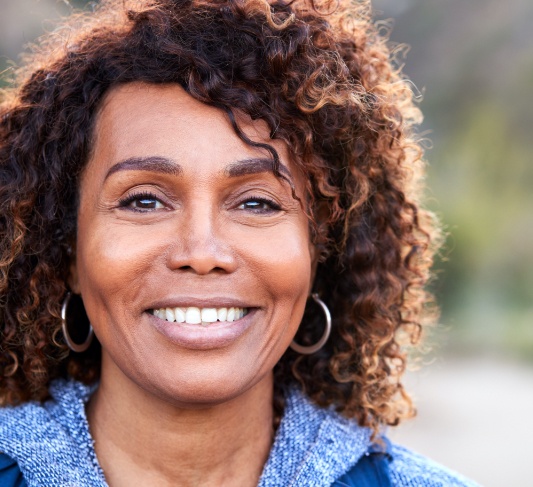 One amazing aspect of implant dentures is that most patients with missing teeth make good candidates for the treatment. In most cases, all you need is:
A lack of medical conditions that could interfere with implant placement surgery or healing
A willingness to practice good oral hygiene and quit bad habits (like smoking) that could jeopardize your implant denture
Healthy gums and sufficient jawbone density
Even if you don't meet these qualities initially, Dr. Lisk might be able to change that. For example, you may need to receive a bone graft to strengthen a jawbone that has been weakened after tooth loss. Our team will gladly help ensure your new smile has a healthy foundation!
Benefits of Combining Dentures & Dental Implants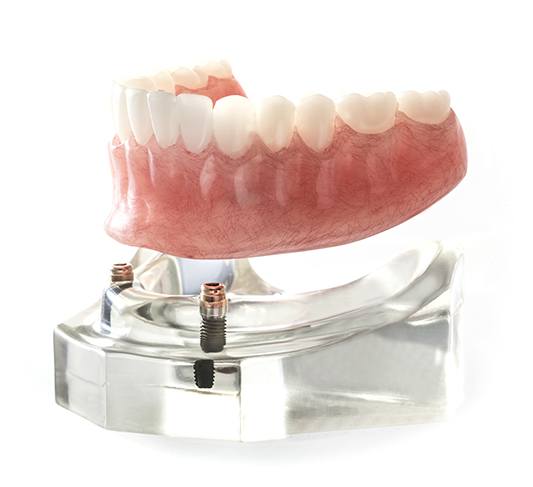 Dental implants in North Raleigh recreate the root structures of lost teeth as well as the visible crowns. This makes it possible for you to enjoy several added benefits that are not possible with other treatments, including:
Over a 95% success rate.
Looks and feels natural.
Restores as much as 70% of your biting force.
Preserves your jawbone's density.
Improves your oral health.
Protects your facial structures.
Eliminates slipping and irritation.
Long-lasting solution.
Long-term cost-effective treatment.