Implant-Retained Dentures – Raleigh, NC
Enjoy the Security of Dental Implants
Are you tired of the slipping and irritation your denture causes? Do you miss eating your favorite foods, like steak? You do not need to live with the results. Dr. Philip A. Lisk can help you get the next best thing to your real teeth with the help of dental implants in North Raleigh. The implant posts secure a custom-made denture to your jawbone to improve your quality of life and your oral health. If you are ready to enjoy a more natural-functioning solution, it is time to see if an implant-retained denture is right for you.
What is an Implant-Retained Denture?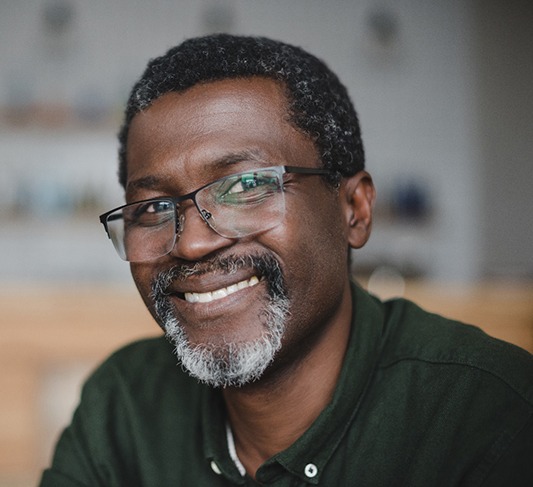 Dental implant posts are surgically placed into your jawbone to act as new tooth roots. Your body naturally accepts the biocompatible material, allowing it to stimulate new bone growth. Over the course of a few months, your jawbone fuses to the posts, so they can stay in place forever with the right care. This creates a secure foundation to attach a custom-made denture. You will never need to worry about any slipping or irritation again.
Benefits of Dental Implants
Traditional dental prosthetics only replace the crowns of your teeth. Not dental implants. They are the only treatment option that allows both the roots and the crowns to be replaced. The implant posts act as new roots by surgically implanting them into your jawbone. This makes it possible for you to enjoy several added benefits that are not possible with other treatments, including:
Over a 95% 10-year success rate.
Looks and feels natural.
Restores as much as 70% of your biting force.
Preserves your jawbone's density.
Improves your oral health.
Protects your facial structures.
Eliminates slipping and irritation.
Long-lasting solution.
Long-term cost-effective treatment.
What Can I Expect with Dental Implants?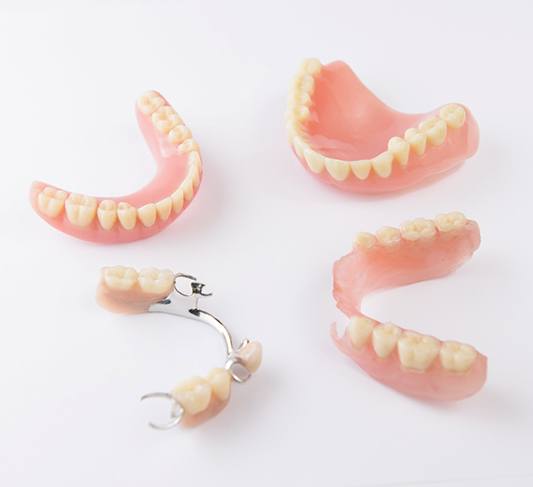 If you have good oral and general health, you are a candidate for dental implants; however, you still require a consultation with Dr. Lisk. Besides a visual examination, he also uses a CT scan to assess your oral structures. The images are also needed to pinpoint the precise location for the implant posts.
Depending on the density of your jawbone, you may require bone grafting or a sinus lift before your posts are placed. After the foundation for your new smile is established, an average of 4 implant posts are surgically inserted into your jawbone. Custom abutments are connected to each post to allow your denture to attach to them.
You will spend the next several weeks allowing your jawbone to fuse to the posts. After you have healed, you are fitted for your custom-made denture.
Cost of Dental Implants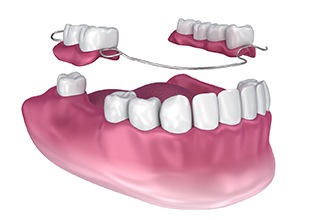 Implant-retained dentures cost more upfront than traditional options, but they are more cost-effective long-term. They have the potential to last for a lifetime, so you never need to worry about having them replaced.
Complete Your Smile Today!
If you are ready to stop living with the challenges of a traditional denture, your dentist in North Raleigh, Dr. Lisk can help. Contact our office today to see if you are a candidate for implant-retained dentures.