Gum Recontouring and Crown Lengthening – Raleigh, NC
Say Goodbye to

Your Gummy Smile
Do you feel self-conscious about your appearance because a lot of gum tissue is visible when you smile? This issue, known as a gummy smile, is quite common. Dr. Lisk and our Raleigh dental team want to help via our gum recontouring and crown lengthening services. What do these cosmetic procedures involve, and how might they benefit you? Continue reading this page to discover useful information, and then contact us when you are ready to book your consultation.
Why Choose Dr. Philip A. Lisk for Gum Recontouring and Crown Lengthening?
Highly Skilled Dentist with a Keen Eye for Details
Attentive and Kind Dental Team
Beautiful, Long-Lasting Results
What Are Gum Recontouring and Crown Lengthening?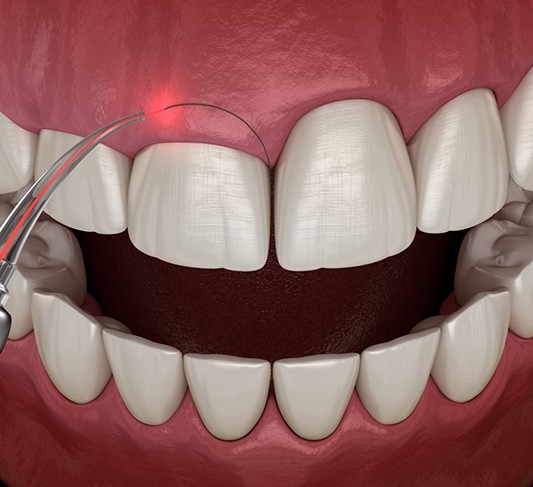 Gum recontouring is a cosmetic procedure wherein Dr. Lisk carefully removes excess gum tissue from a patient's mouth. As a result, more of the underlying dental structure is revealed, so the teeth look longer and the entire smile has more pleasing proportions. This service may also be called gum contouring, a gingivectomy, or gingivoplasty.
Some people believe that gum recontouring and crown lengthening are the same thing. However, crown lengthening may involve modifying both the gums and the underlying bone, whereas gum recontouring is usually limited exclusively to the gum tissue.
Who Is a Candidate for Gum Recontouring?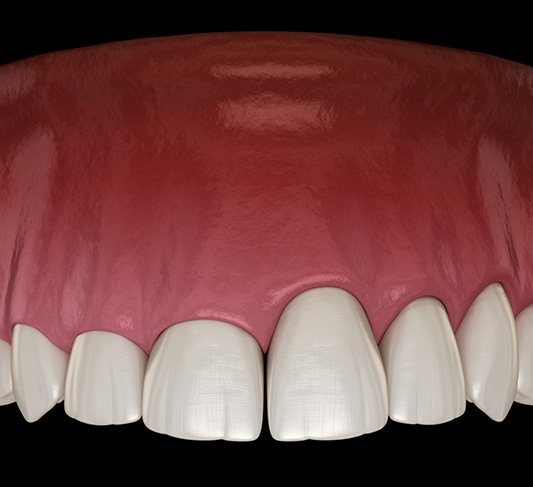 You may be a candidate for gum recontouring or crown lengthening if:
More than a few millimeters of gum tissue are visible when you smile. Even some very slight modifications to your gumline could dramatically improve your smile's appearance. However, remember that not all cases of a gummy smile are due to overgrown gum tissue. You might have an upper lip that retracts too far, which is a separate issue.
Your gumline is uneven. Some people have more gum tissue on some teeth than others. Gum recontouring can often resolve this problem.
You are interested in other procedures. You may need gum recontouring or crown lengthening to make more room on your teeth for a restorative crown or veneers.
You have periodontal disease. In some cases, a gingivectomy is used to remove diseased tissue so the mouth can recover from a serious infection.
What Is the Gum Recontouring Process?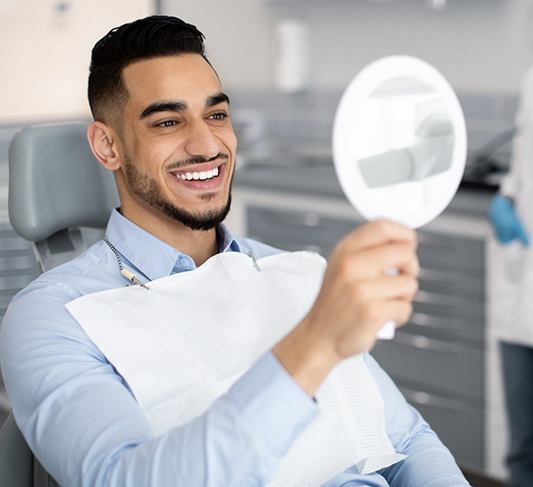 One of the first things we will do during your appointment is make sure you are comfortable. To that end, we will administer local anesthetic to numb your mouth. We may also provide sedation. Then, Dr. Lisk will carefully perform the procedure, removing just enough gum tissue to provide your desired results.
Depending on the extent of the work that needs to be done, you might need to have your procedure completed across multiple appointments.
After a gum recontouring procedure, you can expect to experience some soreness and swelling in your mouth. Our team will give you instructions to make your recovery as fast and comfortable as possible. Once you finish healing, you can expect to enjoy long-term benefits from your procedure. In fact, your results are likely to last throughout your lifetime!