Dental Crowns – North Raleigh, NC
An Attractive Way

to Fix and Protect Teeth
Despite our best efforts to brush and floss daily and visit the dentist regularly, there are very few of us who have made it to adulthood without at least one cavity or other minor dental health concern. Dr. Philip Lisk offers a wide range of restorative dentistry solutions to deliver flawless smiles for patients who have experienced the smallest amount of tooth decay to those who need complete smile makeover. Patients with tooth decay too advanced to be repaired with a small filling may need dental crown restoration. Dental patients in North Raleigh, Cary, Morrisville, Knightdale, and Wake Forest will find us conveniently located for consultations and second opinion visits.
Contact us for your appointment today. We'll evaluate your smile and help you determine the best restoration option and plan for smile repair that will fit your schedule and budget.
Why Choose Dr. Philip A. Lisk for Dental Crowns?
Carefully Chosen Modern Materials
Dentist with Excellent Eye for Details
Variety of Customizable Restorations
What is a Dental Crown?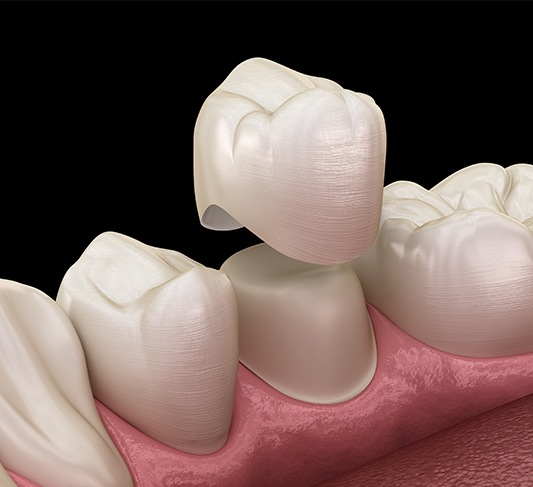 A crown is a restoration that is designed to look like your teeth and fit snugly over the remaining structure. A crown returns strength to a tooth that is weakened due to tooth decay, damage, or dental disease. By reinforcing the tooth with a dental crown, we prevent cracking, breaking, and subsequent infection that could lead to more invasive and costly treatments. Dr. Lisk always keeps the aesthetics of your smile in mind when providing a restoration. When a back tooth requires a crown, the doctor may recommend a porcelain-fused to metal crown that provides extra durability for chewing surfaces. Front teeth will usually receive all-porcelain crowns to keep the most visible teeth all-white.
When are Dental Crowns Used?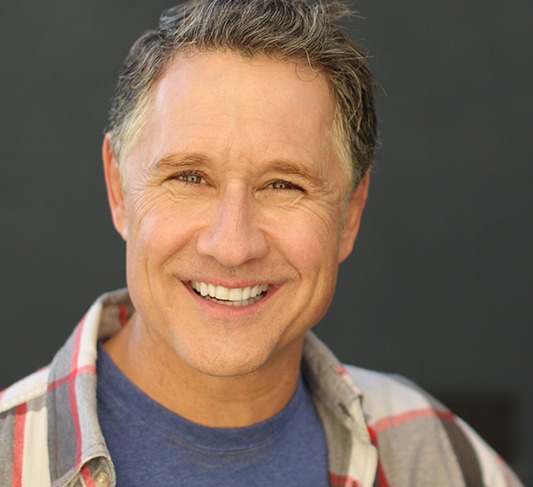 As a general dentist in North Raleigh, tooth decay is one of the most common forms of dental disease Dr. Philip Lisk treats. When a cavity compromises your tooth, it must be removed, and this leaves a hole in the enamel of the tooth which is filled with either a metal or tooth-colored resin filling. However, serious cavities may require the removal of large sections of the tooth enamel leaving it structurally unsound and prone to breaking. When this occurs, a crown, inlay, or onlay may be prescribed. For this same reason, severe chips, cracks, or breaks in the tooth enamel or excessive dental wear may require a crown, inlay, or onlay restoration.
Do you have old metal crowns, fillings, inlays, and onlays and are concerned about the dark spots they have left in your smile? Dr. Lisk can remove the worn out, silver restorations and replace them with attractive tooth-colored options. In many cases, a tooth-colored dental crown is necessary to replace small metal restorations and ensure the structural stability of the tooth. We may also use dental crowns as part of the root canal therapy process. Following this treatment that requires us to remove and replace the innermost layers of the tooth, it is often recommended that we place a dental crown to protect and strengthen this treated tooth.
Dental crowns are also used as part of several tooth replacement solutions. A dental crown may be attached to an implant post to replace a single tooth. Dental crowns can also be used to support a traditional fixed bridge tooth replacement prosthetic.
How are Dental Crown Restorations Placed?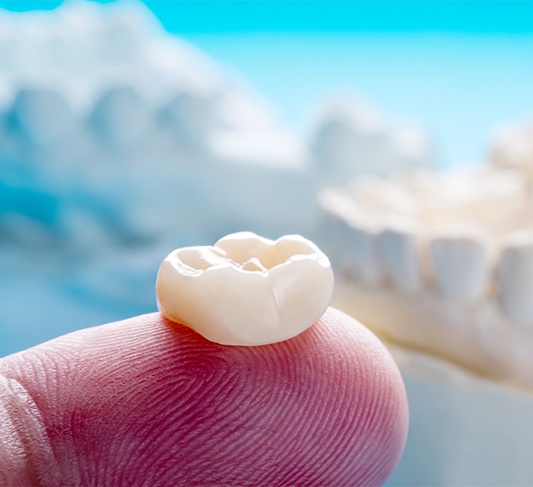 The dental crown restoration process is completed over the course of two visits in our North Raleigh dental office. During the initial visit, we prepare the tooth and design your restoration. We begin by numbing the area to be treated. Then, we remove any damaged tissue and shape the tooth enamel to allow for the placement of the dental restoration within your smile line. Next, impressions are captured that will be used by our dental lab to create your custom restoration. Finally, we place a temporary crown to protect your prepared tooth from additional damage. When we receive the final dental crown from our lab, you'll return to the office for your second visit. At this shorter appointment, we remove your temporary crown and place your custom restoration, leaving you with a flawless, healthy smile.
What are the Benefits of Dental Crowns?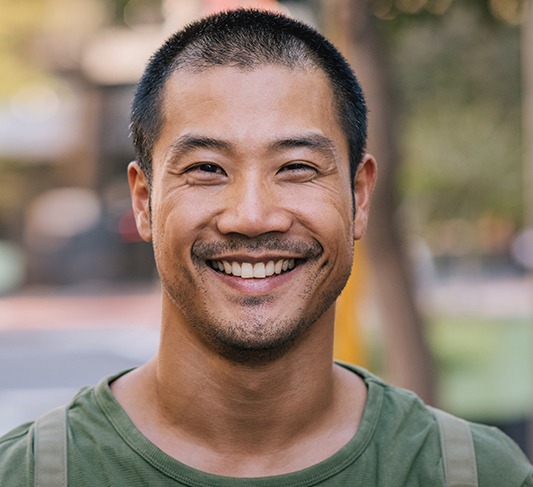 There are numerous benefits to receiving dental crown restorations from our skilled dentist and dentistry team, including:
Dental crowns allow us to preserve teeth that may otherwise need to be extracted
Dental crowns replace lost form and function with high quality, natural looking and feeling materials
Dental crowns protect damaged teeth from additional damage or decay
Dental crowns last for ten or more years with proper care and are stain resistant
What are Dental Inlays & Onlays?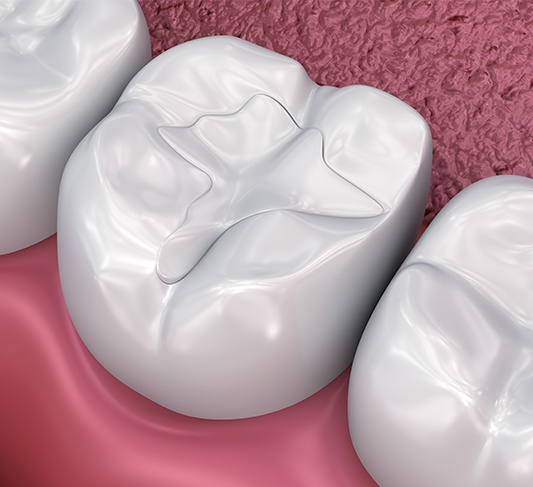 If a large area of decay is removed that a filling cannot repair but the tooth does not require a crown, Dr. Lisk may recommend an inlay or onlay. Designed to cover broad areas of missing enamel, an inlay or onlay will be crafted to fit within the grooves and corners of your tooth, so that it looks and feels natural. Dr. Lisk uses tooth-colored restorations to keep your smile all-white. In addition, tooth-colored restorations are made of a composite resin or porcelain that is more durable than the amalgam inlays and onlays of the past.
Learn More About Inlays & Onlays
What are Fixed Bridges?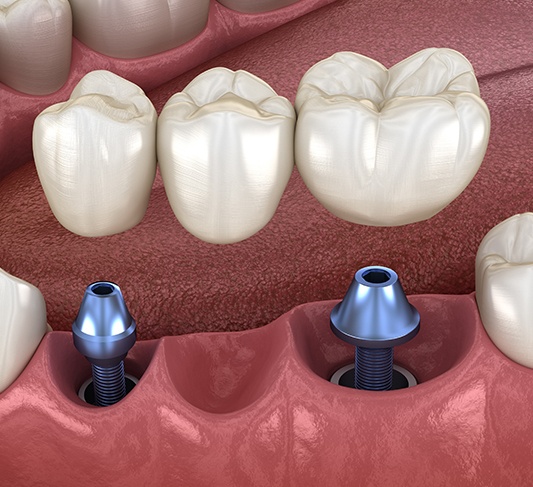 Fixed bridges are custom crafted tooth replacement prosthetics used to replace one or more consecutive missing teeth. A replacement tooth is fused on both sides to a dental crown. The dental crowns are attached to surrounding healthy teeth to support the replacement tooth, recreating the natural smile line.
Learn More About Dental Bridges
Dental Crown FAQs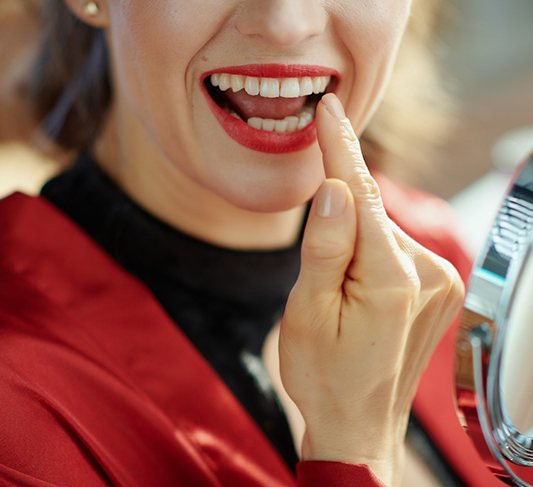 Have you been told that you're in need of a dental crown? You may still have some unanswered questions about the treatment, so we're here to help. Here are the answers to some of the most common queries we receive about dental crowns in North Raleigh. If you don't see the information that you're looking for below, don't worry! Give us a call and we'd be happy to explain more about the procedure so you can feel more prepared.
Are Dental Crowns Permanent?
While they aren't permanent, dental crowns are a long-term solution. On average, they can protect your tooth for anywhere from 5 to 15 years. When your tooth is reshaped for a crown, the procedure is irreversible. Tooth enamel cannot grow back after it's been lost, so that tooth will always need a crown for protection moving forward. That being said, crowns protect the underlying tooth from additional damage, helping the tooth to survive for much longer than it likely would have otherwise.
Do Dental Crowns Get Cavities?
It is impossible for a crown itself to develop cavities, but the tooth underneath it still can. In fact, a crowned tooth has about the same risk of decay as an uncrowned tooth. Poor oral hygiene makes it possible for bacteria and plaque to form around the gumline where the tooth meets the crown. They can then travel underneath the crown and wreak havoc on the underlying tooth. You can prevent cavities in crowned teeth the same way you'd prevent cavities in any other tooth. Brush, floss, and see us regularly for checkups.
Does It Hurt to Get a Dental Crown?
Just like when you get a filling, Dr. Lisk will numb the tooth that he'll be working on when you get a crown. While you shouldn't feel any discomfort during the procedure itself, you may experience some sensitivity for a few days afterwards, especially if you have also undergone root canal therapy. Fortunately, this is temporary and can be managed with over-the-counter pain relievers.
Do Dental Crowns Feel Natural?
Within a few days of receiving your permanent crown, it should start to feel more and more natural. Crowns are made from durable materials that can stand up to everyday chewing forces just as easily as tooth enamel, so eating with your crown shouldn't feel strange. The reason Dr. Lisk reshaped your tooth was to ensure that the crown fits comfortably. Additionally, every crown is customized based on impressions taken of the tooth, so it won't feel awkward or even noticeable.