Veneers – Raleigh, NC
Begin Your

Smile Makeover
Are you ready for your close-up? If this question strikes fear into your heart, you're not alone. Our teeth endure quite a lot over the years, like hard foods and enamel-wearing acidic drinks. It's no wonder that many patients encounter cracks, chips, and discolorations at some point in their lives. Playing sports or using your teeth to open objects, including wrappers and metal, can significantly up the ante for a tooth injury like a broken tooth.
In addition, we see adults with teeth that are oddly shaped or unevenly spaced. Sometimes teeth have shifted after braces were removed years ago, or it was something that has always bothered you, but you thought you couldn't correct it. Today's advanced cosmetic dentistry therapies and state-of-the-art materials allow us to change just about any aspect of your smile you don't like. Our cosmetic dentistry in Raleigh offers one of the most popular treatments today—porcelain veneers.
Why Choose Dr. Philip A. Lisk for Veneers?
Dentist with a Great
Eye for Detail
Advanced Smile
Design Software
Reliable Tooth-Colored Materials
What are Porcelain Veneers?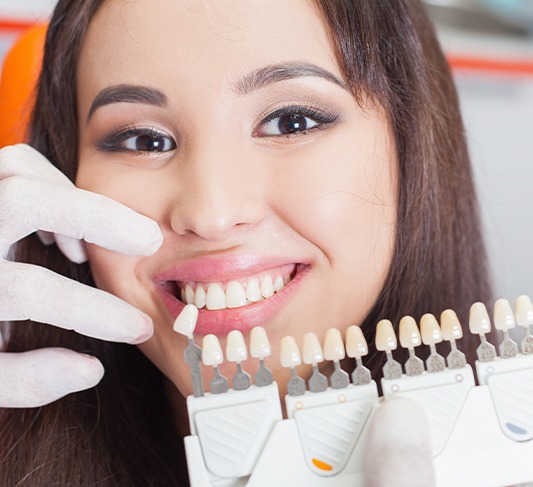 If you've ever seen a perfectly bright, perfectly shaped, and perfectly straight Hollywood smile, there's a good chance it's enhanced with porcelain veneers. Each veneer in North Raleigh is made of ultra-thin porcelain layers placed one on top of the other. These thin layers allow light to pass through giving them a translucent appearance, the same way light plays off natural teeth. Porcelain veneers are placed over the existing tooth structure and permanently cemented for a strong and durable bond. When taken care of properly, porcelain veneers give you a gorgeous smile for as long as 20 years.
One of the most appealing aspects of porcelain veneers is their ability to cover multiple flaws with just a single procedure. What imperfections can porcelain veneers correct?
Staining and discoloration
Small teeth or gummy smile
Worn, chipped, cracked, or broken teeth
Misshaped teeth
Uneven or oddly spaced teeth
Misalignments and crowding
How do Porcelain Veneers Work?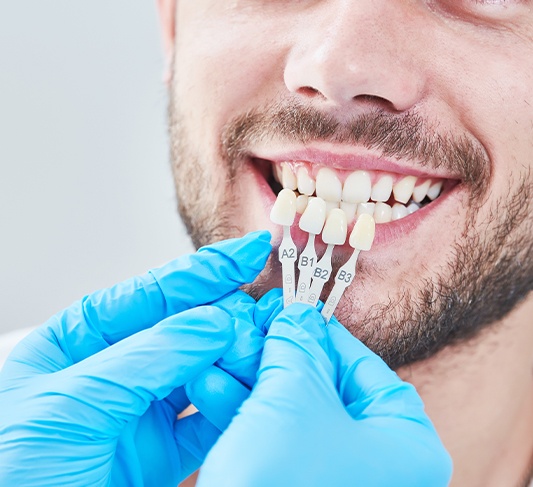 Design and placement of porcelain veneers takes about two office visits. At your first appointment, Dr. Philip Lisk will take a set of impressions and prepare teeth by buffing away a small amount of tooth enamel. We'll provide a temporary veneer to wear while your handcrafted restoration is being created. Your second appointment will consist of the fitting and placement of your veneers. Once bonded to your teeth, veneers are not removable, are extremely strong, and resist staining, chipping, and breaking.
Schedule Your Free Cosmetic Consultation
Are you ready for the smile you deserve? Talk to Dr. Lisk about porcelain veneers in North Raleigh. We may also make other cosmetic dentistry recommendations for your smile, such as teeth whitening or all-white restorations to help you reach your aesthetic goals. Contact us for your free cosmetic dentistry consultation today.