Veneers – Raleigh, NC
Begin Your

Smile Makeover
Are you ready for your close-up? If this question strikes fear into your heart, you're not alone. Our teeth endure quite a lot over the years, like hard foods and enamel-wearing acidic drinks. It's no wonder that many patients encounter cracks, chips, and discolorations at some point in their lives. Playing sports or using your teeth to open objects, including wrappers and metal, can significantly up the ante for a tooth injury like a broken tooth.
In addition, we see adults with teeth that are oddly shaped or unevenly spaced. Sometimes teeth have shifted after braces were removed years ago, or it was something that has always bothered you, but you thought you couldn't correct it. Today's advanced cosmetic dentistry therapies and state-of-the-art materials allow us to change just about any aspect of your smile you don't like. Our cosmetic dentistry in Raleigh offers one of the most popular treatments today—porcelain veneers.
Why Choose Dr. Philip A. Lisk for Veneers?
Dentist with a Great
Eye for Detail
Advanced Smile
Design Software
Reliable Tooth-Colored Materials
What are Porcelain Veneers?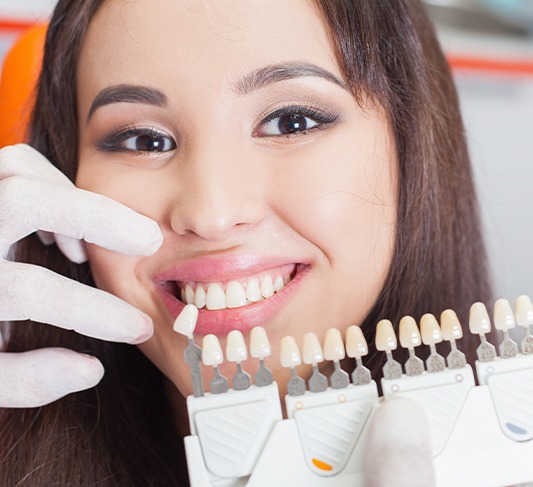 If you've ever seen a perfectly bright, perfectly shaped, and perfectly straight Hollywood smile, there's a good chance it's enhanced with porcelain veneers. Each veneer in North Raleigh is made of ultra-thin porcelain layers placed one on top of the other. These thin layers allow light to pass through giving them a translucent appearance, the same way light plays off natural teeth. Porcelain veneers are placed over the existing tooth structure and permanently cemented for a strong and durable bond. When taken care of properly, porcelain veneers give you a gorgeous smile for as long as 20 years.
One of the most appealing aspects of porcelain veneers is their ability to cover multiple flaws with just a single procedure. What imperfections can porcelain veneers correct?
Staining and discoloration
Small teeth or gummy smile
Worn, chipped, cracked, or broken teeth
Misshaped teeth
Uneven or oddly spaced teeth
Misalignments and crowding
How do Porcelain Veneers Work?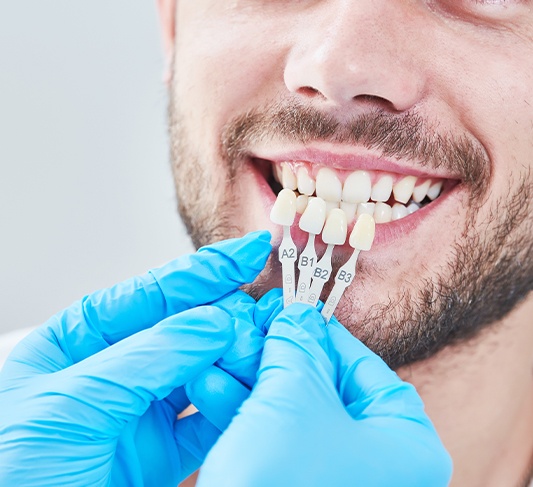 Design and placement of porcelain veneers takes about two office visits. At your first appointment, Dr. Philip Lisk will take a set of impressions and prepare teeth by buffing away a small amount of tooth enamel. We'll provide a temporary veneer to wear while your handcrafted restoration is being created. Your second appointment will consist of the fitting and placement of your veneers. Once bonded to your teeth, veneers are not removable, are extremely strong, and resist staining, chipping, and breaking.
Understanding the Cost of Veneers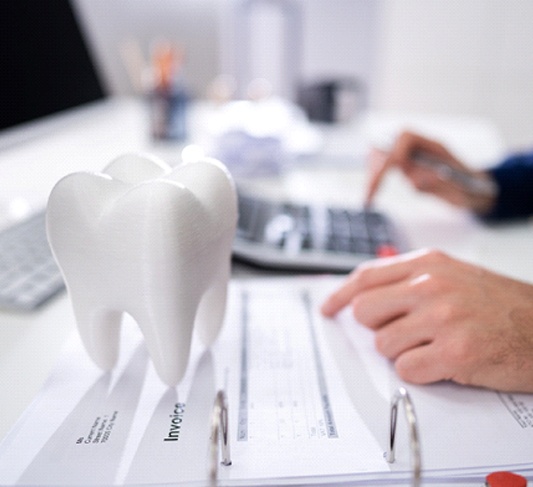 Before you commit to the veneer process, it only makes sense that you'd want to know how much it'll cost. It's a great way to determine whether or not this cosmetic service is right for you. Even though it's normal to be concerned about the cost of veneers in North Raleigh, it's important to remember that you get what you pay for. During your initial consultation, Dr. Lisk will provide you with an accurate price estimate and explain your financing options to help you get the smile you want without breaking the bank.
Cost vs. Cosmetic Dentistry: What's Right for Me?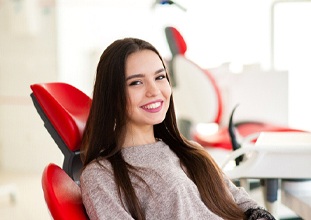 Although you may have your heart set on veneers in North Raleigh, it's incredibly important to survey all your available options. Different cosmetic solutions can transform your smile in many ways at different price points. Some popular treatments we offer include:
Invisalign – This modern orthodontic treatment is an excellent solution for misaligned teeth. The clear aligners can simultaneously straighten your smile and improve your oral health. However, this option can be quite costly for a service that cannot change the actual shape and color of your teeth.
Teeth Whitening – If you simply want to improve the color of your smile, you may want to consider teeth whitening. You can enjoy a brighter smile in no time! Of course, it's worth noting that this treatment cannot alter the shape or position of your teeth.
Direct Bonding – For patients with minor dental imperfections, direct bonding is an affordable and effective way to address those issues. Keep in mind that this service will need to be redone every few years.
Veneers – Even though veneers are more costly than the options listed above, they're the only ones capable of fixing multiple issues at once. In as little as two appointments, you can improve the color, shape, and position of your teeth. Best of all, your results can easily last over a decade with proper maintenance.
How to Make Veneers Affordable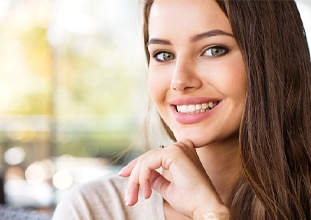 Since veneers are a form of cosmetic dentistry, they're typically not eligible for dental insurance coverage. That's primarily because veneers are not considered to be "medically necessary". For that reason, you'll need to find an alternative way to pay for treatment. Luckily, we offer affordable solutions to help make your dental bills much easier to manage, such as:
CareCredit Financing – You can split up the total cost of your treatment into smaller monthly installments. Plus, there's typically little-to-no interest attached!
In-House Dental Savings Plan – For one flat price, you can get the preventive dental care you need and enjoy sizeable discounts on many other services, including veneers.
Are you ready to transform your smile? Contact our office and schedule a consultation today! We'll help you get the look you've always wanted while keeping your expenses as low as possible.
Veneers FAQs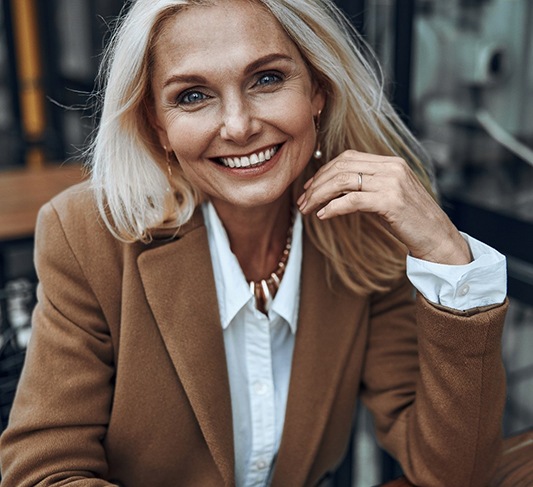 Are you looking to revamp your smile? Veneers are the easiest way to transform multiple aspects of your pearly whites at once, but they are quite and investment. It pays to be well-informed, so we're here to help. Here are the answers to some of the most common questions we receive about veneers in North Raleigh. If you don't see the information that you're looking for below, don't worry. Give us a call and we'd be happy to answer your questions and get you started with an initial consultation.
Are Veneers Permanent?
No, veneers aren't technically permanent because they will eventually need to be replaced. However, they are considered to be irreversible. To ensure that the veneers fit, small amounts of enamel need to be filed away, and removed enamel doesn't grow back. For this reason, teeth that have been prepared in this way will always need to be covered with crowns or veneers.
Will I Still Be Able to Drink Coffee with Veneers?
Veneers that are made from porcelain are stain-resistant, so the particles in dark-colored foods and beverages have a harder time slipping beneath the surface. Ultimately, you should be able to drink your morning cup of coffee without worrying too much about it staining your veneers. Just keep in mind that veneers are not stain-proof. Excessive consumption of coffee and other pigmented drinks can still have a negative effect over time. Moderation is key!
Do Veneers Give You a Lisp?
Some people have trouble pronouncing certain words when they first get veneers, resulting in a temporary lisp. This is partially due to muscle memory, as the tongue is not yet used to accounting for the presence of veneers when you speak. The good news is that your tongue will eventually adjust on its own, but practicing the pronunciation of certain sounds can help to speed along this process.
How Many Veneers Will I Need?
The goal of veneers is for all of your visible teeth to match, so you will receive the appropriate number of veneers to accomplish this goal. Some people get one veneer to cover a single pesky tooth, while others get anywhere between 6 and 12 for a more complete smile makeover. During your initial consultation with us, we will discuss what the magic number is for you in order to achieve the goals you have for your smile.
Schedule Your Free Cosmetic Consultation
Are you ready for the smile you deserve? Talk to Dr. Lisk about porcelain veneers in North Raleigh. We may also make other cosmetic dentistry recommendations for your smile, such as teeth whitening or all-white restorations to help you reach your aesthetic goals. Contact us for your free cosmetic dentistry consultation today.