Invisalign – Raleigh, NC
A Clear Path Towards a Straighter Smile
For many children and teens, getting traditional metal braces is like a rite of passage. However, as you get older, having a mouth full of metal wires and brackets could negatively impact your busy professional lifestyle. Thankfully, Dr. Philip Lisk offers a clear path towards a straighter smile with Invisalign in Raleigh! This convenient and easy treatment is ideal for adults and teens who want to straighten their smile discreetly and without temporarily sacrificing their favorite foods or hobbies.
Why Choose Dr. Philip A. Lisk For Invisalign?
Friendly and Experienced Dental Team
Personalized Treatment for Your Unique Smile
Variety of Available Payment Plans & Options
How Does Invisalign Work?
Invisalign clear braces are a one-of-a-kind orthodontic treatment. Instead of metal wires and brackets, a series of custom-made aligners are used to gradually shift your teeth into position. They sit comfortably over your teeth, applying just the right amount of pressure in specific areas of your mouth. You'll wear the same set of aligners for about two weeks before moving on to the next. Each set takes you one step closer towards a beautifully straightened smile! True to their name, Invisalign aligners are nearly invisible when worn, so it's likely your friends and family won't notice you're wearing them unless you tell them!
What Are the Benefits of Invisalign?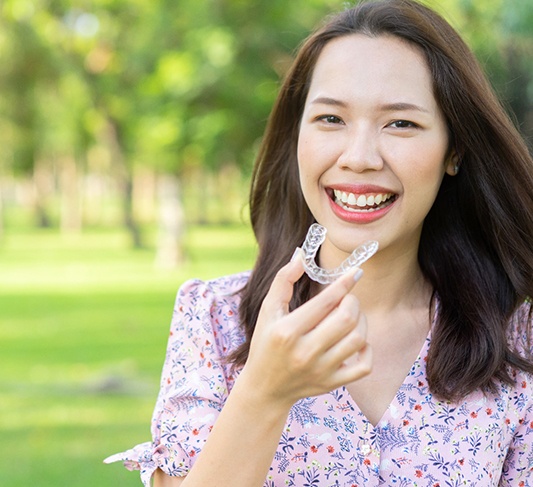 With millions of satisfied patients, Invisalign is quickly becoming one of the most popular ways to straighten teeth, and it's easy to see why! These clear aligners in North Raleigh offer unique benefits, like:
Discreet appearance and a boost in confidence: You'll feel a lot more confident smiling knowing that your teeth are being straightened invisibly.
Improved comfort: Without any sharp metal wires or brackets, clear aligners offer a much more comfortable straightening experience than traditional braces.
More freedom: Thanks to their removable nature, you're free to continue to enjoy your favorite foods and activities.
Saves time: You'll only need to come see us every four to six weeks for quick checkups, and in many cases, Invisalign treatments offer faster results than metal braces.
Understanding the Cost of Invisalign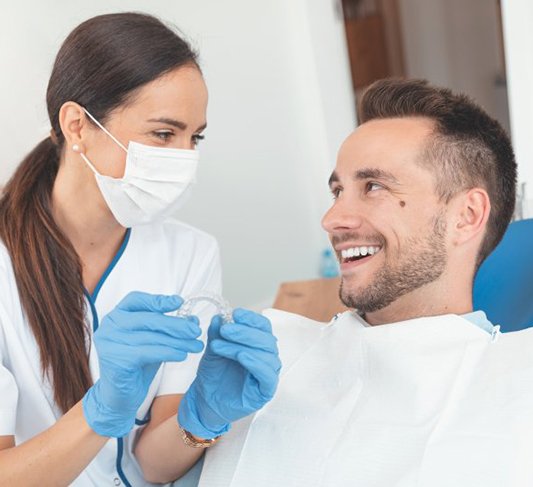 Just as no two smiles are the same, the cost of each Invisalign treatment depends on the patient's unique needs. During your consultation, your Raleigh dentist will be able to go over your personalized estimate, as well as payment plans and financing options that could help make achieving your new smile as affordable as possible. If you'd like to learn more about the cost of Invisalign in the meantime, then keep reading!
Factors That Affect the Cost of Invisalign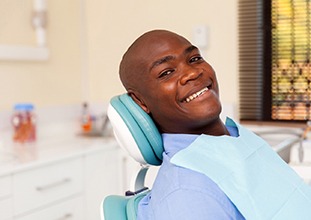 Before providing you with an estimate of the cost, Dr. Lisk will need to conduct a thorough oral exam in order to determine several important factors, including:
The severity of your case
How many aligners are needed
If rubber bands or any other accessories are required
After your treatment begins, something else will play a role: if you remember to wear your aligners for at least 22 hours every day. Remember, your trays only work while you're wearing them, so it's essential that you prioritize your wear time. Otherwise, you're significantly more likely to fall off-track with your treatment plan, potentially requiring a bigger investment of your time and money.
Invisalign vs. Smile Direct Club™: Which Costs More?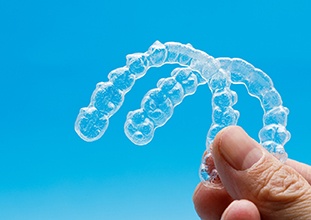 Advertisements for mail-order clear aligner companies, like Smile Direct Club™ often lead with the statement that they are significantly cheaper than Invisalign. But is this true? In short, the answer is "possibly." While the initial price is cheaper, there are a number of reasons you may end up paying more in the long run. For example, mail-order clear aligner companies don't conduct a thorough exam and rely on do-it-yourself impressions. As a result, many patients have actually experienced worsened misalignment, leading them to spend more than they would've if they had started their teeth-straightening journey with Invisalign.
Does Dental Insurance Cover Invisalign?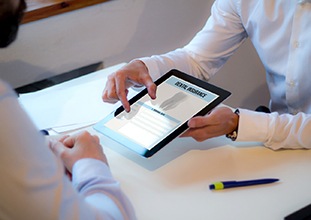 Since some dental plans include a once-in-a-lifetime benefit for orthodontic treatment, it's certainly possible! The best thing to do is review your coverage or reach out to your provider so they can explain it to you. You can also talk to our team at your consultation. We proudly work with Delta Dental, BlueCross BlueShield, and more, and we have extensive experience helping patients utilize their benefits.
Options for Making Invisalign Affordable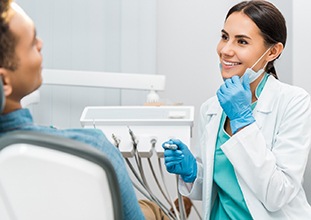 Don't have dental insurance? Good news: we have three other ways to lower your out-of-pocket expenses:
CareCredit – This third-party financier allows you to space-out your payments into budget-friendly chunks. For qualified patients, there are low-to-no interest options too!
Dental Savings Plan – In addition to providing you with savings on essential preventive and restorative care, our Dental Savings Plan gives you access to 10% off other treatments.
Special Offers – We're proud to offer periodic special offers that will help you save on the services you're interested in. To learn about our latest ones, get in touch with us!
Invisalign FAQs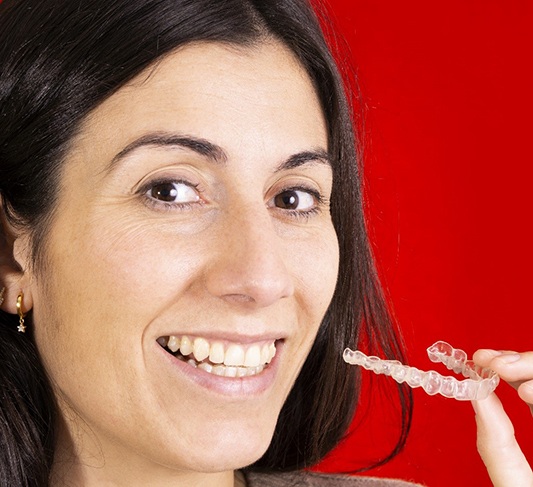 You no longer need to sport metal brackets and wires in order to achieve your desired smile. Invisalign is an effective way to correct misalignment issues, but you may still have some unanswered questions about the treatment process, so we're here to help! Here are the answers to some of the most common queries we receive about Invisalign in Raleigh. If you don't see the information that you're looking for below, just give us a call. We're happy to talk to you more about Invisalign and get you started with an initial consultation.
Does Invisalign Hurt?
Invisalign isn't a painful treatment. In fact, its smooth plastic design makes it one of the most comfortable orthodontic options out there. When you first get Invisalign, there is an adjustment period where you may experience slight soreness, but this will go away as you get used to the treatment. Invisalign works by gradually shifting your teeth into proper alignment by using a series of clear aligners. Every time you switch to the next aligner in the series, you may experience some pressure, but this just means that the treatment is working. To help you adjust, you can take over-the-counter pain relievers and/or use a cold compress.
Can You Eat with Invisalign?
One of the main advantages of Invisalign is that it is completely removable, allowing you to take out your aligners when mealtime comes around. Eating with your Invisalign in your mouth will not only damage your aligners, but also put unnecessary pressure on your teeth. The only thing you should be consuming while wearing your aligners is water. If you want to enjoy anything else, take your aligners out first.
How is Invisalign Made?
Invisalign's process requires a series of clear aligners that are made from smooth, clear plastic. The entire set of aligners are manufactured by an advanced 3D printing process based off the physical impressions we provide before getting shipped to our office. The manufacturing process for all the aligners in the series will typically take 3 to 4 weeks. We will let you know when your aligners are ready for pickup.
Can You Get Invisalign After Braces?
This all depends on your specific needs. Traditional braces are better able to correct more severe overbites, underbites, and crossbites that Invisalign cannot. In some cases, patients' teeth have grown crooked or misaligned years after completing treatment with braces. In these cases, Invisalign is usually able to help. During your initial consultation, we will determine whether or not Invisalign is an ideal option for you.