August 27, 2019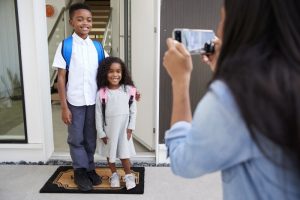 Nobody necessarily looks forward to visiting their dentist in North Raleigh for a checkup and cleaning, but every time they do, they're saving themselves stress down the road. Getting your family the proper preventive care before the busy school year starts back up is the best way to prevent issues like toothaches from ever occurring in the first place. Save yourself time, hassle, and money down the road by getting all of your loved ones the care they need right now. Here are three benefits of scheduling your family's visits now.
Detect Hidden Problems With Dental X-Rays
You can keep school at the forefront of your children's minds by making sure they don't have any hidden problems like impacted wisdom teeth or decay. This way, oral discomfort won't cause them to miss a day of class for an emergency dental visit. Most dentists use digital X-rays to spot a variety of issues that can develop below the surface, like cysts and tumors. These problems are known to develop quickly, making it vital to get routine checkups so they can be spotted and treated before they have a chance to progress.
Treat the Small Issues Like Cavities
Even something as common and pesky as a cavity can turn into a more serious problem down the road. The whole purpose of preventive dental care is to keep issues from happening in the first place. When cavities are left unfilled, they can cause severe, deep decay in your tooth and leave the root exposed to harmful oral bacteria. Once this happens, the inner chamber of your tooth that houses nerves can become attacked and infected, causing a severe toothache. At this stage, the issue will need to be treated with a root canal. And, if it's left to get even worse, you could lose your tooth altogether. Isn't it easier to just get a quick filling?
Professional Cleanings Make Picture Day Fun
There's no better confidence booster for your child than a professional cleaning from a trained dental professional. Even though your family may take oral hygiene seriously and brush and floss every day, there are still nooks and crannies in everyone's mouth that can't be reached with a regular toothbrush. Your dental professional uses special instruments to remove plaque and tartar from every corner of your children's mouths, allowing their pearly whites to shine during picture day.
Although back-to-school season can feel hectic and overwhelming, skipping out on getting your family's basic health needs met can open the door to serious problems occurring during the school year. You can set your children up for academic success and ease your worries by getting their clean bill of health from your dentist in North Raleigh today!
About the Author
Dr. Philip Lisk has been serving his community of North Raleigh since he graduated with a Doctor of Dental Surgery in 1997. As a member of several professional organizations, he focuses on keeping up with the latest technological advancements in his field. With children of his own, he is passionate about giving his younger patients the knowledge and treatment that they need to maintain beautiful and healthy smiles into adulthood. For questions or to schedule your family's appointments for checkups and cleanings, visit his website or call 919-870-6892.
Comments Off

on 3 Reasons to Schedule Your Family's Checkups and Cleanings Before School Starts
No Comments
No comments yet.
RSS feed for comments on this post.
Sorry, the comment form is closed at this time.