September 19, 2023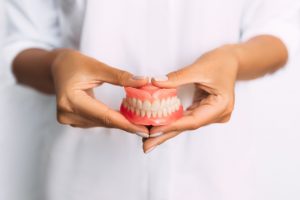 Dentures are a popular solution for those who have experienced tooth loss. They allow you to maintain the appearance of a beautiful smile all while helping you speak and eat normally. That said, it's imperative that they fit well to provide these many wonderful advantages.
Unfortunately, after you lose teeth, your jaw begins to shift as your body reabsorbs bone mass that's no longer needed. Over time this changes the shape of your mouth so that dentures no longer fit properly. This can cause some major issues! Keep reading to learn 3 reasons why it's so important that your dentures sit the way they're intended to.
Reason #1: Ease Discomfort
Your dentures were initially customized for your mouth precisely to stay in place. As your jaw changes around them, you'll likely notice them becoming dislodged more easily and frequently. If they're sliding in and out of place, they can cause chaffing that leads to soreness and blisters on your gums or the insides of your cheeks. Nobody wants that! Fortunately, your dentist can adjust or replace your dentures, so this doesn't become a long-term concern.
Reason #2: Speaking Is Easier
We often aren't aware of the role that our teeth play in speech until they're missing. The truth is that they're necessary to form certain sounds and words. With dentures that fit accurately, you shouldn't have much issue learning to move your mouth in the right ways to carry on with conversations as usual.
If your dentures no longer sit as they should, though, they tend to shift or fall out when you talk. This can add a layer of anxiety or distress to every social interaction. After all, who wants their teeth to slide out mid-sentence? Have your dentist resize your dentures so that you can get back to your busy social life!
Reason #3: Proper Nutrition
Our teeth also play an integral role in our overall wellbeing because without them we wouldn't be able to eat the variety of foods we need for nutrition. With dentures, you may have started off with a liquid diet or soft foods, but then likely graduated to harder foods cut into bite-sized pieces. Once you're used to eating with dentures, you can enjoy your favorites just like you did before tooth loss (perhaps with a few dietary restrictions). If they are misshapen, though, you won't be able to chew your food into digestible pieces. This can lead to stomach issues as well as poor health.
As you can see, it's important that your dentures fit well in order for you to get the most benefit from them. If yours are irritating your gums, clicking during conversations, or becoming displaced at meals then it's time to call your dentist. They can either resize or replace your dental work so that you'll be able to enjoy the advantages for years to come!
About the Author
Dr. Philip A. Lisk has over 20 years of experience practicing dentistry in the North Raleigh area. He received his dental doctorate from the University of North Carolina School of Dentistry in Chapel Hill in 1997. Since then, he has passionately pursued ongoing education to enhance his skillset to better serve his patients, including oral appliance therapy. If you need your dentures refitted, he can help! You're welcome to request an appointment on our website or by calling (919) 870-6892.
Comments Off

on 3 Reasons Why You Should Have Your Dentures Adjusted
No Comments
No comments yet.
RSS feed for comments on this post.
Sorry, the comment form is closed at this time.