November 23, 2020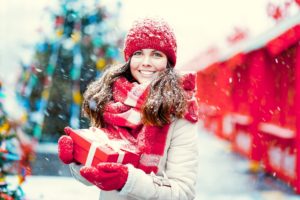 Believe it or not, the new year is only a few weeks away. As you shop for the perfect gifts and decorate for winter, you're going to be surrounded by a variety of foods. If you're not careful, the holidays can leave a lasting mark on your smile. Your dentist in North Raleigh has a list of the worst and best holiday foods to keep your teeth healthy.
Worst Holiday Foods for Your Teeth
There are several holiday foods that can damage your smile if you're not careful, such as:
Candy Canes
Candy canes are a holiday favorite, but they contain a lot of sugar. If you suck on them, your teeth will be bathed in an acidic plaque, which can increase your risk of cavities. Chewing on them opens the door to dental emergencies. The hard candy increases your risk of a fractured tooth, which will mean an unplanned trip to your dentist.
Chewing on ice cubes can cause chips or cracks in your enamel. In some cases, your tooth may break completely. It's best to break the habit to prevent an unexpected trip to your emergency dentist.
Fizzy drinks can wreak havoc on your smile because they slowly dissolve your enamel. As a result, you'll be more prone to tooth sensitivity and decay. If you can't skip your favorite beverage, drink through a straw to limit its contact with your teeth.
Egg nog has a high sugar content. As a result, it's not just bad for your waistline. It can also damage your teeth. It's better to choose egg nog that doesn't have any added sugar or alcohol to protect your smile from decay.
The sugar in chocolate feeds cavity-causing bacteria in your mouth that can erode your enamel. If you can't ignore your sweet tooth, dark chocolate is better for your smile than other types. Don't forget to brush your teeth well afterward.
Best Holiday Foods for Your Teeth
When snacking or planning your meals, there are a few foods you'll want to add to your plate to promote a healthy smile, such as:
Cheese
Cheese contains antibacterial properties and lowers pH levels in your mouth to neutralize harmful acids.
Nuts are a great source of vital nutrients, but they also encourage saliva production to rinse harmful bacteria from your teeth.
Crispy veggies will help scrub plaque from your teeth in between brushing.
Turkey is packed with protein and contains calcium for stronger teeth but skip the cranberry sauce to lower your risk of tooth decay.
Low-fat cheese will help keep your teeth strong while also promoting your saliva production to cleanse your teeth between each brushing.
Simple changes throughout the holidays can keep your smile healthy for the new year.
About Dr. Philip A. Lisk
If you need dental care, don't Google, "dentist near me." Instead, choose Dr. Lisk has over 20 years of experience creating healthy, beautiful smiles. He also specializes in sleep-disordered breathing. If you need an appointment before the end of the year, contact our office today.
Comments Off

on 5 Best and Worst Holiday Foods
No Comments
No comments yet.
RSS feed for comments on this post.
Sorry, the comment form is closed at this time.