December 11, 2022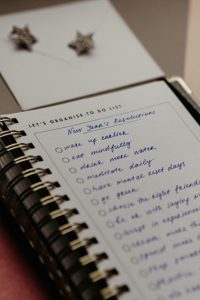 The holiday season is coming to an end, and the new year is right around the corner. As you put away your decorations and plan for the year ahead, you probably have a few resolutions in mind. Besides eating out less often or adding to your savings account, don't forget to give your smile the attention it deserves in 2023. Here are 5 New Year's resolutions for healthier teeth and gums.
1. Improve Your Brushing Routine
Your oral hygiene habits at home are your first line of defense against cavities and gum disease. The American Dental Association recommends brushing at least twice per day; however, 1 in 10 Americans only brushes once daily. If you tend to skip brushing before bed, oral bacteria can get out of control quickly while you sleep. Brushing your teeth before calling it a night will safeguard your smile. If you already brush twice daily, strive to brush after every meal.
2. Commit to Daily Flossing
Your toothbrush can't clean everywhere in your mouth, like between your teeth. Flossing is the only way to remove food particles and plaque missed by your toothbrush. Skipping flossing can leave up to 40% of your teeth surfaces uncleaned, significantly increasing your risk for gum disease. Not only is it a leading cause of tooth loss, but it's also linked to many health problems, like heart disease. It's best to use high-quality floss at least once a day to keep your mouth and body healthy.
3. Drink More Water
Healthcare professionals recommend drinking at least eight 8-oz glasses of water daily to stay hydrated. H20 helps your body perform its best, but it's also vital for your dental health. It prevents your mouth from getting too dry to combat harmful oral bacteria. Drinking water frequently will also cleanse your teeth in between brushing and flossing.
4. Cut Back on Sugar
Sugar isn't just bad for your waistline. It also increases your risk of cavities. Your dentist and physician recommend limiting surgery foods and drinks. If you can't resist your sweet tooth, brush your teeth once you've finished. If you can't get to your toothbrush, rinse your mouth with water to cleanse your teeth. You can also chew a piece of sugarless gum to increase saliva production to reduce any cavity-causing residue lingering in your mouth.
5. Schedule a Cleaning and Checkup
Besides committing to your smile at home, the American Dental Association recommends a cleaning and checkup every 6 months. Preventive dentistry is proven to reduce the risk of preventable oral health issues to preserve your natural smile, so you can avoid costly dental treatments later.
Start 2023 with your best foot forward. Commit to healthier teeth and gums to look and feel your best during the year ahead.
About Dr. Philip A. Lisk
Dr. Lisk achieved his dental degree at the University of North Carolina School of Dentistry and has undergone advanced education at the Dawson Academy. He has the qualifications and experience to promote optimal oral health. If you need a cleaning and checkup, contact our office today to request an appointment.
Comments Off

on 5 New Year's Resolutions for a Healthier Smile
No Comments
No comments yet.
RSS feed for comments on this post.
Sorry, the comment form is closed at this time.