February 11, 2021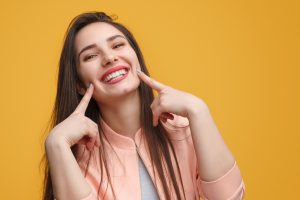 If you're unhappy with your smile, you can transform your teeth and confidence with cosmetic dentistry in North Raleigh. Although you're not pleased with the appearance of your teeth, you might think elective procedures are only for the elite, but this couldn't be further from the truth. People from all walks of life are choosing cosmetic dentistry. The popularity of the specialty services has increased over the last few decades. Here are 5 reasons people are turning to cosmetic dentistry to achieve a picture-perfect smile.
1. Variety of Treatment Options
Innovations in dentistry have led to new treatments and techniques to give you more options than ever to enjoy the exact smile you want. Whether looking to correct a minor aesthetic issue or wanting to achieve a drastic transformation, your dentist in North Raleigh will create the customized plan you need to reach your cosmetic goals, which can include:
Veneers
Metal-free restorations
Direct bonding
Teeth whitening
Invisalign
Gum recontouring
2. Improve Your Oral Health
Did you know cosmetic dentistry does more than just enhance your smile? There are a variety of elective treatments that can also improve your oral health, like metal-free restorations, direct bonding, or Invisalign. By fixing specific dental issues, you can invest in the healthy, beautiful smile you deserve.
3. Enhance Your Career Prospects
Although you shouldn't judge a book by its cover, many people form their opinion about a person upon meeting them for the first time based on their teeth. Research shows people who have attractive smiles are perceived as being younger, smarter, and more professional. If your teeth aren't perfect, your smile might be saying the wrong thing about you. Bettering your teeth can take your career to the next level by changing the way people view you.
4. Higher Self-Confidence
Research has found people who aren't pleased with their smiles often suffer from low self-esteem. If you're embarrassed by your teeth, you might avoid smiling, social gatherings, or family events. Cosmetic treatments can improve your self-esteem and change your outlook on life by giving you a smile you'll be proud to show off.
5. Affordable Options
While elective procedures were quite expensive in the past, cosmetic dentistry is more affordable than ever. There are many cost-effective options, like dental bonding, teeth whitening, and Invisalign. In some cases, you might even be able to use your dental insurance to help offset the expense. Your dentist also accepts several payment methods, like third-party financing with CareCredit.
Enjoy Your Dream Smile
You can love the smile you see in the mirror with an individualized plan from your cosmetic dentist. If you're ready to take the leap toward attractive teeth, it's time to see if cosmetic dentistry is right for you.
About Dr. Philip A. Lisk
Dr. Lisk has over 20 years of experience in dentistry. He earned his dental degree at the University of North Carolina School of Dentistry. He has completed additional training at the Dawson Academy and the Dawson Center for Advanced Dental Study. If you're interested in cosmetic dentistry, contact our office today to schedule your consultation.
Comments Off

on 5 Reasons Cosmetic Dentistry is Popular
No Comments
No comments yet.
RSS feed for comments on this post.
Sorry, the comment form is closed at this time.