August 5, 2018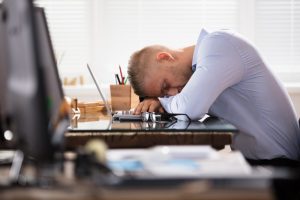 The continuous positive airway pressure machine is widely regarded as the gold standard for sleep apnea therapy, but that doesn't mean it works for everyone. The moment a person discontinues the use of their CPAP machine is the same moment their sleep and overall health are put at greater risk. Luckily, not all sleep apnea patients need to settle for this device.
To learn more about the problems CPAP machines cause and an alternative method for sleep apnea therapy in North Raleigh, keep reading!
Common Problems With CPAP Machines
Users of the CPAP machine are prone to many problems. These issues can range from physical discomfort while wearing the mask to the sense of claustrophobia it gives people trying to sleep. In some cases, people wake up with headaches due to the mask support piece pressing into their temples. They may start sneezing as soon as they put the mask on due to an allergic reaction of the materials the device uses. It's also common for air to escape through the mouth, meaning that the device isn't pushing air sufficiently enough to free obstructions.
If you notice that you're getting tangled in the CPAP machine's hose, waking up multiple times a night, feeling air leak and blow onto areas of your face, or feel uncomfortable because of the overall bulkiness of the device, it may be time to consider a less invasive alternative to sleep apnea therapy. After all, your waking days are at stake.
What is a Snore Guard?
If you experience mild to moderate levels of sleep apnea or you're simply CPAP intolerant, removable oral devices like the snore guard can mitigate the obstructions associated with sleep apnea. Also known as a Jaw Advancing or Mandibular Advancement Device, oral appliances come in many forms but typically treat the same issue. Dentists can customize them using a plastic-like mold to perfectly match the specific shape of your teeth and mouth. In most cases, people consider it a far more comfortable device to use than the CPAP machine.
How Does it Work?
Snore guards work by moving the lower jaw slightly forward in order to increase the size of the upper airway. It also works to reposition the tongue, another common obstruction in sleep apnea patients.
A more open airway reduces the air resistance that causes snoring and sleep apnea. If you're overweight and experience sleep apnea, it's common for patients to be prescribed this device in conjunction with a weight loss plan.
With a snore guard, patients have more incentive to use their sleep apnea therapy device anywhere they go and get better rest as a result. It doesn't require a wall outlet to operate and remains invisible while in use. In practically every scenario, a snore guard can work more effectively than the CPAP machine.
Ready to see if an oral appliance is right for you? Schedule a consultation with a dentist in North Raleigh today!
About the Author
Dr. Philip A. Lisk is trained to help patients treat their sleep apnea through the use of oral appliances. Thanks to his training at the Dawson Center for Advanced Dental Study, he'll make sure that your occlusion (bite) is even when creating your oral appliance. This ensures no stress is placed on your teeth or joint in order to treat your sleep apnea. To learn more about his practice, you can contact him through his website.
Comments Off

on How Alternative Sleep Apnea Therapy in North Raleigh Can Help You
No Comments
No comments yet.
RSS feed for comments on this post.
Sorry, the comment form is closed at this time.