November 4, 2019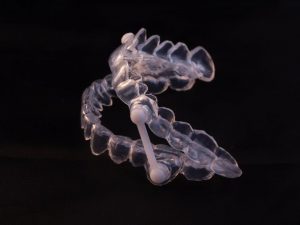 You've been diagnosed with sleep apnea recently, and you've finally gotten around to seeing your dentist for sleep apnea therapy in North Raleigh. They prescribed you with an oral appliance to wear over your teeth while you sleep. This device gradually repositions your lower jaw to open up your airway, so the tissues in the back of your mouth and throat don't collapse and keep your from breathing correctly during the night. You're excited to try it out, but it feels kind of weird at first. How can you get used to wearing your oral appliance? Here are a few tips.
Gradually Increase the Hours of Use Each Night
Since your oral appliance is designed to reposition your mandible, or your jaw structure, it makes sense that it would be uncomfortable at first. It might help to start out by only wearing the device for an hour or two at night. Then, each week or so, increase the amount of time you wear the appliance by another hour. Over a month or two, you should be up to a full night of wearing the appliance. Your quality of sleep will definitely have improved.
Wear Your Appliance During the Day
If you have a few spare minutes at home during the day, such as when you're getting ready in the morning, pop your oral appliance in for a little bit. Even though you're not sleeping, it can't hurt to let your mouth get adjusted for a few minutes. In general, the more you wear your appliance, the more quickly you will adjust to it.
Relax Before Bed
Maybe you're having trouble initially getting to sleep because your mouth is in a strange position. That's understandable. You might simply need some help getting to sleep. Do something relaxing before bed like reading, taking a bubble bath, doing some yoga stretches, or taking a supplement like melatonin. Try to avoid using electronic devices for an hour or so before bed, as that can keep you awake even after the lights have been shut off. Once you've gotten to bed initially for the night, you'll probably find that it's easier to adjust to your oral appliance.
It may take some time to get used to the new device in your mouth, but it will ultimately be worth it when your quality of sleep improves.
About the Author
Dr. Philip A. Lisk is a dentist in North Raleigh who has been in private practice since 1997. His professional memberships include the American Dental Association, the North Carolina Dental Society, the Wake County Dental Society, and the American Academy of General Dentistry. His practice offers sleep apnea therapy so you can achieve the restful sleep you deserve. To learn more, you can contact Dr. Lisk's office at (919) 870-6892.
Comments Off

on How to Adjust to Your New Sleep Appliance
No Comments
No comments yet.
RSS feed for comments on this post.
Sorry, the comment form is closed at this time.