April 10, 2023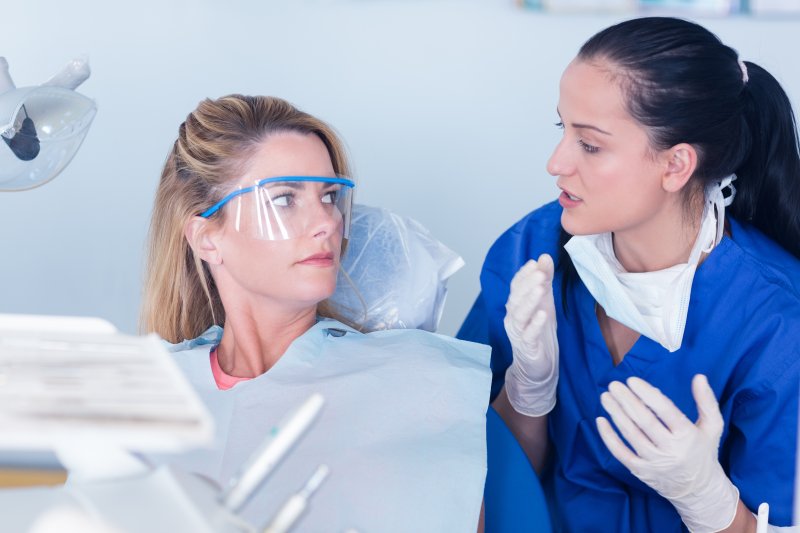 Dental crowns are protective caps that are placed over damaged or decayed teeth to restore their strength, shape, and appearance. If you have a crown and have noticed a black line around it, it's important to understand its causes and the available solutions provided by your dentist. Keep reading to learn about the common reasons for the appearance of a black line around your dental crown and discuss the potential treatment options to restore the natural look and beauty of your smile.
What's Causing the Dark Lines?
When it comes to dental restorations, aesthetics play a crucial role in achieving a beautiful smile. However, a black line around your dental crown can detract from its overall appearance, making your smile appear less healthy and revealing that the tooth has been restored. Fortunately, this dark line is typically not a sign of oral health problems but rather a result of the metal underneath porcelain-fused-to-metal crowns becoming visible.
How Your Dentist Can Fix It
While the presence of dark lines around dental crowns does not indicate an oral health problem, it can affect the aesthetics of your smile. Traditional dental crowns, particularly those made with metal components, may exhibit these dark lines.
However, modern crowns crafted from ceramic or porcelain materials are highly realistic and can be customized to seamlessly blend with your natural teeth. Opting for porcelain crowns ensures both durability and a beautiful smile, without the concern of black lines forming.
Maintaining Your New Crowns
Once you have made the decision to discuss replacing your porcelain-fused-to-metal crown with a full porcelain crown with your dentist, it becomes crucial to properly maintain your new restoration. Here are a few essential care tips to ensure its longevity:
Brush and floss – Even though your tooth is covered by a crown, it is still important to include it in your daily oral hygiene routine. Brush your teeth for two minutes, twice a day, and don't forget to floss before bedtime to maintain a healthy smile.
Wear your mouthguard – To safeguard your teeth from potential damage, it's advisable to wear a mouthguard if you engage in contact sports or experience teeth grinding during sleep. This protective gear helps prevent injuries and maintains the integrity of your pearly whites.
Don't use teeth as tools – It's important to refrain from using your teeth as tools for opening packages or bottles, as well as avoiding chewing on non-food objects like ice. These habits may seem harmless, but they can actually lead to damage and compromise the integrity of your dental crowns.
Visit your dentist – Make it a habit to visit your dentist every six months for regular check-ups to ensure the health of your crown and identify any potential oral health issues. These visits also include professional teeth cleaning to minimize the risk of tooth decay and maintain overall oral hygiene.
With diligent care and adherence to the mentioned tips, your dental crown can remain in good condition for approximately 15 years. By taking proper care of it, you can ensure a beautiful and confident smile for many years to come!
About the Practice
Dr. Philip A. Lisk's dental office is committed to addressing your concerns regarding a black line around your dental crown. With their emphasis on quality dental care, Dr. Philip A. Lisk and his skilled team are dedicated to assisting patients in achieving a beautiful and confident smile. They offer the option of replacing your old crown with a porcelain one, effectively enhancing the appearance of your smile. To learn more about dental crowns or to schedule an appointment, contact Dr. Lisk's office at (919) 870-6892 or visit their website.
Comments Off

on Why Is There a Black Line Around Your Dental Crown?
No Comments
No comments yet.
RSS feed for comments on this post.
Sorry, the comment form is closed at this time.