May 7, 2017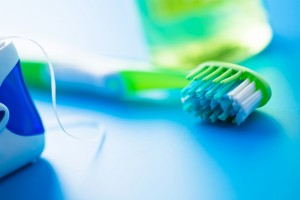 The majority of Americans agree: your smile is your most important physical feature, but did you know that more than 75% of adults have had at least one cavity in their lifetime? And, did you know that half of all Americans suffer from some form of gum disease? With statistics like these, it's easy to see why taking care of your teeth should be a priority. To help you make the most of your trademark grin, Dr. Philp A. Lisk, your trusted North Raleigh dentist, shares his tips on how to improve your oral hygiene in between visits.
How Should I Take Care Of My Teeth At Home?
An ounce of prevention is worth a pound of cure when it comes to your smile, and a huge part of maintaining healthy teeth and gums is the way you care for them during the time you don't see your dentist in North Raleigh. Using the tips below can make your smile look great as well as prevent decay, enamel problems, oral infections, and even tooth loss.
How Many Times A Day Should I Brush My Teeth?
Dr. Lisk recommends that his patients follow the advice of the American Dental Association (ADA) on this question by remembering the phrase 2×2. Every person – regardless of how young or old they are – should brush their teeth twice a day for two minutes. Need to brush up on your technique? Watch this helpful video to get a refresher on the right way to brush.
How Many Times A Day Should I Floss?
Although the ADA suggests that people should floss just once a day, twice is definitely better. If you're only able to floss once daily, be sure to do this at night to get the most out of this aspect of your oral hygiene routine. Since your mouth naturally becomes drier at night – and oral bacteria thrive in a dry mouth – this will help prevent cavities and gum disease while you sleep.
Does What I Eat Really Affect My Teeth?
Absolutely! Sugar is the biggest contributor to tooth decay, so limit sweets in foods and beverages like fruit juices and sodas, which essentially bathe your teeth in the sweetener with every sip. Instead, stick to water as your beverage of choice and enjoy snacks like veggies, hummus, and dairy products – say cheese, since this savory treat can help prevent cavities.
Does Tobacco Cause Smile Problems?
Yes! If you're still smoking or using tobacco in any of its forms, quit today. You'll not only save yourself from the embarrassment of bad breath, you'll drastically reduce your risk of developing oral cancer, as well as decrease your odds for developing gum disease and losing your teeth from this unhealthy habit.
While following these tips at home will certainly help prevent dental problems from occurring, professional visits every six months are just as important, so schedule your appointment with Dr. Philip A. Lisk today!
Comments Off

on Brushing & Flossing Tips From Your North Raleigh Dentist
No Comments
No comments yet.
RSS feed for comments on this post.
Sorry, the comment form is closed at this time.