January 8, 2021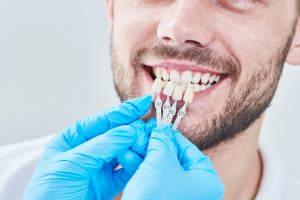 If you have a severely damaged tooth, your dentist might recommend a dental crown in North Raleigh. A protective cap is placed over the entire surface of a tooth above the gumline to reinstate its health, function, and appearance. When you picture a restoration, you might envision a dark metal cap causing an eyesore when you smile; however, you don't need to be concerned about a noticeable crown. Modern restorations are made of all-ceramic material to look like your real tooth using an advanced process to ensure it blends in.
Matching Dental Crown Color
When you look in the mirror, you might notice your teeth are a variety of shades, so how can your dentist customize your crown to your enamel? They consider several factors when selecting the perfect color. For example, the canine teeth are usually more yellow because they have a thicker layer of dentin than the ones in the front, which often appear more translucent. The molars are typically a shade in between the front teeth and canines.
During the custom shading process, your dentist will likely aim to achieve the color of the adjacent tooth. They'll begin by taking several photos of your teeth to analyze the images to choose a color that creates harmony. This requires a blend of science and art to pair the color of the crown with your natural teeth using a shade guide.
Ensuring the Perfect Color Selection
There are several factors that contribute to a precise shade for your crown, like the lighting in the room. Natural lighting is best, while fluorescent bulbs can also have the same effect. Incandescent lights can make colors appear more yellowish, causing a poor match.
If you're wearing bright lipstick or makeup, your dentist may ask you to remove it to ensure the contrasting colors don't affect the perception of the tooth's shade. In addition, your dentist will use a gray drape to cover any brightly colored clothing. Your dentist's eyes will have a neutral place to focus on the shade guide and your enamel. They will not look at your tooth for more than 7 seconds before looking away to help the rods in their eyes reset to ensure the color is perceived correctly.
Once your dentist has picked a color, they may ask you or a member of their dental team for a second opinion. They might also turn to technology for another set of eyes. A spectrometer is an electronic device that uses sensors to determine the color of teeth.
After careful examination, your crown will be accurately matched to create seamless results between your enamel and restoration. You can chew, speak, and smile confidently knowing your crown looks natural.
About Dr. Philip A. Lisk
Dr. Lisk has been practicing as a dentist in North Raleigh for over 20 years. He earned his dental degree at the University of North Carolina School of Dentistry. He has completed advanced training at the Dawson Academy and embraces the latest technologies to deliver superior care. If you need a dental crown, contact our office today to schedule your consultation.
Comments Off

on How Dentists Color-Match Dental Crowns
No Comments
No comments yet.
RSS feed for comments on this post.
Sorry, the comment form is closed at this time.