September 4, 2018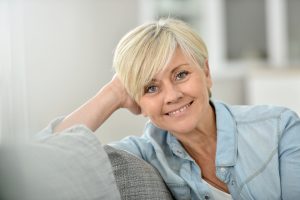 Who doesn't enjoy having a beautiful and timeless smile? The way your gums and teeth look factor greatly into how you feel about yourself no matter how old you are. Therefore, your cosmetic dentistry specialist says you don't have to compromise on the appearance of your ivories simply because of age. As you continue reading, you'll learn how cosmetic dentistry in North Raleigh keeps you looking young!
The Wonders of Cosmetic Dentistry!
You may be wondering, "What can cosmetic dentistry do for me?" This type of oral care allows you to overcome the following flaws in your appearance:
Gaps
Stains
Crowding
Crookedness
Misalignment
Thinning Enamel
Broken or Worn Enamel
No matter what type of blemish you want to fix, there is a form of cosmetic dentistry that can help!
Teeth Whitening
One of the key contributors to having an aged look is teeth staining. Over time, consuming heavily pigmented foods and drinks can cause deep discoloration, but with the professional bleaching agents used by your cosmetic dentist, you can brighten your smile and erase the years.
Porcelain Veneers
Another alternative for a stained and worn smile is to have porcelain veneers placed. Made from high-grade ceramic, veneers mask crowded, gapped, misaligned and stained teeth, leaving you with brand-new looking ivories.
Dental Crowns
The crown is the part of your tooth that's visible above the gumline. As the years go by, it can break or become worn, leaving you with a dated look. Having a custom-created, porcelain crown placed, will produce a better-looking and functioning digit.
Dental Implants
Not all of the cosmetic dentistry procedures provided by your cosmetic dentist focus primarily on your appearance. An example is the dental implant procedure.
Your dentist will surgically insert a titanium post into the jawbone that will fuse with the same and allow for a custom restoration to be placed. With this procedure, you'll regain the following:
Facial Support
Beautiful Smile
Full Function of Your Teeth
Inlays and Onlays
Large or worn fillings that suffer from damage over time can be replaced with tooth-colored restorations called inlays and onlays. Made from a composite resin material, these cosmetic procedures provide continuity to your smile and erase the dreadful blemishes.
Direct Bonding
A final way to remake your image is with the direct bonding process. Like porcelain veneers and teeth whitening, it too offers a remedy for dental staining. The direct bonding method also masks gaps, chips and cracks.
The first step to getting the smile of your dreams and reversing the aging clock is to reach out to your cosmetic dentistry specialist to schedule a consultation. Working with your dentist in North Raleigh, you'll soon be able to enjoy a beautifully remade set of teeth.
About the Author
Dr. Phillip A. Lisk is a graduate of the University of North Carolina School of Dentistry in Chapel Hill. For over 20 years, he has been in private practice yet remains dedicated to learning and growing more. Dr. Lisk helps patients gain more confidence and enjoy youthful smiles at his private practice, and he can be reached for more information through his website.
Comments Off

on Rejuvenate Your Smile with Cosmetic Dentistry in North Raleigh!
No Comments
No comments yet.
RSS feed for comments on this post.
Sorry, the comment form is closed at this time.