January 5, 2021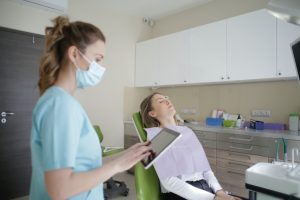 Believe it or not, 2021 is already here. Now that the holidays are behind you, life is about to get busier as you return to your daily responsibilities. Before things get too hectic, now is the perfect time to schedule your semi-annual dental checkup in North Raleigh. Here are 4 reasons to visit your dentist early in the year to invest in a healthy smile.
1. Your dental benefits reset.
On January 1st, your dental benefits were reinstated, which gives you access to comprehensive coverage to lower the amount you need to pay for common treatments, like cleanings and checkups. By paying your monthly premiums, you can visit your dentist twice a year for preventive services. If your dentist finds an issue, it can be treated quickly using your policy. Although every plan differs, most cover as much as 80% of the cost, so you can rehabilitate your smile without breaking the bank.
2. Lower your oral health expenses.
The American Dental Association recommends everyone visits their dentist every 6 months for a cleaning and checkup to keep their teeth and gums healthy. Preventive care can stop many oral health issues from occurring in the first place, while also giving your dentist the opportunity to monitor your smile to provide quick intervention. As a result, it lessens the likeliness of needing a costly treatment down the road. In fact, every $1 spent on prevention can save you as much as $50 on restorative services.
3. Reduce your risk of a dental emergency.
Although you probably never expect one to happen to you, 1 in 6 Americans experiences a dental emergency annually. Approximately 16% of the population miss work each year because of oral health concerns. You can reduce your risk of needing urgent dental care by visiting your dentist in North Raleigh regularly to ensure there aren't any untreated issues lingering in your mouth that can turn into an unexpected problem.
4. Start the year with a healthy smile.
As you head into the new year, you can look and feel your best by ensuring your smile is healthy. Research shows the appearance of your teeth can affect your self-esteem. Treating any dental issues and removing any accumulations will give your confidence a boost to build stronger social relationships and even improve your career prospects.
Schedule an Appointment with Your Dentist
As you pack up your holiday decorations and get ready for 2021, make sure your oral health is at the top of your priority list. Commit to your smile to ensure there aren't any unexpected complications as you work towards reaching your goals.
About Dr. Philip A. Lisk
Dr. Lisk has provided high-quality dental care to the community for over 20 decades. He earned his dental degree at the University of North Carolina School of Dentistry and has completed advanced training at the Dawson Academy. Dr. Lisk focuses on the mouth and body connection to help patients reach optimal wellbeing. If it's time for your next cleaning and checkup, contact our office today to schedule an appointment.
Comments Off

on Why Should I Schedule a Dental Checkup Early?
No Comments
No comments yet.
RSS feed for comments on this post.
Sorry, the comment form is closed at this time.