August 3, 2022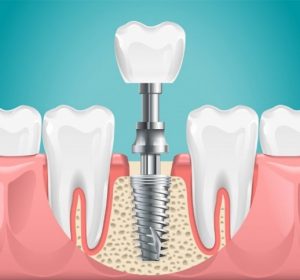 If you've recently had a tooth pulled, chances are you want to replace that missing pearly white as soon as possible! One option that's worth considering is a dental implant; after all, they're considered the premier option for replacing missing teeth. Keep reading to learn more about dental implants and why they're a great option for replacing missing teeth, along with some factors that determine when they become a viable option after having a tooth extracted.
The Importance of Replacing Missing Teeth
One of the biggest issues with missing teeth is that they almost always lead to additional missing teeth! This means that replacing an extracted tooth promptly is always going to be in your best interest. If there's a gap in your smile, the surrounding teeth will gradually begin to lean towards the open space, weakening and eventually falling out. Once these teeth begin falling out, you're at risk of other oral health issues including bite pattern problems, trouble eating and talking, and diminished self-confidence. Replacing missing teeth allows those empty sockets to be filled once more, ensuring that the neighboring teeth stay in their proper positions.
How Soon After Tooth Extraction Can I Get a Dental Implant?
If you've opted to have your extracted tooth replaced with a dental implant, you might be wondering when you can undergo the procedure. There are three main categories of implant placement to consider:
Immediate placement – If you have sufficient bone structure and good oral health following your tooth extraction, then your dentist can immediately place your implant after pulling your tooth. This is usually the ideal way of going about things! From there, the titanium post of the implant will begin fusing with your jawbone over the next few months.
Early placement – This is also known as immediate-delayed implant placement, and it usually takes place two or three months after the extraction. This is necessary when the gums and supporting tissue around your socket need time to heal up before you can receive your implant. Once it's healed, the titanium post is surgically inserted and osseointegration can begin.
Delayed placement – If your oral health is compromised in any way, your implant might be unable to properly fuse with your jawbone—so your implant placement needs to be put on hold. For instance, if you don't have adequate bone density to support implants, you might need a dental bone graft which can add 3 to 6 months to your timeline. You might also have a gum infection that requires treatment beforehand, which depending on the severity, may take several months to address.
If you've recently had a tooth extracted, you might feel a little impatient with the replacement process. But replacing the tooth in the correct manner and at an appropriate time will ensure that your dental implant is a lasting and effective solution!
About the Author
Dr. Philip Lisk and his team are honored to serve patients and families in the North Raleigh area. Dr Lisk received his dental doctorate from the University of North Carolina School of Dentistry in Chapel Hill and has over 20 years of experience in dentistry. He has taken countless hours of continuing education in a wide range of fields and his practice is pleased to offer many available services, including dental implants. If you have any questions about dental implants or would like to schedule a visit, feel free to reach out online or over the phone—Dr. Lisk is happy to help! Telephone: (919) 870-6892.
Comments Off

on How Soon After My Tooth Extraction Can I Receive a Dental Implant?
No Comments
No comments yet.
RSS feed for comments on this post.
Sorry, the comment form is closed at this time.