December 5, 2018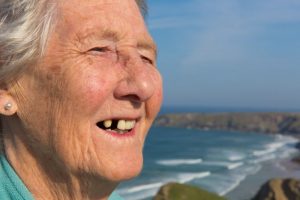 Tooth loss affects millions of Americans every year, so there's no reason to feel alone. While many people deal with missing teeth, it's important to note that tooth loss doesn't only affect your ability to chew certain foods or your willingness to smile. In fact, there are many health consequences of not replacing missing teeth. Even if you were to fill the space with dentures or bridges, it won't truly solve the root of the issue.
To learn why it's time to address your issue with dental implants in North Raleigh, keep reading!
The Effects on the Jaw Bone
Teeth are constantly being stimulated by the alveolar bone, which resides inside the sockets of the gums. This bone is essentially an extension of your jaw, which is stimulated daily by regular chewing forces through teeth. If those teeth are missing, the alveolar bone is no longer being stimulated and therefore at risk of deteriorating over time. As the jaw bone loses daily stimulation, it slowly shrinks and loses strength, making it more difficult to chew the foods you love.
At this point, the only treatment that effectively addresses the jaw bone in this way is dental implants. Dentures and bridges only rest on top of the gums and do not attach to naturally-existing bone. In contrast, dental implants integrate with natural bone and provide it the stimulation it needs to prevent resorption. It's the most ideal solution to preventing bone loss and maintaining your fullest biting force possible.
Effects on Facial Appearance
As the jaw bone begins to shrink over time, your biting force isn't the only issue you should be worried about. The loss of teeth can easily add 10 years to a person's face, and this is largely because of the loss in bone height. This in turn affects the way your bite comes together, causing the chin to rotate forward and create a poorer facial appearance.
Furthermore, those who care about their appearance will notice their skin sag prematurely and their cheeks begin to hollow out. Teeth allow blood to flow to the face. That means if no teeth are present, then proper blood flow cannot maintain your face's natural elasticity and shape.
The Nutritional Consequences
Those who are missing teeth tend to have more difficulty keeping a more balanced diet. Fruits and vegetables require significant more biting force to consume, which is why those with missing teeth report malnutrition and intestinal problems. This is not only because their diet is lacking in essential vitamins and minerals, but because the foods they do eat are not being digested properly. Poor chewing and swallowing abilities results in an increased risk in illness and a shorter life expectancy.
If you're desire is to solve multiple oral health issues at the same time and do so for decades, dental implants from a dentist in North Raleigh are the way to go. Learn more about treatment by scheduling an appointment today!
About the Author
Dr. Philip A. Lisk earned his DDS degree from the University of North Carolina School of Dentistry. He works in tandem with oral surgeons and periodontists to ensure that your procedure, from placement to restoration, is as smooth as possible. To learn more about his practice, you can contact him through his website.
Comments Off

on Dental Implants in North Raleigh: Ideal for Tooth Loss
No Comments
No comments yet.
RSS feed for comments on this post.
Sorry, the comment form is closed at this time.