December 15, 2018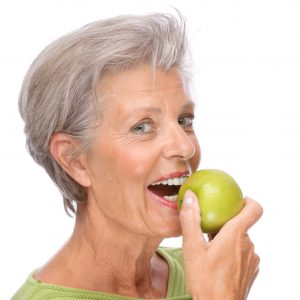 It used to be exciting to head to the "Dean Dome" to cheer for the Tarheels, but since you lost your teeth, you can't enjoy the tasty popcorn and hot dog snack that you would normally treat yourself to. Furthermore, you've become reluctant to smile for post-game photos with your friends. Thankfully, dental implants in North Raleigh provide a way to replace your teeth and regain the life you once had, but will they be noticeable? The answer is revealed as you read on!
The Dental Implant Explained
Let's first take a look at what a dental implant is, because in better understanding the placement procedure, you can get an initial answer to your concern about noticeability. The process involves the surgical insertion of a titanium post (implant) into the jawbone.
Over time, through a process called osseointegration, the implant fuses with your natural bone similar to the original union the latter had with your roots. Because the process starts at the root of the problem (pun intended), you're left with a more natural appearance.
The Next Step – The Abutment
After your jaw and gums have sufficiently healed, another titanium application is added – the abutment. It acts as a connector that allows a final restoration to be attached to the implant. Because it too is composed of titanium, which is biocompatible, your final restoration has a sturdy and lasting anchor to ensure that it fits properly to leave you with a more natural look.
A Beautiful Restoration
When a restoration is placed atop the support of a dental implant, it mimics the natural relationship between the roots and the teeth. This is one of the reasons that the dental implant procedure is considered to be the "gold standard" for tooth replacement.
It not only provides the sturdiest foundation, but it also creates a seamless final appearance that makes it hard to tell that you have a prosthetic.
The Other Benefits of Dental Implants
Dental implants don't just leave you with a more organic look, but they also restore the function of your teeth. Thus, you'll enjoy the following benefits:
You'll be able to speak clearly.
You'll be able to eat the foods you've been missing.
By having implants placed, you won't have to worry about bone loss that leaves your face looking worn and aged.
To learn more about the process and ask any other questions you may have, contact your dentist in North Raleigh to schedule a consultation. Then you can get on the road to being fully restored and once again enjoying some Tarheel basketball!
About the Author
A graduate of the University of North Carolina School of Dentistry in Chapel Hill, Dr. Phillip A. Lisk has over two decades of experience practicing dentistry. A member of the American Academy of General Dentistry and an active participant at the Dawson Center for Advanced Dental Study, he helps patients regain the lives they once had by placing dental implants at his private practice. Dr. Lisk can be reached for more information through his website.
Comments Off

on Will My Dental Implants in North Raleigh be Noticeable?
No Comments
No comments yet.
RSS feed for comments on this post.
Sorry, the comment form is closed at this time.