October 2, 2018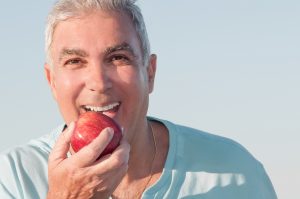 A life without teeth is one that is devoid of the joys of being able to eat many of the foods you enjoy, and it results in a significant decrease in your confidence. Thankfully, with dental implants in Raleigh, you can again function normally. Once your implants are placed, though, there are some best practices to keep in mind to ensure their longevity. As you read on, your dentist explains how to care for your dental implants the right way!
The Dental Implant Explained
When it comes to replacing missing teeth, the dental implant procedure stands in a class of its own. That's because it involves a titanium implant (post) being surgically inserted into the jawbone. Over time, the post fuses with your existing bone to create a firm foundation that is only rivalled by your natural teeth roots.
Once your jaw and gums have healed sufficiently from the implant procedure, your dentist will place an abutment, which serves as an anchor to allow a final restoration (crown, bridge or dentures) to be attached.
How to Care for Your Dental Implant
After the dental implant is placed, you should then shift your focus to doing what is necessary to encourage its longevity. Keep in mind that properly cared for, your dental implant can last up to a lifetime.
Here are the best practices to keep in mind:
No Hard Foods – Avoid eating hard foods like nuts and corn kernels to prevent the fixture from dislodging.
Treat Bruxism – One of the nemeses to the longevity of your new implant is bruxism (teeth grinding). The unusual pressure it places on your teeth can cause the implant to unseat and eventually dislodge.
Maintain Excellent Oral Hygiene – A key benefit of dental implants is they allow you to perform your regular oral hygiene routine of brushing and flossing your teeth. In addition, you can use a special tool called an interdental toothbrush, which allows easier cleaning along the sides of your prosthetic.
Visit Your Dentist – Regular visits to your dentist help to prevent oral health issues like gum disease and dry mouth that could compromise your dental implant. Furthermore, they allow your dentist to examine your implant to make sure there are no adjustments needed.
How to Get More Expert Advice
To get more information on how to properly care for your dental implant, reach out to your dentist in North Raleigh to schedule a visit. While there, the professional will walk you through all the steps of the process so you can be fully informed and ready to make positive changes in your life with a new dental implant!
About the Author
Dr. Phillip A. Lisk is a graduate of the University of North Carolina School of Dentistry. He has since gone on to provide two decades of expert and compassionate care to the Raleigh area. To continue to sharpen his skills, Dr. Lisk maintains affiliation with the Dawson Center for Advanced Dental Study and other professional organizations. He helps patients restore their smiles and regain confidence by placing dental implants at his private practice, and he can be reached for more information through his website.
Comments Off

on How to Care for Dental Implants in North Raleigh
No Comments
No comments yet.
RSS feed for comments on this post.
Sorry, the comment form is closed at this time.