February 27, 2020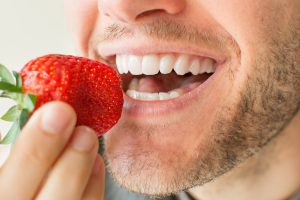 Did you know that nearly half of American adults say that a person's smile is their most memorable feature after meeting them for the first time? Unfortunately, you may find it difficult to make a good first impression if you're embarrassed of your missing teeth or ill-fitting dentures. If you're looking for a tooth replacement option that can help rebuild your smile as well as your confidence, dental implants in North Raleigh are a great choice. Dental implants are a permanent and comfortable way to restore the look, feel, and function of your beautiful smile. Read on to find out why they're the most lifelike and natural-looking tooth replacement option available.
How Do Dental Implants Work?
Dental implants are designed to replace your tooth both above and below the gumline. First, a titanium post is surgically placed into the jawbone where the missing tooth's root used to be. This anchors the new tooth in place, giving it a rock-solid foundation and restoring up to 70% biting force. It also stimulates blood flow in the jaw, which prevents bone deterioration and changes in your facial features.
Several months later, when the titanium post has fully integrated into the jaw, a small connecting piece called an abutment is attached to the top. This is where the tooth-shaped dental crown is secured. Once placed, it will look, feel, and function just like a natural tooth, blending in seamlessly with the rest of your smile. With regular brushing and flossing, your dental implant can last a lifetime.
Will Anyone Notice My Dental Implants?
Here's the million-dollar question: just how noticeable are dental implants? Thanks to the newest dental technology and high-quality materials, this tooth replacement option is nearly indistinguishable from the rest of your smile. Not only are they expertly designed to mimic the shape of a natural tooth, but they're made of beautiful and durable dental porcelain. This material is well-known for mimicking the reflective nature of enamel, and it can be shaded to match the rest of your teeth. Overall, it's incredibly unlikely that anyone will notice your new, lifelike dental implants.
In fact, dental implants are so comfortable and functional, you might even forget they're there! Thanks to its sturdy foundation in the jawbone, your dental implant won't shift or slip out of place. With this reliable durability, you can eat, talk, and laugh without worry. Additionally, since they require no special care, you can continue to keep your smile clean and healthy with a simple yet effective routine of regular brushing and flossing.
If you're looking for the most lifelike tooth replacement option, talk to your dentist in North Raleigh about dental implants. If this restoration is right for you, dental implants can rebuild your confidence and create a smile you can't wait to show off!
About the Author
Over the years, Dr. Philip Lisk has rebuilt countless happy, healthy, and beautiful smiles. He is dedicated to keeping your teeth looking and feeling their best, which is why he suggests replacing missing teeth both above and below the gumline with dental implants. He would be happy to help you discover if this investment in your oral health is right for you, so feel free to contact him at his website or (919) 870-6892.   
Comments Off

on Will My New Dental Implants Be Noticeable to Others?
No Comments
No comments yet.
RSS feed for comments on this post.
Sorry, the comment form is closed at this time.