November 16, 2017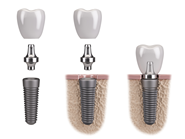 When you suffer from tooth loss, it adds new daily challenges to your life. You can find it difficult to chew many of your favorite foods, like steak. Not to mention, it is easy to feel insecure about the empty spaces in your smile. To replace your missing teeth, you are considering dental implants in North Dallas. This provides a predictable and reliable solution to fill the gaps. Offering over a 95% success rate and the potential to last for a lifetime, you will make a wise investment in your quality of life and confidence. However, there are many different types available, so which is the right option for you?

Single Tooth Replacement
If you are missing a single tooth, the root and the crown will be replaced with a dental implant. An implant post is surgically placed into the jawbone, which will fuse to it. Then, an abutment is attached to connect a custom-made dental crown to the post. Your results will look and feel natural while you provide your remaining natural teeth with the support they need to stay firmly in place.
Multiple Tooth Replacement
When you are missing several teeth in a row, each tooth is not replaced individually. Instead, a bridge of prosthetic teeth is made to fill the empty space. Instead of using dental crowns to anchor it the adjacent teeth, dental implant posts are used. The number of posts needed will vary depending on how many teeth need to be replaced.
All-of-4
If complete tooth loss has occurred on one or both arches, you can regain a complete smile with all-on-4. A custom-made dental arch is created that is like a traditional denture. However, a denture adhesive is not used to hold it in place. Instead, an average of four dental implant posts are used. This provides a secure and sturdy foundation to replace your missing teeth. In fact, when compared to conventional dentures, you will enjoy an increased biting force of over 70%.
Mini Dental Implants
In some cases, your dentist in North Raleigh may recommend the use of mini dental implants. They have a smaller diameter than the traditional options. As a result, they can often be used for those who have decreased bone density. When compared to standard implant posts, the smaller diameter makes the procedure less invasive.
Get a Complete Smile Today
Dental implants can be used to treat all cases of tooth loss; however, you must be a candidate for the procedure. Generally, if you have good general and oral health, you can complete your smile with them. To determine if they are the right option for you, you will need to schedule an appointment with your dentist for a comprehensive evaluation.
About Dr. Philip A. Lisk
Dr. Philip A Lisk has provided comprehensive dental care to the community since 1997. In addition to general dentistry, he provides many areas of advanced services, including dental implants. If you are interested in treating your tooth loss, contact our office today to schedule a consultation for a complete smile.
Comments Off

on Discover the Different Types of Dental Implants in Raleigh
No Comments
No comments yet.
RSS feed for comments on this post.
Sorry, the comment form is closed at this time.