July 30, 2017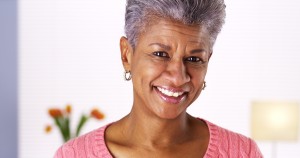 When you've lost teeth, you need a replacement option that blends beautifully with the rest of your smile — especially if those gaps are in the front of the mouth. The best solution by far is with dental implants, titanium posts that support a prosthetic tooth for a truly comprehensive replacement. Because they mimic the tooth structure so closely, dental implants also a highly cosmetic option. Keep reading to find out more about all that can be done with dental implants in Raleigh from Dr. Philip A. Lisk!
How Do Dental Implants Work?
A dental implant is made out of titanium, a material that your jawbone will actually grow around. This process, which we call osseointegration, provides unmatched stability for the prosthetic teeth that are affixed securely on top of the implants. And thanks to the stimulation provided by the replacement roots, the jawbone receives the nutrients and blood flow it needs to thrive. Non implant-retained tooth replacement options (like fixed bridges and traditional dentures) lead to jawbone degeneration and a sunken facial appearance over time.
In all, the procedure for dental implants can take six months to a year to complete — but once the jawbone has healed and each implant has been restored, your implant-retained replacement can be expected to last for a lifetime.
The Many Cosmetic Benefits of Dental Implants
Dental implants provide a very cosmetic solution for any number of missing teeth. Some of the most significant benefits of this tooth replacement option include…
Mimic your natural tooth structure perfectly

Customizable to match the size, shape, and overall appearance of any remaining teeth

Function just as well as your natural teeth

Fixed and removable options available depending on each patient's unique needs

No need for messy, often ineffective denture adhesives to stabilize a full prosthetic
Are You a Candidate for Dental Implants?
No matter how many teeth they have lost or from where in the smile they are missing, many adult patients are eligible for dental implants. If your tooth loss is recent and you are in solid oral and overall health, chances are good you a good candidate, too. Implant dentistry may still be possible for people who have dealt with tooth loss for several months or years, but your dentist may recommend a bone grafting procedure to add volume to the jawbone area for successful anchoring. Smokers and tobacco users should be aware of the potentially negative effect the habit can have on the success of dental implants. The only way to know for sure that you can or cannot undergo the procedure for dental implants is to schedule an appointment with a qualified implant dentist.
Let's Get Started Today!
If you would like to benefit from the very best option in tooth replacement, we want to help. Dental implants can't be beat! Please request an appointment with Raleigh dentist Dr. Lisk for expert implant dentistry.
Comments Off

on Dental Implants in Raleigh: Best Option for Missing Teeth
No Comments
No comments yet.
RSS feed for comments on this post.
Sorry, the comment form is closed at this time.