May 3, 2019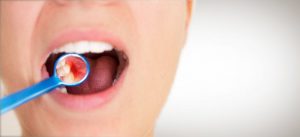 Did you know that May is National Stroke Awareness Month? While you may think strokes only occur as a result of being overweight or having high cholesterol or blood pressure, there is evidence that links gum disease and stroke. It surprises many people when they learn oral health plays a large role in how our bodies function, which is why it's important to take care of your teeth and gums. A dentist in North Raleigh explains this surprising connection and what you can do to take care of your gum health.
How Are Gum Disease and Stroke Connected?
Gum disease affects more than 64 million Americans. More and more dentists see and treat this disease on a frequent basis, which means many people are not doing everything they can to maintain good oral health. If you think 64 million is a surprising statistic, you may or may not be shocked to hear that on average, one American dies every four minutes from a stroke.
What's the connection? The answer: vascular inflammation.
Just like a heart attack, inflammation plays a significant role in both gum disease and stroke. Individuals who suffer from acute cerebrovascular ischemia, which is a condition that occurs when blood flow to the brain is insufficient, are at greater risk of oral infection. In addition, those who experience oral inflammation are at risk for a systemic disease like stroke.
Why? It's because these systemic diseases weaken your immune system, making it harder to fight off inflammation and infection. When gum disease and inflammation is present, the bacteria enters the bloodstream and plaque buildup hardens your arteries. The end results can be a stroke.
What Can I Do to Take Care of My Gums?
One of the best ways to practice good oral health is to visit your dentist for a regular checkup and cleaning every six months. Whether gum disease has already developed or not, he will be able to fully examine your mouth and determine if any problems do exist. If so, he and his team can begin to work and reverse the gum disease. If it has progressed too far, there are therapies that are offered (scaling and root planing) that can take care of the problem.
However, it's not just going to the dentist that will keep your gums healthy. You must be willing and committed to taking proper steps at home.
If you want to maintain good oral health at home, here's what you should do:
Brush your teeth twice a day for two minutes.
Floss at least once a day.
Rinse with an antiseptic mouthwash
Use fluoride toothpaste.
Use a tongue scraper or your toothbrush to clean your tongue, cheeks, and the roof of your mouth.
Don't let gum disease affect your overall health. Preventive care is the guaranteed way to keep your oral health in check. If you need help in determining what products are best to use to prevent gum disease or tooth decay, talk to your dentist.
About the Author
Dr. Philip Lisk earned a Bachelor of Science in Zoology from North Carolina State University before earning a Doctor of Dental Surgery from the University of North Carolina School of Dentistry in Chapel Hill. He and his team of experts strive to ensure you are comfortable and at ease during your appointment. In addition, their office offers advanced therapies and procedures, so you receive the best results. To learn more, contact us at (919) 870-6892.
Comments Off

on Gum Disease and Stroke: Your Dentist in North Raleigh Explains the Connection
No Comments
No comments yet.
RSS feed for comments on this post.
Sorry, the comment form is closed at this time.