June 1, 2020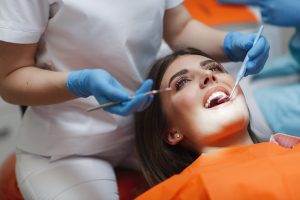 June is a time when the weather is getting warmer, the kids are finally out of school, and many of us are finally able to take a well-deserved break. One thing that many people don't know is that June is also Oral Health Month, so there's no better time to think about what you can do to better your smile. Your dentist in North Raleigh shares why regular dental appointments are so important and what you should be doing between them.
There are two main parts to a regular dental visit, and both are extremely important for your overall health.
Checkup
During the dental checkup, your dental professional check for cavities, plaque, and tartar that could cause oral diseases. They will also check your gums with a special tool to measure the depth of the spaces between your teeth and gums. When gums are healthy, they are shallow. When periodontal disease is present, the spaces may become deeper.
This checkup also includes a careful examination of your tongue, throat, face, head, and neck to check for any abnormalities like swelling, redness, or possible signs of cancer.
Cleaning
During your visit, a dental professional thoroughly cleans your teeth. Although daily brushing and flossing is effective in removing most plaque, some may get left behind. When plaque builds up, it turns to tartar, which you cannot remove on your own. During the cleaning, your hygienist will do something called scaling. This is when they use special tools to remove tartar from your teeth, so it doesn't cause other problems. Your dentist will also floss and polish your teeth using a gritty paste. This helps to remove any surface stains on your teeth.
How Do I Keep My Teeth Healthy Between Appointments?
Use proper brushing technique: Even if you brush your teeth three times a day, if you aren't doing it properly, it doesn't do much for your teeth at all. You should be brushing your teeth twice daily using a soft-bristled toothbrush. Hold the brush at a 45-degree angle and use short, circular motions. Make sure you are brushing each tooth.
Floss daily: Flossing every day is important to remove leftover food and plaque from places that your toothbrush cannot reach. Make sure you are doing it properly. Use about 18-24 inches of dental floss. Wind most of it around your fingers, leaving about 2 inches of floss for your teeth. Gently floss up and down between your teeth. Use a new section for every tooth.
Watch what you eat: You definitely want to limit foods and beverages with high sugar content, like soda, for occasions. Sugar promotes bacteria growth which ultimately leads to more tooth decay and cavities. You don't need to eliminate sugar completely but cutting down can make a huge difference for your teeth and the rest of your body. Try eating high fiber fruits and veggies like apples, carrots, and celery. They can help to remove plaque from your teeth.
Cut out bad habits: As great as your dental hygiene routine is, certain habits can take a huge toll on your oral health. The nicotine and tar found in cigarettes can eat away at your gums and increase bacterial production and plaque in the mouth. Biting on pencils, ice, or your fingernails can increase your chances of cracking, chipping, or breaking your teeth. By eliminating these habits from your life, your teeth will thank you.
This Oral Health Month, keep your smile in mind. Visiting your dentist and keeping up with a good oral hygiene routine is essential to maintain healthy teeth and your overall wellbeing.
About the Author
Dr. Philip A. Lisk is a general dentist who has been in private practice in the North Raleigh area for over two decades. He is a member of several professional organizations including the American Dental Association, the North Carolina Dental Society, the Wake County Dental Society, and the American Academy of General Dentistry. For more information or to schedule an appointment, visit his website or call (919) 870-6892.
Comments Off

on Why is Visiting the Dentist So Important?
No Comments
No comments yet.
RSS feed for comments on this post.
Sorry, the comment form is closed at this time.