January 4, 2018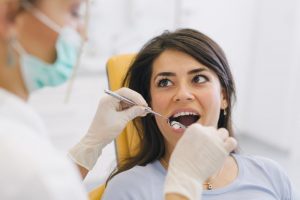 Did you have fillings placed at a young age? If so, there's a good chance they were made of metal or silver as these were more commonly used in previous decades. While your old dentist emphasized their strength and longevity, they may not have mentioned the possible damage it can cause to your teeth today. Without replacing them, you're more likely to experience consequences that could have been avoided. Your dentist in North Raleigh is here to lend a hand.
What are Tooth-Colored Fillings?
Your dentist will likely call these white fillings as they are designed to match the rest of your teeth. Tooth-colored fillings use a composite resin, which is a mixture made from glass and plastic designed to fill cavities. The material used is considered metal-free and dried in minutes thanks to a special, dental, UV light. With tooth-colored fillings, your tooth is restored to its healthy status after your dentist cleans it of any remaining decay.
How Do They Differ from Metal/Silver Fillings?
Metal fillings have created a wide concern among patients wary of mercury exposure. Even though they've been approved by the FDA for dental use, tooth-colored fillings remove this worry entirely. Furthermore, metal fillings tend to hide future signs of decay that even an X-ray can miss.
The ironic part is that metal fillings are very noticeable when placed next to natural teeth. They also require significant prepping to be placed, which means more of your tooth is loss in the filling process.
However, unlike metal fillings, tooth-colored fillings are minimally invasive and customizable, making it easier to leave more of your tooth structure intact. If they break, it will be easier to spot than with a metal filling and free of any and all mercury, giving you peace of mind.
What Happens if I Don't Replace My Metal Fillings?
Metal fillings are riskier to keep because if they break, it increases the chances that you'll need a crown to cover your remaining tooth. They effectively makes your tooth weaker and therefore easier to crack.
Since they also make tooth decay more difficult to see, you may not realize you have decay until you start experiencing sharp pain. By that point, it's too late to save and a root canal treatment will be needed, costing you more money and causing pain that could have been avoided.
If you want to stay as proactive as possible, you'll want to make the switch to tooth-colored fillings as soon as possible. Schedule an appointment with your dentist in North Raleigh today to get your previous fillings replaced!
About the Author
Dr. Philip A. Lisk earned his undergraduate degree from North Carolina State University and his Doctor of Dental Surgery from the University of North Carolina School of Dentistry. He is a Dawson Academy alumnus and an active participant at the Dawson Center for Advanced Dental Study. He's also a member of the ADA, the American Academy of General Dentistry, and many other associations. To learn more about his practice and tooth-colored filling treatments, contact him at (919) 870-6892 or visit his website.
Comments Off

on Your Dentist in North Raleigh Provides Tooth-Colored Fillings
No Comments
No comments yet.
RSS feed for comments on this post.
Sorry, the comment form is closed at this time.