April 7, 2019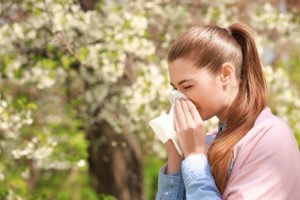 It's that time of year. Everything is blooming, which means you're sneezing and begging for relief. Seasonal allergies can be a nuisance, and they can also cause serious problems with your oral health. Wait, what? There's a connection between allergies and your mouth? That's right! A dentist in North Raleigh explains what kind of impact springtime can have on your mouth, teeth, and gums.
How Do Allergies Impact Oral Health?
Between all the sneezing, coughing, and pounding headaches, seasonal allergies are an unwelcomed guest. Not only are you sidelined for a few days because of the toll it's taking on your head and body, but did you know it's also causing problems with your oral health? If this is a new revelation to you, here's just how allergies can impact your teeth and gums.
Toothaches
When your sinuses begin to give you problems, do you notice that your teeth begin to hurt? This is because your maxillary sinuses are located right above your mouth. When the pressure begins to build, you'll notice the pain in your upper molars. You might even experience tooth sensitivity or pain when you change positions. For pain relief, try over-the-counter antihistamines.
Dry Mouth
That stuffy nose may not only make you sound funny, but it's also keeping you from being able to breathe through your nose. As you breathe through your mouth, you're more susceptible to developing dry mouth, which can create a breeding ground for bacteria. If you're taking antihistamines, it can also lead to dry mouth. Without sufficient saliva present, cavities, gum disease, and bad breath can develop. Make sure to drink plenty of water while battling seasonal allergies. This will keep you hydrated and prevent dry mouth.
Sore Throat
If the sour stomach you have from postnasal drip isn't enough, the sore throat might just have you crawling back into bed. Sore throats can cause bad breath, and no amount of brushing can eliminate the problem because of its origin in the throat. Cough drops and throat spray can help to eliminate some of the pain and discomfort that comes with a sore throat.
How Can I Prevent Future Problems?
Although you might be unable to make it through allergy season unscathed, there are some things you can do to prevent your oral health from being affected.
Drink plenty of water to prevent dry mouth and flush out any excess mucus.
Brush and floss regularly. This will ensure your teeth and gums stay healthy and clean even while battling allergies.
Try salt water. Salt can actually help remove some of the mucus brought on by your allergies, so gargling with it can help to relieve some of your symptoms and reduce harmful bacteria in your mouth and throat.
Address the reason for your allergies. If certain environments cause your allergies to flare up, avoid them, if possible. Talk to your doctor about prescription medications or allergy shots to help get you through this time of year.
Visit your dentist. Continue going to your six-month checkups, and talk to your dentist about ways to combat oral health problems that are caused by seasonal allergies.
Battling allergies is hard enough. Don't let your oral health become a problem as well. Use these simple tips listed above, and you'll keep your mouth in check during allergy season.
About the Author
Dr. Philip Lisk earned a Bachelor of Science in Zoology from North Carolina State University before earning a Doctor of Dental Surgery from the University of North Carolina School of Dentistry in Chapel Hill. He and his team of experts strive to ensure you are comfortable and at ease during your appointment. In addition, their office offers advanced therapies and procedures, so you receive the best results. To learn more, contact us at (919) 870-6892.
Comments Off

on A Dentist in North Raleigh Says Seasonal Allergies Impact Oral Health
No Comments
No comments yet.
RSS feed for comments on this post.
Sorry, the comment form is closed at this time.