December 30, 2017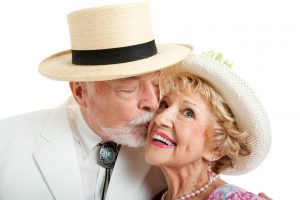 That time of the year has come again. Duke and UNC are preparing to square off on the parquet floor. You've secured your tickets in advance and can't wait to go. There's one problem, though, that you just can't seem to get around. You have missing teeth, which means that you won't be able to enjoy your favorite snacks during the game like you used to. And if you can't get the whole experience, it's just not going to be the same. Since you bought your tickets far enough in advance, you have some time to make a decision about how to address this. You're considering two options, either dentures or implants, but you'd like to know more about each one. Thankfully, your trusted dentist in North Raleigh has some insight to share on the two procedures.
What are Dentures?
Dentures are removable fixtures that replace missing teeth and some of your gum tissue. Complete or full dentures replace all the teeth in the upper or lower jaw, or in both jaws, while partial dentures are used to fill in gaps where some of the natural teeth remain. The partial dentures are connected to your remaining teeth by using clasps that are fitted into crowns. Complete dentures rest directly on the gums.
What are Dental Implants?
A dental implant is a titanium post that is surgically inserted just below the gum line into the jawbone, replicating your tooth's natural root system. After the procedure is done, your bone structure fuses with the titanium post. When your dental implants of Raleigh are healed and fused, your dentist will then insert the crowns, bridges or dentures.
Comparing Dentures to Implants
There are some different factors to consider when comparing dentures to implants. This will help you decide which one is better for you.
Invasive vs Non-invasive Procedures – The dental implant procedure is considered invasive because it does require oral surgery. Thus, it entails a somewhat lengthy healing process. Dentures, on the other hand, are non-invasive. They utilize your existing teeth and gum structures to adhere and attach to, so the process is much faster.
Support for Facial Structure – Both dental implants and dentures provide support to your facial structure, which is very important because vacated areas will over time cause your face to collapse. Also, your jawbone will stop growing new bone when there is an absence of teeth over time.
Cost – The cost difference between the two procedures is significant. A full set of dentures can range in cost from $600 to $8,000. If implant supported, the price can be from $30,000 to $50,000. Dental implants, on the other hand, can range from $1,000 to $4,000 for one tooth, to $25,000 to $95,000 for multiple teeth.
Durability – By far, dental implants are more durable than dentures. Cared for properly, implants can last for years, while dentures will need to be replaced more frequently. This is something to take into account when comparing the cost differences between the two procedures. Implants are more costly, but will last longer.
Oral Hygiene – Dentures must be removed each night for thorough cleaning and to let your gums rest. There is also a greater risk for gum disease, as food can get trapped between your natural gum tissue and your dentures. Dental implants, as more permanent fixtures, should be treated like your normal teeth, requiring brushing and flossing twice a day.
Lifestyle – Because dentures are more fragile than dental implants, they require a more protective lifestyle. Also, there are certain foods that can't be eaten. Dental implants, however, place no restrictions of the like, functioning as your normal teeth would.
Now that you have some comparisons to consider, you can make the decision that is best for you. If you are more price-sensitive, and would like to rely on your insurance to contribute to the cost, dentures may work better for you. However, if you are looking for a longer lasting procedure, then the implant route may be the answer. Visit your dentist to discuss this further and fully weigh your options.
About the Author
Dr. Phillip A. Lisk graduated from North Carolina University in 1993 with a Bachelor of Science degree in Zoology. He then went on to the University of North Carolina School of Dentistry in Chapel Hill, earning a Doctor of Dental Surgery degree in 1997. Since then, Dr. Lisk has been in private practice as a general dentist in the North Raleigh area. He practices at Dr. Phillip A. Lisk Dentistry and can be reached for information about his services through his website.
Comments Off

on Dentures vs Implants. Dentist in North Raleigh Compares the Two
No Comments
No comments yet.
RSS feed for comments on this post.
Sorry, the comment form is closed at this time.