February 8, 2019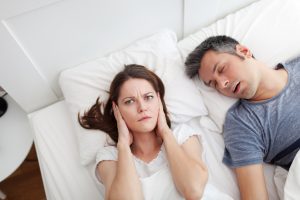 If you snore loudly at night and spend most of your days feeling tired and lethargic, then you may be suffering from sleep apnea. A serious condition that shouldn't be ignored, it can serve as a gateway to other health issues if not treated. If you're expecting a tax return, learn how you can put it to good use by investing in sleep apnea therapy from your dentist in North Raleigh.
What is Sleep Apnea?
The term 'sleep apnea' refers to frequent lapses in breathing throughout the sleep cycle. The most common form of the condition is obstructive sleep apnea (OSA), which occurs when there is a partial blockage of the airway due to the tongue falling to the back of the mouth or the lower jaw collapsing.
The first step to getting treatment, though, is to be able to recognize the warning signs.
Common Symptoms of OSA
To determine whether you're displaying the symptoms of sleep apnea, you may need to confer with your spouse or a family member who can monitor your sleeping habits. Here are some of the usual warning signs:
Irritability
Mood swings
Loud snoring
Daytime lethargy
Morning headaches
Gasping sounds while sleeping
Dry mouth or sore throat in the morning
What to Do if You Notice Any Symptoms
If you've recognized any of the above "red flags," then you should first bring it to your physician's attention so you can be referred to a special clinic to undergo a sleep breathing disorder study. If you're diagnosed with sleep apnea, you can then receive treatment from a dentist who specializes in treating OSA.
How Sleep Apnea is Treated
Here are the two main forms of sleep apnea therapy available:
CPAP Machine – The CPAP (continuous positive airway pressure) machine is a device that delivers a steady supply of oxygen via a mask that is worn while you sleep.
Oral Appliance – For some people, the CPAP machine is loud and cumbersome, which can be counterproductive to the goal of providing useful sleep. An alternative is an oral appliance called a "snore guard," that repositions the jaw to allow for better airflow.
The Dangers of Ignoring Sleep Apnea
Sleep apnea shouldn't be ignored because it has been found to contribute to the development of high blood pressure, heart disease, stroke and obesity. Furthermore, when you're unable to get proper rest, your immune system can be compromised, leaving you more susceptible to nagging illnesses.
If you suspect you're suffering from sleep apnea, reach out to your doctor today. Then, you can put your tax return to good use by investing in sleep apnea therapy in North Raleigh.
About the Author
Dr. Phillip A. Lisk is a graduate of the University of North Carolina School of Dentistry in Chapel Hill. For over two decades, he has been providing patients with comprehensive and competent care. Still dedicated to learning, Dr. Lisk is an active participant at the Dawson Center for Advanced Dental Study. He helps patients rest better by providing sleep apnea therapy at his private practice, and he can be reached for more information through his website.
Comments Off

on Dealing with Sleep Apnea? Your Dentist in North Raleigh Can Help
No Comments
No comments yet.
RSS feed for comments on this post.
Sorry, the comment form is closed at this time.