February 2, 2018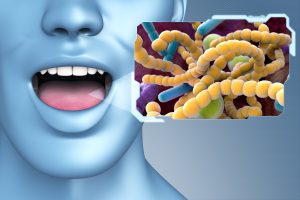 It's Friday night and you're looking forward to some leisure time after your long week at work. Tonight, in particular, should be fun since you're headed to a birthday party of one of your good friends. You just have one concern: your breath. No matter how many times you brush and use mouthwash, you just can't seem to make your bad breath go away. You know you'll be talking to people up close, so you brush really well right before you head out the door and cross your fingers that this time, it does the trick.
Can you relate to this scenario? If so, you may feel at a loss for what to do. It seems like the obvious solution is good brushing, but if that hasn't worked what else can you try? Don't worry – the solution is easier than you may have realized! In this blog, your dentist in north Raleigh explains that gum disease can be a potential cause of your bad breath and what you can do about it.
How Can Gum Disease Cause Bad Breath?
You probably don't realize it, but everyone has "pockets" all around each of their teeth. When you floss your front teeth and see the floss "disappear" under the gumline, that's the space that we call the pocket.
When the gums are healthy, these pockets are very shallow – between 1-3 mm to be exact! At this level, you can access and remove the plaque and tartar under the gumline with simple brushing and flossing.
However, if someone has developed periodontal (gum) disease, these pockets become deeper. Floss can only reach a maximum of about 4 mm under the gumline, and that's assuming that someone is flossing regularly and with good technique!
The result is that odor-causing plaque and bacteria remain under the gums, packed around each of the teeth. Brushing and mouthwash don't take care of the odor because they can't reach the source of it.
What Can You Do?
Thankfully there are some really effective professional treatments available to treat periodontal disease and remove the bacteria from under the gums. There are also some easy things you can do at home.
First, schedule a checkup and cleaning with your dentist in 27615. They'll be able to tell you if you have gum disease and can offer a special type of professional cleaning to improve the health of your gums.
After you've had a thorough cleaning to remove the plaque and tartar under your gumline, you'll be working with a "fresh slate." This is a great opportunity to keep things in tip-top shape by brushing 2-3 times each day and flossing once. There are many tools available that can make this easier, including electric toothbrushes, floss picks and oral irrigators.
Use an anti-bacterial mouthwash each day. It will be much more effective after professional treatment!
Drink lots of water, avoid sugary beverages, and eat a healthy diet. This will help reduce inflammation in your mouth and keep your gums healthy.
About the Author
Dr. Phillip A. Lisk is a general, cosmetic and restorative dentist who is dedicated to providing outstanding, comprehensive dental care. This includes treatment for gum disease that can have the added benefit of improving bad breath. He can be reached for questions via his website or at (919) 870-6892.
Comments Off

on Chronic Bad Breath? A Dentist in North Raleigh Explains More
No Comments
No comments yet.
RSS feed for comments on this post.
Sorry, the comment form is closed at this time.