July 8, 2020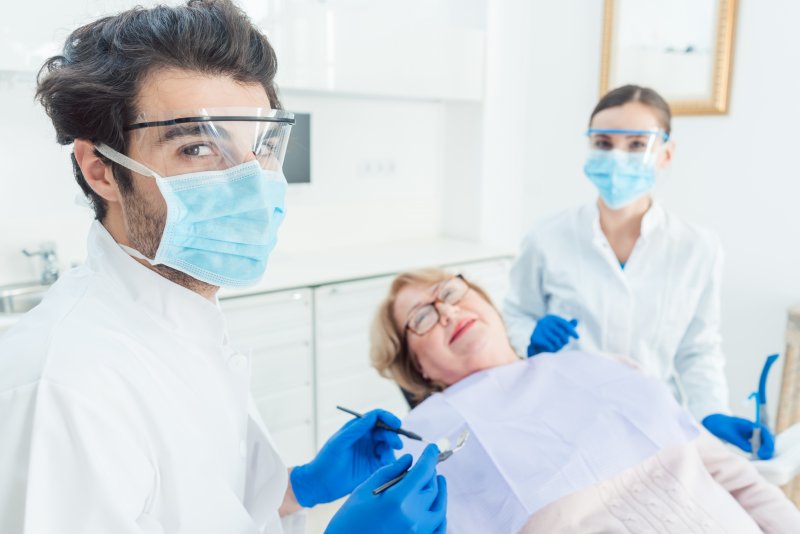 In the last few months, you've learned a lot about COVID-19, the risks it poses to the community, and how to prevent yourself from becoming sick. Your dentist near you is now open because they feel as if it's safe to proceed with treating patients with the necessary precautions put into place. Continue reading to learn what your dentist in North Raleigh wants you to know about visiting the practice for your appointment during the COVID-19 pandemic.
Dentists Are Leaders in Preventing the Spread of Disease
Oral health professionals always follow very strict guidelines when it comes to cleaning and sterilizing equipment and tools. When you're getting treatment done, the room should be immaculate. This is all necessary to prevent the spread of diseases and infection. Dentists aren't newbies at following strict protocols so you can be assured that all of the new ones are being enforced.
Oral Health Professionals Are Being Safer Than Ever Before
The practice is now safer than it's ever been. Here are just a handful the 27 new dental safety protocols being enforced by your dentist in Raleigh:
Daily Team Health Checks
Social Distancing
Changing Work Clothes at Work
Anti-Microbial Rinsing Before Treatment
Virtual Waiting Room
Sequenced Patient Scheduling
Patient Pre-Screening
Teledentistry
Increased Personal Protective Equipment
Advanced Chairside Suction
HEPA Air Filtration
Installed Clear Barriers
Dentists Are Always Updating Safety Protocols
Your team is constantly educating themselves on new safety protocols in the office as well as staying updated with guidelines set by the CDC and other trustworthy organizations. The practice is only open because the staff feels that they can keep their patients safe. Aligning with information from reliable sources is one way they do this.
Your Oral Health Represents Your Overall Health
Issues in the mouth can indicate problems in other areas of the body. Afterall, the mouth is the gateway to the rest of the body. This is not a time to neglect the health of your mouth because it could lead to further issues related to your teeth and elsewhere. If you have poor oral health, it can contribute to endocarditis, cardiovascular disease, birth complications in pregnant women, and pneumonia. Other conditions like diabetes, HIV, osteoporosis, and Alzheimer's disease can negatively affect your oral health. It's best to stay on top of it at all times!
Just because we're living during a pandemic doesn't mean you need to disregard your oral health. Just remember these things and you will have peace of mind while you're in the office.
About the Author
Dr. Philip Lisk is a general dentist serving patients in the North Raleigh area. He earned his Doctor of Dental Surgery from the University of North Carolina School of Dentistry in Chapel Hill and has gained over two decades of experience. He is also a member of numerous professional organizations including the American Dental Association, the North Carolina Association, and the American Academy of General Dentistry. Dr. Lisk is taking 27 additional steps to keep his practice safe during the COVID-19 pandemic. For more information or to schedule an appointment, visit his website or call (919) 870-6892.
Comments Off

on What Your Dentist Wants You to Know About Visiting the Office During the Pandemic
No Comments
No comments yet.
RSS feed for comments on this post.
Sorry, the comment form is closed at this time.