June 17, 2017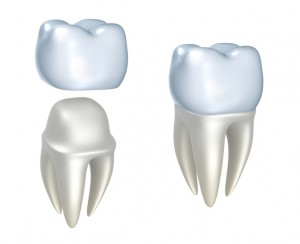 Throughout your life, you have been proactive about caring for your teeth to prevent dental problems. However, even with the best of efforts, damage can still occur, which may require the use of a crown to resolve. Although dental crowns are commonly used in restorative dentistry, such as to fix a broken tooth, they can also be used to protect a weakened tooth or in cosmetic dentistry to improve the appearance of your smile. Often, they are used along with other dental procedures, like a root canal or dental bridge. Not matter the reason behind your need for the restoration, you may be a bit concerned about the procedure. As your dentist in North Raleigh, Dr. Philip Lisk, wants you to feel at ease about the treatment. He has the information you need to learn what to expect during your appointment.

What is a Dental Crown?
A dental crown is a custom-made cap that is placed over a tooth. Often, it is used to repair one that has suffered damage, such as decay or a large fracture. They can also be used to protect a weakened tooth from breaking, like the back molars that suffer strain from grinding. Now, that they are made to look natural, they are often used in cosmetic dentistry to improve the color, size, and shape of a tooth. It is not uncommon for them to be used along with other procedures, such as root canal therapy, dental implants, or dental bridges.
What Can I Expect During the Procedure?
The process to receive a dental crown is fairly simple and often does not produce any pain. A local anesthesia is used to numb the area to minimize discomfort. Using previous x-rays as a guide, the tooth is prepared by removing small pieces. It is reshaped and then an impression is taken, which is needed to create the custom-made restoration. The crown will be made to match your exact size, shape, and color preferences for the highest level of accuracy and quality. After it is ready, it will be cemented to your tooth.
After the procedure, you may experience some slight discomfort for a few days, which can be managed with over-the-counter pain relievers. You can chew on the tooth normally; however, do not be surprised if it takes some time to get used to it.
How Long Will My Crown Last?
With the right care, your crown will last for several years. While it is not subject to decay, you still need to brush and floss it daily just as you do your natural teeth. If at any point the crown becomes damaged or becomes loose, your North Raleigh dentist can easily repair the restoration.
Where Can I Get a Dental Crown?
If you need dental crowns in North Raleigh, Dr. Lisk provides high-quality restorations. He will create a customized treatment plan to rehabilitate the health, function, and appearance of your smile. Contact our office today to schedule your consultation.
Comments Off

on Your Dentist in North Raleigh Explains the Dental Crown Procedure
No Comments
No comments yet.
RSS feed for comments on this post.
Sorry, the comment form is closed at this time.