August 2, 2022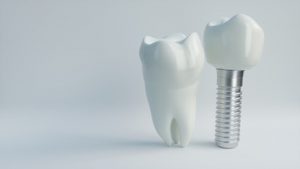 When it comes to replacing missing teeth, dental implants are the name of the game. These incredible implants can perfectly restore the look, feel, and full functionality of your lost pearly whites and provide you with a dazzling new smile and unparalleled boost in confidence! That said, you might be curious about receiving dental implants for yourself, but you have questions about the price tag. Keep reading to learn about four of the key factors that determine the cost of dental implants.
#1: How Many Teeth Need to Be Replaced
Naturally, the more teeth you need replaced, the more implants you'll need—and logically, this means a higher total cost of treatment! If you only need one or two teeth replaced, your bill won't run too high; but if you have multiple lost teeth or an entire row that needs to be replaced, you're looking at a much higher total cost. In these instances, it's sometimes worth considering other alternatives like bridges or dentures, as they're also quite effective at replacing multiple lost teeth in a row.
#2: Additional Oral Surgeries
Some patients might need dental implants, but their mouth isn't quite ready for them just yet. In some instances, the jawbone doesn't have sufficient density for supporting implants—here, a dental bone graft might be necessary to fortify the existing bone matter. In other cases, sometimes something like a tooth extraction is necessary before you can receive implants. Your individual circumstances will determine what needs to happen before you receive implants; if you're lucky and your mouth is healthy, you might already be good to get them! However, if any additional oral surgeries are necessary, they will inevitably drive up the total cost of treatment.
#3: Location of Teeth & Placement Procedure
Believe it or not, front teeth are often more expensive to replace, as your dentist must ensure that the solution carefully matches the angle of your jawline and doesn't negatively influence your bite pattern. Your dentist also has to utilize various placement methods, depending on the teeth that are being replaced and the complexity of the solution. Static placement requires scans to be taken of your mouth to create guides for surgical placement, while dynamic placement uses computer software to guide the surgeon's hand during placement.
#4: Patient's Oral Health
No matter how many teeth you need replaced or where the implants need to go, one thing your dentist will have to confirm is that you're eligible for dental implants—and this will depend greatly on your overall oral health. If you have untreated gum disease or any other serious oral health concerns, they'll need to be treated before you can move forward with the implant process. The total cost can also rise if there are any extra precautions that need to be taken before the implant procedure. Simply put, the better your oral health is, the less likely you'll have to spend extra on treatment costs before receiving implants.
Knowing the factors that determine the cost of dental implants can help you to make an informed decision about how to replace your lost teeth and restore your smile to a beautiful state.
About the Author
Dr. Philip A. Lisk has proudly served the dental needs of the North Raleigh area for over 20 years. Dr. Lisk received his dental doctorate from the University of North Carolina School of Dentistry in Chapel Hill and is an active member of several professional organizations including the American Dental Association and the prestigious Academy of General Dentistry. If you have any questions about dental implants or would like to schedule an appointment, feel free to contact Dr. Lisk through his practice's website or by phone: (919) 870-6892.
Comments Off

on 4 Factors That Influence the Cost of Dental Implants
No Comments
No comments yet.
RSS feed for comments on this post.
Sorry, the comment form is closed at this time.