June 14, 2022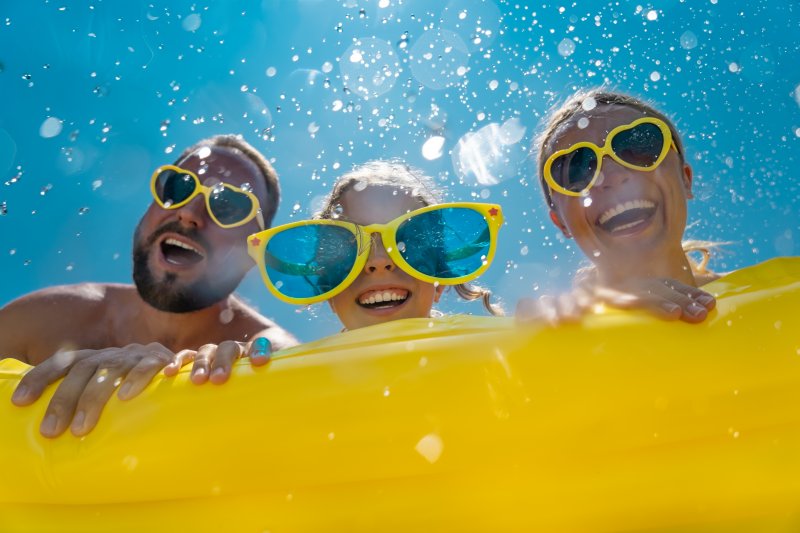 If you don't already know, summers can be tough for teeth and gums. Between vacations, cookouts, and other social events, it's jam-packed with things that put your mouth at risk. That said, you'd be wise to practice some summer oral health tips as a precaution. You wouldn't want your pearly whites to get hurt or stained, right? You can keep that from happening by following these five dental guidelines. They'll ensure your smile stays as pretty and bright as the summer sun!
Hydrate with Lots of Water
Water is a must-have product for any summer activity. It's one of the best drinks for oral health, as it washes away harmful bacteria and helps maintain saliva production. Plus, it can quench your thirst and hydrate your body in hot weather.
Cut Down on the Sweet Drinks
Drinking a cold soda or cocktail on the beach can be tempting, but you should try to avoid it. Sweet beverages have large amounts of sugar, contributing to cavities and enamel loss. Likewise, alcohol can dry out your mouth and thus lead to a buildup of harmful oral bacteria. You really should limit both beverage types.
Still, that's not to say you can't drink them at all. Do so with a straw to keep the acidic, sugary liquids from touching your teeth.
Don't Chew on Ice
Don't chew leftover ice from your drinks, however much it may cool you off. Biting down on such hard surfaces can damage your tooth enamel and gums.
As a substitute, shaved ice would be acceptable. It gives you the cold feeling you may be craving while being gentler on your teeth.
Eat Healthy Snacks
Among other things, summers feature sweet treats like ice cream, candy, etc. Rather than let these slowly decay your teeth, help out your mouth by munching on healthier snacks. Fare like carrots, celery, apples, and nuts can help your oral health. Pack them in a travel bag so you can eat them on the go.
Don't Let Your Lips Burn
While it isn't discussed too often, your lips can sunburn as easily as any other body part. In other words, they need as much UV protection as the rest of your skin.
Next time you're out in the sun, apply lip sunscreen in addition to the usual kind. Ideally, it'll have an SPF rating of 30+ and be a brand you can reapply frequently.
Your oral health shouldn't have to suffer for fun in the sun. Thankfully, it doesn't have to — just remember to stick to the tips above!
About the Author
Dr. Philip A. Lisk has been practicing dentistry in North Raleigh, NC, for over twenty years. Since earning his DDS from UNC-Chapel Hill's School of Dentistry, he's consistently pursued continuing education and an expanded skill set for the sake of his patients. He is well-versed in preventive, cosmetic, and restorative dentistry, including emergency dental services. Dr. Lisk currently practices at his self-titled clinic and can be reached at his website or by phone at (919)-870-6892.
Comments Off

on 5 Amazing Summer Oral Health Tips
No Comments
No comments yet.
RSS feed for comments on this post.
Sorry, the comment form is closed at this time.