November 24, 2019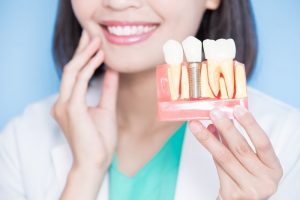 If you're missing one or more teeth, dental implants in North Raleigh can help restore your smile back to its former glory. They can help you regain your ability to chew, talk, and smile with confidence once again. However, they do also involve a minor surgical procedure and some recovery time. During that period, there are certain foods that it's best you avoid so as not to disrupt your healing process. Let's talk about which foods you should avoid and which you can indulge in after your dental implant placement surgery.
Foods to Avoid After Dental Implant Surgery
Much like with any oral surgery, your mouth will be sensitive for a couple of weeks or so following your surgery, as the site is still healing. As such, you should generally avoid eating hard foods. This is because during this time, your implant will actually be fusing to your jawbone in a process called osseointegration. Eating hard foods could permanently dislodge the implant from your jawbone, rendering the whole surgery essentially a waste.
Here are some foods you're going to want to avoid for several weeks during the osseointegration process:
Sugary or acidic items like soft drinks, candy, and citrus
Anything crunchy, like chips, crackers, or nuts
Chewy or sticky foods like gum or dried fruits
Extremely hot or cold items that could irritate the gum tissue around the site
Spicy foods
Alcoholic beverages
Furthermore, you should avoid drinking anything through a straw. Doing so could disturb the forming blood clot around the surgical site. Also, don't smoke, as tobacco hinders the oral healing process.
Foods to Indulge in After Implant Surgery
In a nutshell, you'll want to stick to soft foods that aren't too hot, cold, or spicy. Some recommended foods include:
Boiled or mashed potatoes
Yogurt, milkshakes, or ice cream
Pasta
Soft fruits like melons, peaches, and bananas
Eggs
Oatmeal
Jell-O
Pudding
Applesauce
Muffins without nuts or seeds
In general, you're going to want to avoid crunchy foods, and foods with small items like seeds that could get stuck in the wound and cause an infection. Along with these foods, be sure to drink plenty of water. It helps with the healing process.
About the Author
Dr. Philip A. Lisk is a dentist in North Raleigh who graduated from the University of North Carolina School of Dentistry with a Doctor of Dental Surgery degree in 1997. Since then, he has been in private practice as a general dentist in the North Raleigh area. His practice offers a free consultation for dental implants. Simply click here to contact the office.
Comments Off

on Foods to Eat and Avoid After Getting Dental Implants
No Comments
No comments yet.
RSS feed for comments on this post.
Sorry, the comment form is closed at this time.