April 17, 2017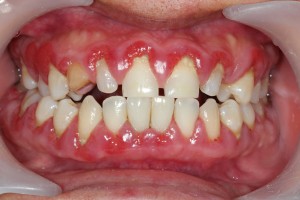 Gum disease doesn't just affect patients that have bad oral hygiene. It is easy to get gum disease no matter what age or habits you have. There are many contributing factors to gum disease, even your genetic makeup. Patients that practice good oral hygiene at home and visit their dentist may still end up with gum disease. Luckily, Dr. Lisk offers gum disease treatment in North Raleigh that can help your teeth and gums recover.
Signs of Gum Disease
Although teeth are meant to last a lifetime, many people lose them due to periodontal disease (advanced gum disease). Many patients don't realize they could have been taking action to prevent losing their teeth by visiting their dentist for assistance when they first notice signs of unhealthy gums. You may notice these symptoms if your mouth is becoming infected with gum disease.
Red, swollen gums
Tender gums
Bleeding when brushing or flossing
Buildup of pus between gums
Loose fitting teeth
Receding gums
Pockets of infection along your gum line
Chronic bad breath
Gum Disease and Your Overall Health
Research has shown that advanced gum disease is associated with several other diseases that affect much more than your mouth. Studies show that having gum disease increases your risk of developing severe health complications like strokes, diabetes, and heart disease. The state of your teeth and gums affects your overall health. Simple brushing, flossing, and keeping regular dental appointments can improve your overall health.
Treatments for Gum Disease
There are different ways to approach gum disease depending on the severity of each case. If Dr. Lisk notices that you have mildly inflamed gums, he may recommend that you come in for more frequent thorough cleanings.
If frequent professional cleanings aren't reversing the effects of gum disease, Dr. Lisk may provide you an in-depth, non-surgical cleaning known as scaling and root planing.
Scaling
Dental scaling is the most common nonsurgical way to treat gum disease or its advanced form, periodontal disease. Your North Raleigh dentist will use a dental instrument to manually remove harmful plaque from your teeth and beneath your pocketed gum line. Sometimes, if your gums are extremely infected, he will also remove the infected tissue.
Root Planing
This step makes it easier for your rejuvenated, healthy gums to grow back and reattach to your teeth. Your dentist will smooth the surfaces of your tooth roots. Root planing also prevents further infection down the road.
Get the Dental Care You Need
If gum disease is left untreated, it will continue to advance and drag down your oral health. Bad oral health can lead to a decline in your overall health as well. To avoid these problems, practice good oral hygiene and visit your dentist regularly. Contact us today to make your appointment.
Comments Off

on Re-Vitalize Your Smile with Gum Disease Treatment in North Raleigh
No Comments
No comments yet.
RSS feed for comments on this post.
Sorry, the comment form is closed at this time.