March 13, 2020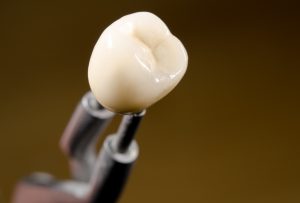 Dental crowns in North Raleigh are a great way to rehabilitate damaged teeth. A crown is a custom-made cap used to improve the health, function, or appearance of a tooth. Now, they are made of all-ceramic material to look like real teeth. Although the crown isn't made of metal, it's designed to last for a decade or longer with the right aftercare. If you have a restoration, you might be a bit confused if you see a space forming between your crown and gum line. No, your eyes aren't playing tricks on you. The small space often indicates a big problem. Here's why you need to contact your dentist right away.

Why is there a gap between my crown and gumline?
A crown is placed over the entire visible surface of a tooth down to the gumline. This is essential to help prevent harmful bacteria from leaking underneath your restoration. If a gap forms between the gum tissue and the restoration, it's a sign your crown no longer fits.
Gum recession often results from an infection caused by improper oral hygiene habits. The gap will trap plaque and food particles, feeding the bad bacteria. Not only can this cause the infection to intensify, but it can also lead to decay under the crown. It can brew beneath the crown undetected until it turns into a dental emergency.
Can the gap be fixed?
Unfortunately, you'll most likely need to have your crown removed and replaced. The underlying cause of the problem and any new damage resulting from the poorly fitting crown will also need to be treated, like gum disease or decay. After restoring your oral health, your dentist will fit you with a new crown to reinstate a healthy smile.
Can I prevent a gap between my gum and crown?
Your crown can thrive for decades if you take the time to maintain it. This involves keeping your mouth healthy to keep it free of infection or decay. When brushing your teeth, use a soft-bristled toothbrush to clean all the way to the gum line. Pay extra attention when cleaning near the base of the crown. Use a high-quality dental floss to clean in between each tooth and around the crown each day before going to bed. Don't forget to visit your dentist at least twice a year for a cleaning and checkup. If you notice any changes with your crown in between your routine visits, don't wait to contact your dentist in North Raleigh.
Don't Wait Until It's Too Late
If you see a small gap between your crown and gum line, don't wait for a bigger problem to occur. Contact your dentist right away to have your crown replaced.
About Dr. Philip A. Lisk
Dr. Philip A. Lisk has provided comprehensive dental services to the community since 1997. Besides earning his dental degree, he's completed advanced training in many areas of specialty, including occlusion and the temporomandibular joint. If you're ready to enjoy state-of-the-art dental care, contact our office today to schedule your consultation.
Comments Off

on What Causes a Gap Between the Crown and Gumline?
No Comments
No comments yet.
RSS feed for comments on this post.
Sorry, the comment form is closed at this time.