December 3, 2020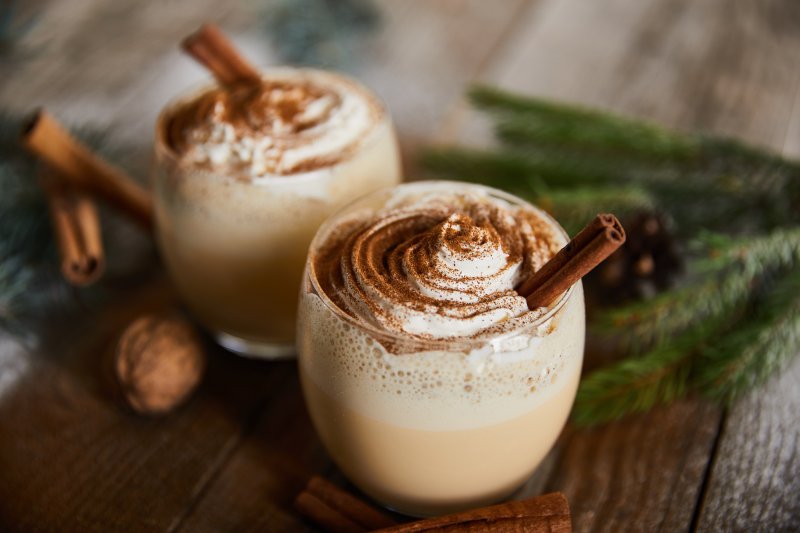 It's the most wonderful time of the year! That means festive music, meeting up with family and friends, and delicious holiday meals with your loved ones. While not all holiday foods are harmful for your smile, a dentist in North Raleigh warns that there are certain dishes and treats that should be avoided of you want to keep up optimal oral health. Continue reading so you know what to be weary of throughout this time of the year.
Eggnog
While this drink may be a bit to sweet for many people to enjoy, for others, the holiday season isn't complete without it. However, since it has so much sugar in it, it can be quite harmful for your smile. Bacteria feeds off sugar in the mouth and you end up with a weak acid as a by-product. This can damage your protective enamel by stripping away important minerals. If you like to spike your eggnog with brandy or bourbon, you could risk developing dry mouth if you have too much. If you want to enjoy an adult beverage, you are better off choosing something sugar-free that is not very acidic, like gin and tonic.
Stuffing
This always seems to be the perfect side dish to go with your turkey, ham, or whatever else you decide to enjoy on Christmas Eve with your family. The problem is that it is mostly composed of carbohydrates. The digestion process pretty much begins immediately as it enters your mouth. An enzyme in your saliva converts starches to sugar which is what harmful bacteria like to feed off of. Ultimately, you are at risk for developing cavities.
Baked Goods
Whether you are baking cookies to welcome Santa into your home or you are whipping up some other treats that you plan on munching on once dinner is over, you probably already know that your teeth will not be thanking you. Remember to only consume these treats in moderation so you don't end up with tooth decay.
Candy Canes
As much as you want to pass through the seven levels of the candy cane forest, your dentist near you thinks you should refrain from this. Candy canes are primarily made from sucrose. They also contain high fructose corn syrup. Both of these sweeteners are harmful for your teeth, especially when you are sucking on a candy cane for a long period of time.
As tempting as some of these treats may be, it's important that you go easy on them. This way, you can start the new year cavity-free!
About the Author
Dr. Philip A. Lisk is an experienced dentist who has been practicing for well over 20 years. In addition to pursuing continuing education, he is a member of multiple professional organizations including the American Dental Association, American Academy of General Dentistry, and the North Carolina Dental Society. To learn more about keeping your smile healthy or to schedule an appointment, visit his website or call (919) 870-6892.
Comments Off

on Be Careful with These Foods This Holiday Season
No Comments
No comments yet.
RSS feed for comments on this post.
Sorry, the comment form is closed at this time.