November 14, 2022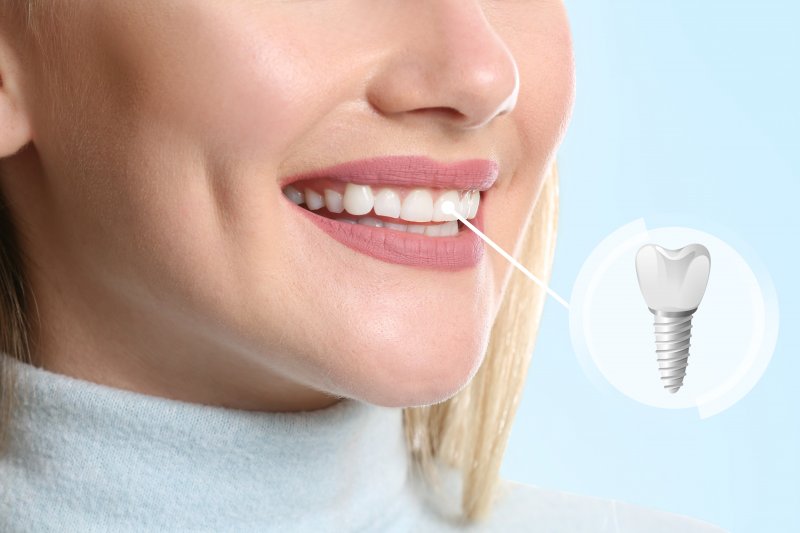 These days, dental implants are considered the gold standard of tooth replacement. Whether you're missing one or more teeth, they're an excellent way to rebuild your smile. Of course, you likely want to know how long they'll last before moving forward with the process. After all, you want to make sure you get your money's worth! Read on to learn more about the exact lifespan of dental implants in Raleigh and which steps you can take to make them last as long as possible.
What Are Dental Implants?
First and foremost, it's important to know what dental implants are. They're essentially small titanium posts that are surgically inserted into the jawbone to replace the entire structure of missing teeth, from the roots up to the chewing surface. Because of this unique placement, they're able to stimulate the jawbone, preventing its deterioration. Once implants fuse with the surrounding bone tissue, you'll have a newly rebuilt smile that looks, feels, and acts natural!
How Long Do Dental Implants Last?
Dental implants have the potential to last a lifetime, which is why they've become incredibly popular in recent years. However, that's only possible with proper care and maintenance. It's also important to note that there are several factors to take into account, such as how well you care for your new smile, how often you visit your dentist, and the implant location in the mouth.
Additionally, implants that are placed in the back of the mouth don't tend to last as long as those placed in the front of the mouth because they receive more strain from regular chewing. The restoration placed on the implant usually lasts between 10 to 15 years before needing a replacement.
Tips to Make Your Dental Implants Last
The good news is that you can make your implants last a lifetime with proper care! Here are some tips to keep in mind:
Practice good oral hygiene. Caring for dental implants is as easy as caring for natural teeth! Brushing twice a day, flossing daily, and rinsing every day with an ADA-approved mouthwash will keep your mouth healthy and implants in place.
Avoid poor dental habits. Smoking and using tobacco products can wreak havoc on your smile, increasing your risk of implant failure.
Watch your diet. Although you won't have any dietary restrictions with implants, you still need to be mindful of the foods you eat. You should avoid hard or sticky foods as they can damage your implants.
Visit your dentist. Routine appointments are necessary to maintain good oral health, especially when you have dental implants. You need to see your dentist regularly to ensure there aren't any problems.
Dental implants are a wonderful investment, but you need to take proper care of them if you want them to last. By following the tips outlined above, you can enjoy your stunning new smile for years to come!
About the Author
Dr. Philip A. Lisk, DDS has several years of dentistry experience under his belt. He values patient education to ensure you make well-informed and confident decisions for your oral health. If you choose to get dental implants in Raleigh, Dr. Lisk will do everything possible to maximize their longevity. To learn more, visit his website or call (919) 870-6892.
Comments Off

on The Lifespan of Dental Implants: What You Should Know
No Comments
No comments yet.
RSS feed for comments on this post.
Sorry, the comment form is closed at this time.