April 6, 2020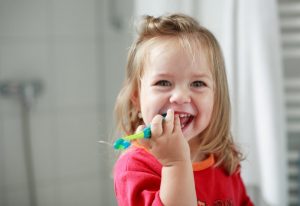 Because of the COVID-19 outbreak, more people are staying at home than ever before, including children. Many people are having a hard time trying to get their kids to stick to a routine since their normal lives have been disrupted by this pandemic. This can have a serious impact on your child's oral health unless you can get them to brush and floss every day. Fortunately, a dentist in North Raleigh offers these tips on how to help your little one keep their pearly whites clean and healthy during quarantine.
Stick to a Routine
Your child may not have a rigid schedule of traveling to and from school every day anymore, but that doesn't mean you can't develop a routine. Pick a time every single morning and night where the whole family brushes and flosses together. Making it a family activity will help your son or daughter look forward to spending time with you and cleaning their pearly whites.
Track Their Progress
A little positive reinforcement can go a long way when building a habit. Print out a special calendar or chart and place a fun sticker on it for every day that your little one brushes and flosses. Whenever they achieve a full row om the chart, treat them to something special, like an extra hour of TV or Internet time. Just be sure that treat doesn't contain too much sugar!
Let Them Pick Out Their Own Toothbrush
The next time you go online shopping, allow your child to look at various toothbrushes and select their favorite. Maybe they want one with their favorite cartoon character on it. Maybe they want a sparkly one in their favorite color. Maybe they want one that lights up. Whatever the case may be, letting your son or daughter pick out their own toothbrush will make them more likely to use it regularly.
Make a Game of It
One lesser-known trick to getting your kids to brush their teeth is by playing a game called "Character Dentist." Your child chooses a character, like a vampire or cowboy, and you and your them have to brush your teeth like they think that character would. It invites laughter and fun times all around. There are all kinds of games you can come up with to encourage your son or daughter to keep their teeth clean.
Quarantining might not be the most exciting activity in the world, but when it comes to brushing your child's teeth, there are plenty of ways to make it fun. Come up with your own game or reward system and your child will love cleaning their teeth all the more for it.
About the Author
Dr. Philip Lisk is a North Raleigh dentist who earned his Doctor of Dental Surgery degree in 1997 from the University of North Carolina School of Dentistry. He maintains active memberships in several professional organizations, such as the American Dental Association, the North Carolina Dental Society, the Wake County Dental Society, and the American Academy of General Dentistry. While his practice is closed for all elective procedures, it's still open for emergencies. If you think you may have one, contact Dr. Lisk at (919) 870-6892.
Comments Off

on How to Help Your Kids Keep Their Teeth Clean When You're Stuck at Home
No Comments
No comments yet.
RSS feed for comments on this post.
Sorry, the comment form is closed at this time.