January 17, 2023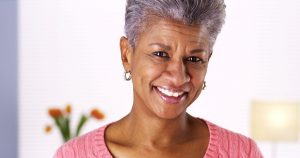 Every tooth is important for a healthy, functional smile. Unfortunately, tooth loss is a common problem. Losing even a single tooth can have detrimental consequences for your oral and general health. Not to mention, you may not feel as confident about your appearance. Besides a gap in your smile, your face may look different. You're not imagining the changes. Tooth loss can affect the shape of your face, making you look years older. Thankfully, you can turn back the clock by replacing your missing tooth with a dental implant.
An Incomplete Smile Causes Bone Loss
You can lose up to 25% of your jawbone's density within the first year of missing a tooth because it isn't being stimulated by the root. Bone loss will continue to occur as more time passes, which can change your facial appearance.
Wrinkles, sagging skin, and sunken cheeks are common complications of tooth loss. Not only can you look 10 years older, but you'll be at risk of additional complications as your bone deteriorates.
Your remaining teeth won't have sufficient support, which can cause them to drift from their positions. This can lead to an increased risk of cavities, gum disease, and tooth loss. It can even affect your bite and cause jaw pain.
Stop Bone Loss with Dental Implants
You have many options to replace a lost tooth, but only one solution can stop bone loss. Traditional tooth replacement methods only recreate the portion above the gums. A dental implant differs because it replaces both the root and the crown.
A titanium post is surgically placed into your jaw to mimic a root. It will stimulate new bone growth, allowing your jaw to fuse to it through a process called osseointegration. After your bone has integrated with the post, an abutment is attached to connect your restoration.
You'll benefit from unmatched support and stability for a solution that closely feels natural. Your restoration will blend in with your real teeth, so only a trained dental professional will know it is there.
Best of all, you'll boost your self-esteem and take years off of your appearance. Your jaw will stay strong and healthy to maintain your facial shape. It will also protect any remaining natural teeth from shifting to avoid costly treatments later.
Invest in a Successful Solution
Whether you've lost a single tooth, multiple teeth, or an entire arch, dental implants have over a 95% success rate. They provide predictable results that can last for a decade or longer with the right care.
You'll never have to worry about bone loss again. Dental implants are a smart investment to look and feel your best.
About Dr. Philip A. Lisk
Dr. Lisk earned his dental degree from the University of North Carolina School of Dentistry and has continued his education regularly to provide up-to-date services, like dental implants, oral appliance therapy, and TMJ therapy. If you're ready to replace your lost teeth, request an appointment through our website or call (919) 336-1548.
Comments Off

on Tooth Loss Changes the Shape of Your Face
No Comments
No comments yet.
RSS feed for comments on this post.
Sorry, the comment form is closed at this time.