December 7, 2019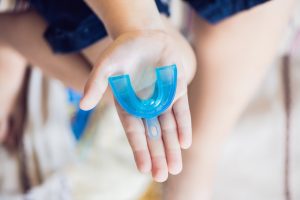 Are your teeth sensitive, or do you seem to constantly have a headache? A condition called bruxism may be damaging your teeth as you sleep. Bruxism is characterized as a chronic grinding of teeth and clenching of jaw muscles while you sleep. Roughly 1 in 3 adults suffer from bruxism, and some will need complex reconstructive surgery to repair their teeth over time. Since it largely only occurs while you're asleep, it can be a difficult condition to identify and treat, and much easier to ignore. Thankfully, the most common treatment for bruxism is as easy as wearing a small apparatus at night called a nightguard. Although these comfortable and lightweight devices may look simple, nightguards can provide immediate and long-term relief while protecting your teeth. So how do they work? Learn from your dentist in North Raleigh the top 3 ways a nightguard protects you in your sleep.
Protects Weakened Teeth
The increased pressure from bruxism takes a toll on the tough outer shell of your teeth. Extra nightly wear and tear grinds away the protective case of enamel, weakening the teeth underneath. Without a thick layer of enamel to protect them, your weakened teeth are much more likely to chip, crack, and fracture. Reduced enamel also exposes the layer of dentin underneath, which can cause you teeth to become sensitive and painful.
Nightguards work to protect the teeth that are most pressured by bruxism. By resting between your jaws, it stops the erosion of your enamel. When it deflects the pressure away from your weakened teeth, it protects them from taking more damage or breaking in your sleep.
Eases Muscle Pain
Clamping your jaw every night also puts an incredible strain on you jaw joints and muscles. Just like how any other muscle can become sore with overuse, bruxism can cause a constant ache in your jaw when you're awake. This impacts all of the muscles and tissues in your head, spreading the pain throughout. The design of a nightguard encourages the muscles responsible for grinding your teeth to relax. Many people are surprised to find nightguards reduce:
Headaches
Neck pain
Jaw and facial soreness
Pains that felt like an earache
Mitigates Short- and Long-Term Pain
By alleviating the pressure in your jaw, your nightguard can minimize pain and soreness caused by bruxism right away. Not only does it protect you from painful and costly future damage to your teeth, but it also can improve your sleep patterns and eating habits in the long run. Overtime, as your jaw becomes more familiar with relaxing at night, nightguards may even help you overcome nightly teeth grinding altogether.
Bruxism could be causing you tooth damage at night and pain during the day. Enjoy sweet dreams and protect your teeth, jaw, and overall health while you sleep with a nightguard.
About the Author
Dr. Philip Lisk has been providing preventive, cosmetic, and restorative dentistry to the North Raleigh area since 1997.He is a graduate of the University of North Carolina School of Dentistry in Chapel Hill and active member of the Dawson Center for Advanced Dental Study. He continues to learn everything he can about occlusion, TMJ, and how to create a harmonious balance between teeth and jaws. If you have any questions, he can be reached at his website or at  (919) 870-6892.  
Comments Off

on The Top 3 Ways Your Nightguard Protects You in Your Sleep
No Comments
No comments yet.
RSS feed for comments on this post.
Sorry, the comment form is closed at this time.