April 2, 2018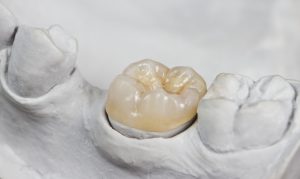 Versatility means to be able to function in more than one capacity, and when it comes to dental crowns, that's exactly what you get. A crown not only improves the aesthetics of your smile, but it also restores its functionality. As you continue reading, your North Raleigh dentist will explain exactly what a crown is, and the different steps involved in you receiving one.
What is a Dental Crown?
The crown of your tooth is the portion that is visible above the gum line. If you've suffered damage due to a severe break, crack or tooth decay, yours may be unrepairable. In such situations, you'll need a restoration crown.
The restoration crown is made from high quality, tooth-colored ceramic that looks very similar to your natural teeth. Thus, it fulfills an aesthetic purpose.
The Steps of the Restoration Crown Process
Here are the simple steps you'll undergo to get your dental crowns in North Raleigh:
The first appointment is to complete any work that is needed to restore the health of your tooth, like a root canal.
During the same visit, your tooth will be shaped to prepare for the new crown. Then bite impressions will be taken so that a trusted lab can create your permanent fixture. Your dentist will place a temporary crown for you to wear during the fabrication process.
When the restoration crown is ready, you'll return to your local professional to have it fitted. You'll leave his office with a fully restored and aesthetically pleasing smile.
How to Make Your Crown Last
Once your smile is restored, you want to make sure that it lasts, so here are some tips to keep in mind:
Oral Hygiene – It's important that you practice excellent oral hygiene to maintain your dental crown, because the health of your gums and surrounding teeth depend on it. Therefore, be sure to brush and floss your teeth at least twice a day to remove harmful bacteria.
Bruxism – Teeth grinding (bruxism) can cause your restoration crown to unseat and fail prematurely, so if you suffer from this problem, be sure to seek help from your dentist.
Regular Check-ups – Semi-annual visits to your dentist will not only allow him to monitor how well your new crown is functioning, but it will also provide you with a thorough cleaning and examination. Thus, these appointments increase the longevity of your crown and improve your oral health.
So if you're suffering from some form of decay or have other damage to your tooth, don't hesitate to reach out to your local dentist so that you can be crowned like royalty!
About the Author
A graduate of the University of North Carolina School of Dentistry in Chapel Hill, Dr. Philip A. Lisk has over two decades of experience practicing dentistry. Still, he remains driven to grow and learn more, which is why he is an active participant at the Dawson Center for Advanced Dental Study. To learn more about how Dr. Lisk provides his patients with compassionate and expert care, you can visit his website.
Comments Off

on Your North Raleigh Dentist Explains How You Can Get Crowned!
No Comments
No comments yet.
RSS feed for comments on this post.
Sorry, the comment form is closed at this time.