October 13, 2020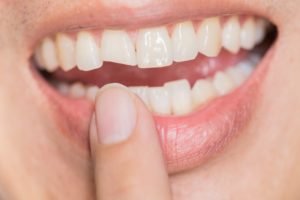 Even though your enamel is the hardest material in your body, there are plenty of ways you can accidentally damage it. Perhaps you're enjoying popcorn while watching a movie or chewing on a pen cap at work, when suddenly you hear a loud crunch! Chipping a tooth is often a sudden and alarming situation, so it's important to know what to do ahead of time. Your North Raleigh emergency dentist explains what you should do, step-by-step, if you find yourself with a chipped tooth.
Step 1: Call Your Dentist
In any dental emergency, your first step should be to call your dentist as soon as it is safe to do so. They can help you assess your situation over the phone, schedule your emergency appointment accordingly, and give you personalized first-aid advice to use until you can reach their office.
Step 2: Rinse Your Mouth Out
Rinsing your mouth out gently with warm water will help keep your tooth clean and free of bacteria. This will also help wash out any loose broken shards of your tooth before you accidentally swallow or bite down on them.
Step 3: Collect Pieces of Your Tooth
If you can find any broken off pieces of your tooth, store them in a clean container and take them with you to your appointment. In some cases, your North Raleigh dentist may be able to recement the piece of enamel back into place.
Step 4: Stop Any Bleeding
If your mouth is bleeding, place pressure on it right away. Keep a clean towel or tissue over the area and hold it gently in place with minimal movement. If your bleeding seems severe or if it hasn't stopped within 10-15 minutes, you should go directly to your local ER.
Step 5: Pain Management
A cold compress or an ice pack can be placed on the injured area for 10 minutes on, 10 minutes off. This can help reduce swelling and numb discomfort. For additional support, you can take an over-the-counter pain reliever, such as ibuprofen or aspirin, to ease pain and inflammation.
Step 6: See Your Dentist As Soon As Possible
Even if you're not in pain, you should see your dentist about a chipped tooth right away. Damaged enamel can leave your tooth weakened and vulnerable to serious infections. Thankfully, there are several treatments that can help restore your smile. If the damage is minor, your dentist may be able to fill in the chip or recement the broken piece into place with dental bonding. For highly visible areas of the mouth, such as the front teeth, porcelain veneers offer the most seamless results. However, if the damage is more severe, your dentist may recommend a custom dental crown to protect the tooth and rebuild its appearance.
While healthy habits like great oral hygiene can go a long way in keeping your smile safe, not every dental emergency can be avoided. If you or a loved one chips a tooth, keep these simple steps in mind. Before you know it, you'll be enjoying a happy, healthy, and fully intact smile once again!
About the Author
Dr. Philip Lisk has been serving the smiles of North Raleigh and the surrounding communities for well over 20 years. He has completed numerous hours of continuing education and holds active memberships in organizations such as the American Dental Association, the Academy of General Dentistry, and the prestigious Dawson Academy. If you or a loved one ever experience a dental emergency, he and his team offer same-day emergency appointments in their safe, relaxing practice whenever available. If you have more questions, he can be contacted via his website or at (919) 870-6892.
Comments Off

on Chipped a Tooth? Here's What to Do Next
No Comments
No comments yet.
RSS feed for comments on this post.
Sorry, the comment form is closed at this time.