March 23, 2020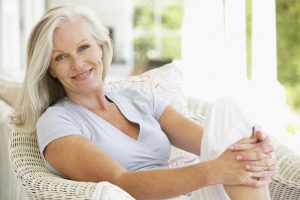 It's no secret your body changes as you age, but did you know this involves more than just your tissues, cells, or organs? Your teeth and gums also change. You'll become more prone to certain dental conditions that typically affect older adults or are caused by certain medications. Don't worry, your dentist in North Raleigh will create a personalized treatment plan catering to your needs over the years to ensure your smile lasts for a lifetime.

Age and Your Oral Health
As you age, there are inevitable changes our bodies will experience, such as cells regenerating at a slower rate and tissues losing their thickness or elasticity. Your mouth isn't immune to the changes. There are several oral health issues that are more common in older adults, such as:
Dry Mouth
Certain medications or health conditions increase your risk of dry mouth because they can decrease saliva production. Although it may only seem moderately uncomfortable, it can have serious consequences for your teeth and gums. If your mouth is too dry, it can make it difficult to chew or swallow. You also have a higher risk of mouth sores, gum disease, tooth decay, and yeast infections.
Receding Gumline
Years of aggressive brushing habits or untreated gum disease can cause the roots of your teeth to be exposed. This makes your teeth more susceptible to decay and inflammation from bacteria buildup. You might also experience tooth sensitivity. Over time, your teeth may loosen or fall out. Your dentist can restore a healthy gum line to save your smile.
Gum Disease
As you age, you have an increased risk of gum disease, which is an infection that occurs from bacteria found in tartar accumulations. Not only can it lead to tooth loss, but it can also increase your risk of several health issues, like cardiovascular disease. The right oral hygiene habits at home and regular care from your dentist can help keep the infection at bay.
Cavities
Your enamel naturally weakens as you age, making you more prone to tooth decay. If you have dry mouth, you have an even higher risk of decay because bacteria will flourish in your mouth without the right intervention. Besides keeping your mouth moist, your dentist offers several solutions to keep your enamel strong, like fluoride treatments.
Oral Cancer
Oral cancer is often attributed to smokers; however, anyone can develop it, especially men over the age of 40. Your dentist will perform routine examinations to detect any concerning areas sooner. If you notice any changes to your oral health, don't wait to contact your dentist.
Dentist Near Me for Geriatric Dentistry
As your oral health needs change, don't choose just any dentist. Look for one who has experience treating patients of all ages, including those who have age-related dental issues. With the right dentist by your side, you can invest in a smile that will last for a lifetime.
About Dr. Philip A. Lisk
Dr. Philip A. Lisk provides comprehensive dental care for patients of all ages. He's undergone advanced training in many areas of specialty, including occlusion and the temporomandibular joint. He can treat the complex issues that are often associated with age. Contact our office today to schedule your consultation.
Comments Off

on Ways Your Smile Changes as You Age
No Comments
No comments yet.
RSS feed for comments on this post.
Sorry, the comment form is closed at this time.